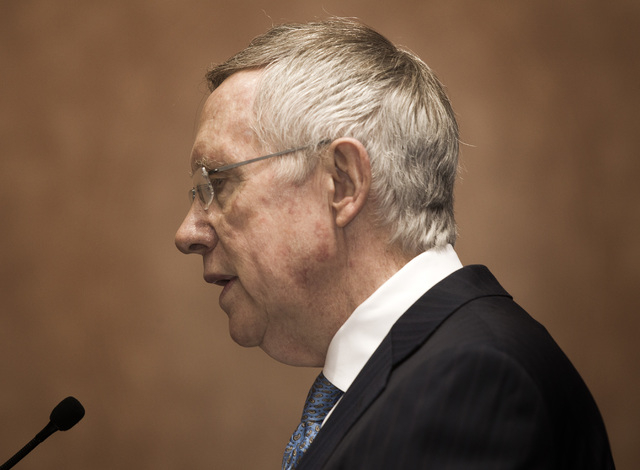 WASHINGTON — Sen. Harry Reid on Monday claimed a bit of credit for pushing energy policies in Congress that led to electric car maker Tesla being able to choose Nevada for its lithium battery Gigafactory.
The company's investment, expected to pump $100 billion into the state's economy, "is good news for Nevada, but it did not happen by accident," Reid, D-Nev., said in a Senate speech. "It is the direct result of public-private partnerships and smart federal and state policies."
Reid, the Senate majority leader since 2007, added, "I have worked here in the Senate to promote legislation that encourages investment in clean energy and transportation innovation at all levels."
In 2007, he said, Congress passed an energy bill that created a program supporting makers of advanced technology vehicles. Under the program, Tesla got a $465 million loan guarantee to build a plant in California.
"The facts speak for themselves," Reid said. "Tesla repaid the loan in full, nine years early. Tesla is the company it is today because of this loan."
Further, Reid engineered Senate passage of President Barack Obama's economic stimulus program in 2009. One of its energy grants was $28.4 million for Rockwood Lithium of Nevada, which used the money to expand the nation's only lithium mine, at Silver Peak. Tesla, he said, "will have access to this lithium."
And in 2008, "we encouraged America to invest in the growth of the electric car industry with tax credits for qualified electric vehicles," Reid said. He now is calling for tax breaks that would encourage consumers to buy advanced cars and trucks.
"It is so important to realize that through these grants, loans and the private sector working with the states of Nevada, California and the federal government, we were able to accomplish this, Reid said, referring to the development of alternative technologies. "This is a blueprint for success."
Reid also congratulated Nevada Gov. Brian Sandoval, whose administration negotiated the Tesla agreement and who got the state Legislature to approve $1.3 billion in tax abatements and other incentives to close the deal.
"His patience and diligence made this possible," Reid said of Sandoval, a Republican and possible Senate opponent in 2016. " I congratulate him because the work he did here was just terrific."
Sandoval, who asked Reid to make a call to Tesla during plant site negotiations, has credited Reid with helping land Tesla.
Contact Steve Tetreault at stetreault@stephensmedia.com or 202-783-1760. Follow @STetreaultDC on Twitter.