Reid says he's 'confident' Obama will designate Gold Butte a national monument
August 18, 2016 - 10:08 pm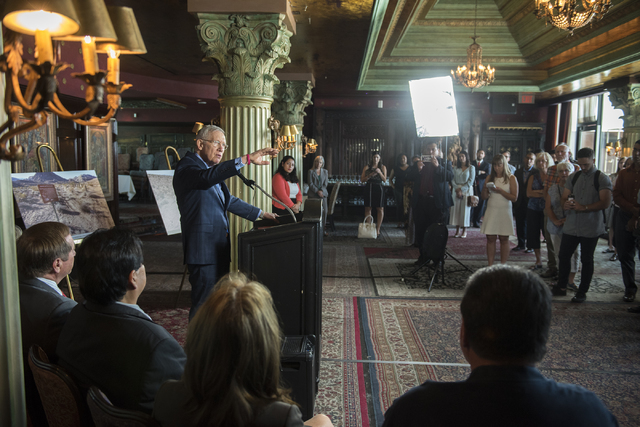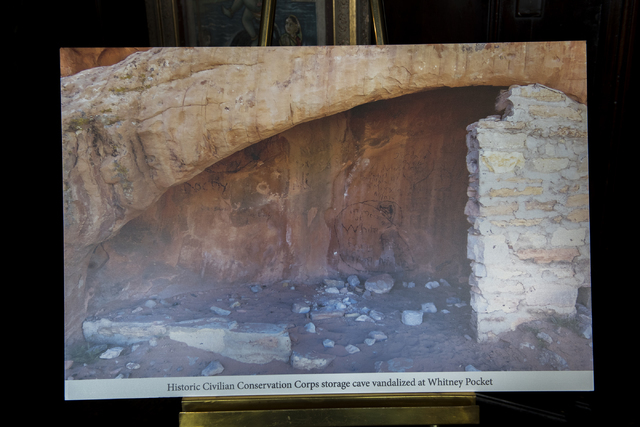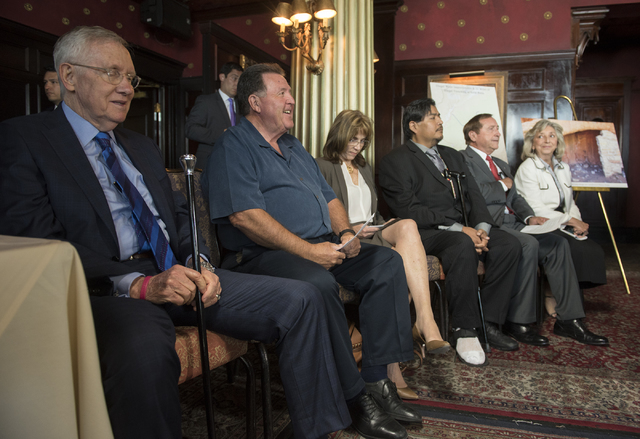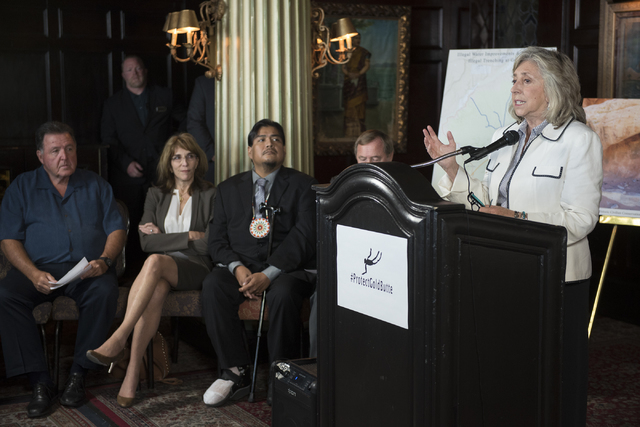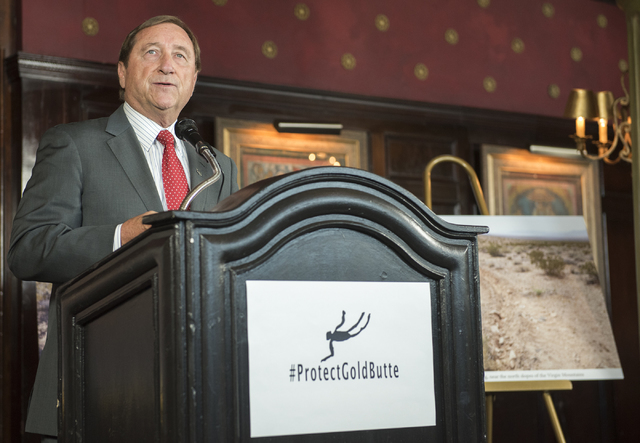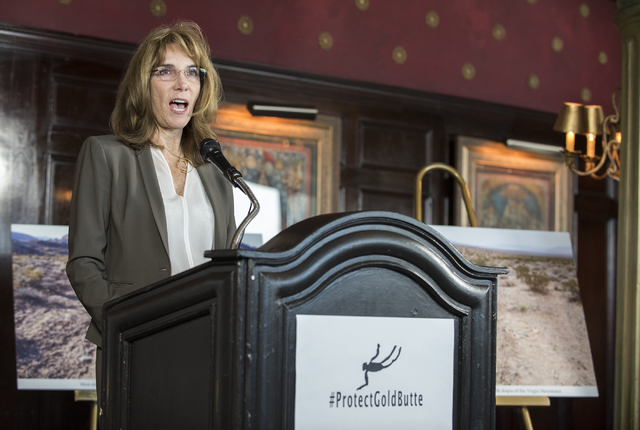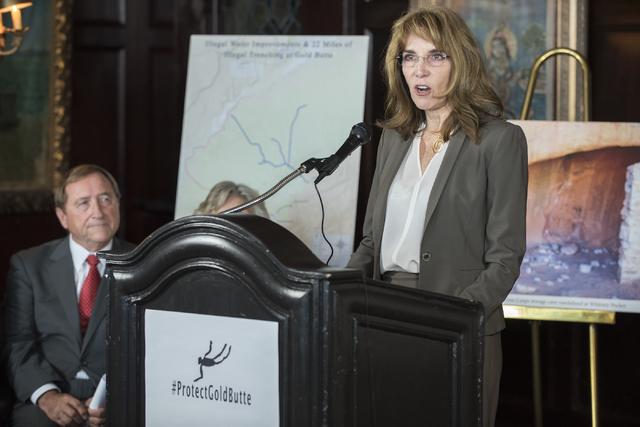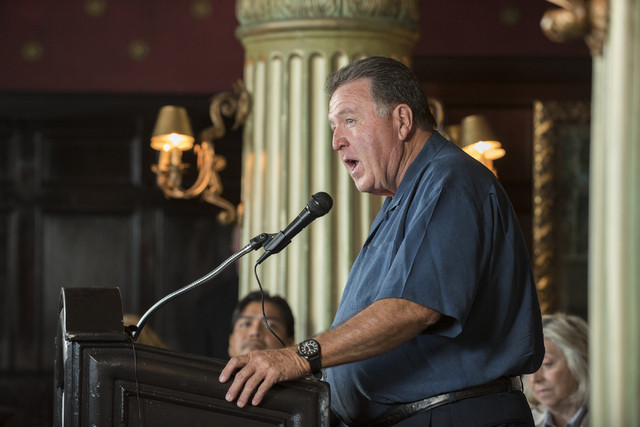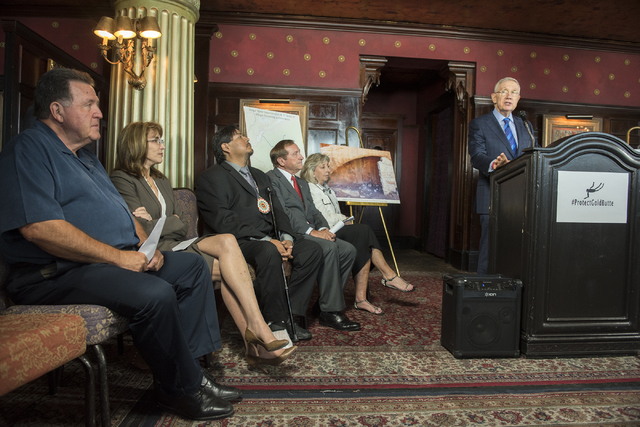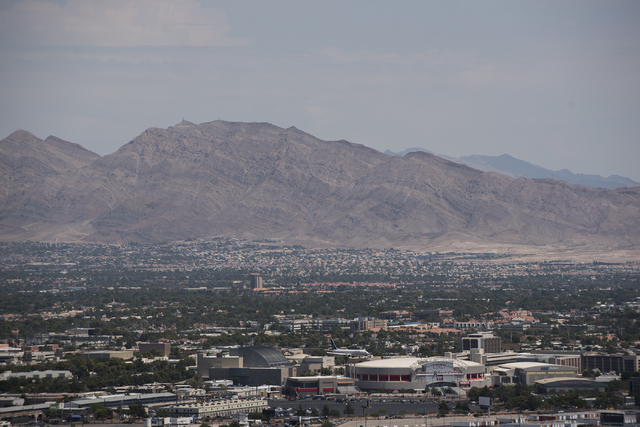 U.S. Sen. Harry Reid said Thursday he's "confident" that President Barack Obama will designate Gold Butte as a national monument before leaving office in January.
"It's going to happen," Reid, D-Nev., the Senate minority leader, said to an audience of more than 50 gathered inside Mandalay Bay's Foundation Room.
"We just want it to happen before the first of the year."
Such a designation would be the president's second in Nevada, and would widen federal protections to maintain Gold Butte's historic significance.
Gold Butte lies south of Mesquite near the Arizona border. It is roughly 350,000 acres of government-protected conservation land and wilderness managed by the federal Bureau of Land Management.
The property is home to the desert tortoise, a historic mining town and ancient Native American petroglyphs and artifacts.
But those natural and historical resources are being threatened, a local conservation advocacy group reported.
Reid's remarks came during a press conference to announce the release of the second damage report created by Friends of Gold Butte.
The nonprofit group's executive director, Jaina Moan, said the report documented vandalism, illegal incursions by off-road vehicles and 22 miles of illegal trenches through habitats to lay a water pipe.
"We felt like it was important for people to realize and understand the extent of the damage that was happening out there," Moan said. "We don't believe this is the way you treat our public lands."
Neither does Reid.
In 2013 and 2015, he proposed legislation to protect Gold Butte as a National Conservation Area. But the bills did not come to fruition.
On Thursday, Reid made it clear he blamed the Republican Party for the efforts' failures.
"They have done everything they can to destroy our ability to work on public lands," he said.
But Obama can bypass Congress using executive authority under the Antiques Act of 1906 to designate Gold Butte as a national monument. Doing so would allow the property to be managed more like a national park.
Obama has used the power in Nevada before.
In 2015 he designated the 704,000-acre Basin and Range National Monument in remote areas of Lincoln and Nye counties.
Expanding protections for Gold Butte could limit further development and commercial use of the property.
Now with defiant Bunkerville rancher Cliven Bundy and some of his anti-government militia backers in jail, it seems like a prime opportunity for the Obama administration to step in. In April 2014, Bundy and law enforcement had an armed standoff after federal officials began rounding up Bundy's cattle that were grazing in Gold Butte.
Speaking at Thursday's press conference, Rep. Dina Titus, D-Nev., said it's time for the government to protect the area.
"We cannot wait another year for another (damage) report," she said.
Other lawmakers, including U.S. Sen. Dean Heller, R-Nev., and Congressman Cresent Hardy, R-Nev., have opposed a national monument designation.
"The establishment of any new national monument in the State of Nevada, regardless of location, ought to be considered in the public Congressional process," Heller wrote in an April letter to Obama. "Only through this type of process, not unilateral action by the executive, can we ensure all parties, including those who support and oppose a given measure, have an equal opportunity to voice their opinions."
On Thursday, Heller spokesman Neal Patel said Heller's position has not changed.
Hardy offered a similar view on the issue.
"The Gold Butte stunt we saw on the Strip today further peddled the false narrative that designating a national monument is the only way to protect our public lands," he said in a statement. "I think there's a better way to protect our natural heritage, and it starts by allowing Nevada's elected representatives to have a vote in Congress."
Contact Michael Scott Davidson at sdavidson@reviewjournal.com or 702-477-3861. Find @davidsonlvrj on Twitter.