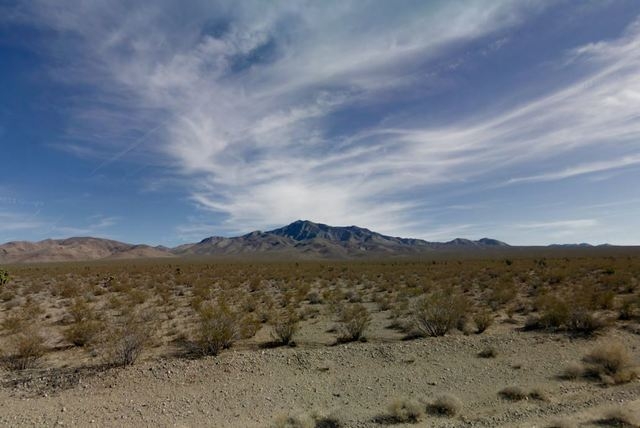 "Extremely rugged" mountains near the California-Nevada border are making it tough for search and rescue crews to reach wreckage of what could be a small plane that disappeared on its way to Henderson.
It will likely be Thursday before anyone can get to the aircraft, according to California's San Bernardino County Sheriff's Department.
Civil Air Patrol search crews spotted the remains of the plane about 9:15 a.m. Wednesday on Clark Mountain in Mojave National Preserve, about 60 miles southwest of the Las Vegas Valley, according to the Federal Aviation Administration.
A Beechcraft Bonanza disappeared from radar around 8 p.m. Tuesday while flying from California City, about 65 miles west of Barstow, Calif., to Henderson, the FAA said. There were two people on board.
They have not been accounted for.
Authorities have not confirmed whether the wreckage found Wednesday is the missing plane.
San Bernardino County Sheriff's Department spokeswoman Cindy Bachman said crews can not see the aircraft's tail number — like a license plate for a car — but that the color seems to match that of the missing plane. She said the wreckage is in an "extremely rugged site" at about 5,000 feet in elevation.
First responders from the San Bernardino County coroner's office and the National Transportation Safety Board were assisting the sheriff's deputies in scouting the crash site from a helicopter Wednesday and trying to determine how to reach the wreckage, Bachman said.
"They're experienced," she said. "They might know how to get to them."
National Park Service personnel are helping on the ground, though the wreckage is in "more of a climbing type of topography," said John Piastuck, chief ranger for Mojave National Preserve.
The peak of Clark Mountain rises almost 8,000 feet above the desert floor and is surrounded by relatively flat terrain, Piastuck said. The nearest road is Interstate 15, roughly 3 miles to the south, he said.
An FAA spokesman refused to comment on what may have caused the crash.
San Bernardino County skies had some clouds and light rain Tuesday night, according to the National Weather Service.
And strong winds are making it even more difficult to reach. If crews cannot rappel down to the site from aircraft, they will have to hike up to it.
Bachman expected crash site assessment to wrap Wednesday evening and recovery efforts to pick up again Thursday.
Clark Mountain is the highest point in Mojave National Preserve, but it lies in an isolated, little-visited pocket of wilderness north of I-15. The rest of the 1.5 million acre park lies between I-15 and Interstate 40 to the south.
Review-Journal writer Henry Brean contributed to this report.
Contact Wesley Juhl at WJuhl@reviewjournal.com and 702-383-0391. Find him on Twitter: @WesJuhl.