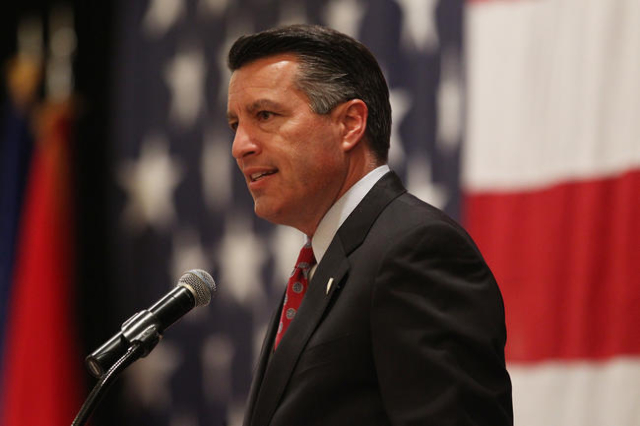 CARSON CITY — Gov. Brian Sandoval may be suffering some political fallout for the $1.4 billion tax plan he pushed through the 2015 Legislature, but a poll of Nevada voters shows he is one of the most popular governors in the country.
The public opinion survey of all 50 governors by Morning Consult shows Sandoval with a 66 percent approval rating. Another 20 percent disapprove of the second-term Republican governor while 14 percent did not know. Morning Consult is a politics and polling publication based in Washington.
The results are from 740 registered Nevada voters with a margin of error of plus or minus 3.6 percentage points. The polling was conducted over the course of several months, from May to November.
Morning Consult, a reputable, independent firm, does 2,000-person national polls every week, so the Nevada responses from every week in that time frame were combined to get a statistically large enough sample.
The surveys of 76,569 registered voters in all 50 states asked voters if they approve or disapprove of their governor's job performance. Each state's sample was weighted based on gender, age, and race, using data from the U.S. Census Bureau's current population survey.
The sample sizes vary by state, from 6,696 registered California voters to 198 voters registered in Wyoming; margins of error vary by sample size. The median sample size was 1,172 respondents.
Only three governors, Larry Hogan of Maryland, Charlie Baker of Massachusetts and Dennis Daugaard of South Dakota, all Republicans, had higher approval ratings. Baker was the highest at 74 percent.
Sandoval tied with Jack Dalrymple of North Dakota, also a Republican, for fourth place.
At the other end of the spectrum was Kansas Gov. Sam Brownback, also a Republican, with a 26 percent approval rating.
Sandoval is facing some backlash from the anti-tax contingent of his own party. Fellow Republican and state Controller Ron Knecht is one of several GOP leaders seeking to put one element of Sandoval's tax plan, the new commerce tax, on the 2016 ballot for voters to weigh in on.
Sandoval pushed for the big tax hike, which included a major increase in the cigarette tax, to fund his ambitious education reform plan. He is opposed to any effort to put any portion of the tax measure on the ballot as a voter referendum.
Contact Sean Whaley at swhaley@reviewjournal.com or 775-687-3900. Find him on Twitter: @seanw801.