'There's a lot of scared people in this town:' Tensions run high in Mesquite
Updated August 4, 2021 - 6:25 pm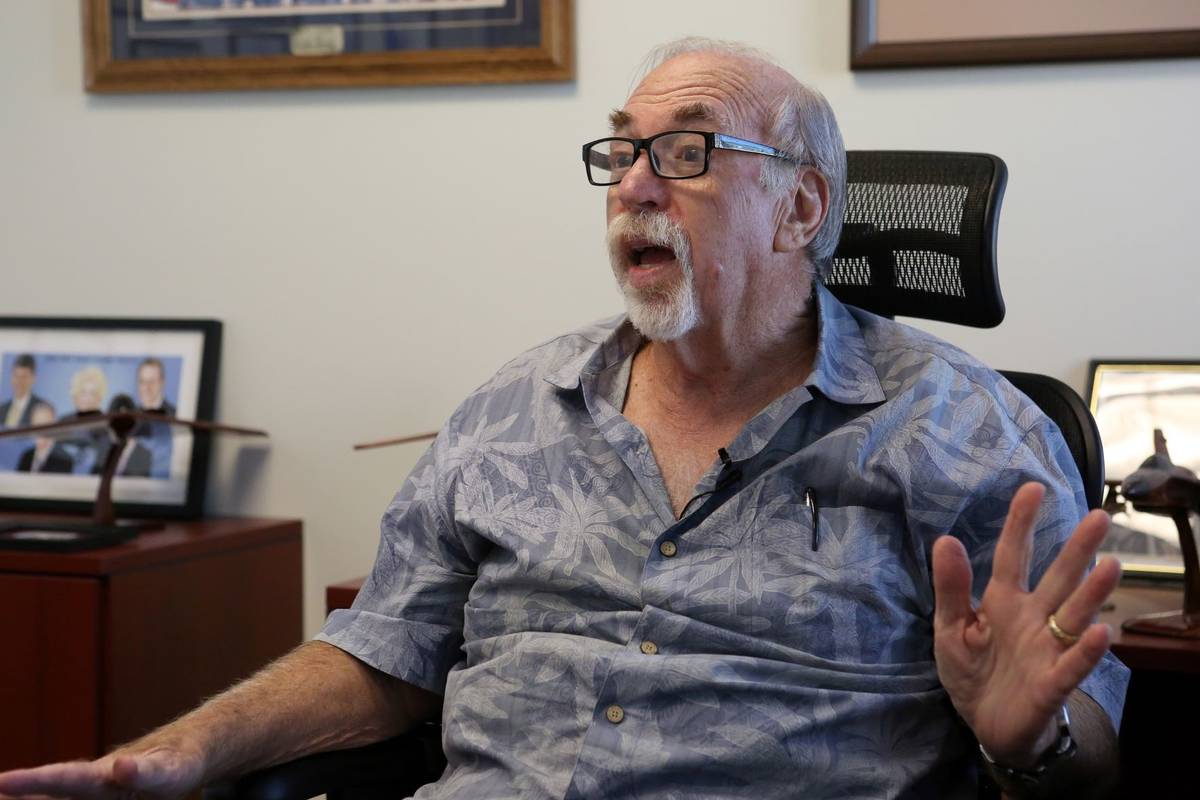 A tumultuous 2020 mayoral campaign sparked growing tensions in Mesquite, resulting in city officials being forced out of office, the local online newspaper stopping operations and journalists losing their jobs.
"It's a civil war going on up here," former city Councilman Dave Ballweg said Thursday. "There's a lot of scared people in this town."
The Mesquite Citizen Journal shut down this month after the publisher said she received anonymous threats in retaliation for an article she posted about allegations against the city's police chief.
"It's one thing to fight city hall. It's quite another to fight the Mesquite Police Officers Association union when they make threats and publicly verbalize intimidation to advertisers, people who dare talk to a newspaper who may not walk the line with union positions, and any others who disagree with their agenda," editor and publisher Barb Ellestad wrote in her last post, on May 13. "I'm done. The Mesquite Citizen Journal will cease publication effective today."
Allegations against the chief
Ballweg, who served on the Mesquite City Council from 2017 to 2018, said a culture of fear surrounds the Mesquite Police Department and the Mesquite Police Officers' Association, which have been accused of retaliating against those who oppose them politically.
According to Ballweg, when he ran unsuccessfully for re-election in 2018, the police union didn't like his plans for the future. He alleged that he was followed and harassed by police, but the department denied his claims. Nevertheless, Ballweg said he lost all trust in the officers he had supported for a decade.
"I can't talk to an officer," he said. "I'd be afraid to call them if I needed help."
Ellestad wrote a story in late April about an investigation by the Nevada attorney general's office into claims that Mesquite Police Chief MaQuade Chesley had exchanged inappropriate messages and photos with underage girls while he was a captain in the department from 2015 to 2019.
Attorney General Aaron Ford said in a letter dated May 18 that a preliminary investigation had turned up no evidence of criminal wrongdoing.
"As such, we believe that this matter has been addressed at the appropriate levels within the law enforcement system," Ford wrote. "Accordingly, we have closed our investigation."
Chesley on Wednesday denied that he had inappropriate involvement with underage girls.
"Honestly, it was nothing more than rumors started by people that have a political vendetta against the Police Department, I guess the union," Chesley said, adding that people often confuse the department and the union, though they are separate entities. "I don't have any jurisdiction over the police union, but of course I'm the head of the Police Department, which has for some reason put me in this position of political retribution."
Ellestad's reporting attributed the allegations to anonymous sources, and she said she kept the names confidential for fear of possible repercussions toward the sources.
But Ellestad's opponents saw the anonymous sourcing as evidence that the allegations were unfounded, and, because Ellestad wrote both opinion pieces and news stories, discounted the website as a gossip blog.
The Mesquite Citizen Journal was approved as a member of the Nevada Press Association on May 13, the same day Ellestad ceased publication and laid off her employees, which included paid and unpaid journalists.
Chesley isn't the first Mesquite police officer to be accused of inappropriate behavior with a minor. Former Detective Gary Erickson pleaded guilty in 2019 to one count of sexual abuse of a minor after he was accused of sending inappropriate photos and messages to a 15-year-old boy in St. George, Utah. Court records show that he was sentenced last May to five years in a federal prison.
Mesquite Citizen Journal closure
Ellestad said "all hell broke loose" after she published her story about the attorney general investigation, and she received an email from Chesley's attorney threatening legal action if she continued pursuing the story. She also received voicemails from anonymous numbers that she believed came from the police union.
"I noticed you didn't want any comments," one of the anonymous callers said of the story in a voicemail. "I'm guessing that's because you know you'll get your shriveled a— blown up about it."
Ellestad received a cease-and-desist email from Chesley's attorney, Philip Trenchak, on April 27, about 30 minutes before she published her article about the investigation.
"My understanding is that you plan to print some patently false and defamatory allegations in an online newsfeed," Trenchak wrote in the email. "Mr. Chesley will be forced to seek all available legal remedies against if this publication takes place."
She said she's lived in the same house in Mesquite for 20 years and has never feared for her safety, but is now extra careful to drive safely to avoid interaction with police and has installed a home security system with cameras.
"It's not that I'm afraid of the bad guys. I'm afraid of the so-called good guys," Ellestad said of her tense relationship with police. "If somebody breaks into my house, who am I going to call?"
The 2020 mayoral election
Then-City Attorney Bob Sweetin was running against incumbent Mayor Allan Litman in 2020, and the Mesquite police union publicly endorsed Litman, who won. Rick McCann, executive director of the Nevada Association of Public Safety Officers, said the endorsement sparked a fight.
"The MPOA did not support that individual — and the MPOA has a right to provide this expression of who it supports and who it endorses — did not endorse that particular person, and that person came out guns blazing," McCann said. "A lot of this stuff, I believe, was started or at least furthered as a result of the discontent between that one candidate and that candidate's supporters versus those who did not support that candidate."
The Mesquite police union referred the Las Vegas Review-Journal to the Nevada Association of Public Safety Officers, which McCann said represents more than a dozen law enforcement associations in Nevada, including the Mesquite union.
McCann explained that the Police Department disagreed with the way Sweetin had handled a previous sexual assault case involving two teens, and the disagreement "became campaign fodder." The community took sides, and he said the divide has only expanded in recent months.
The Mesquite City Council voted to terminate Sweetin's contract "without cause" in December.
Mesquite is a small but growing city in Clark County, about 80 miles northeast of Las Vegas, with a population of about 18,450. Though the community has seen a growth spurt in recent years, longtime residents say it has maintained a small town culture where everybody knows everybody, and rumors travel quickly.
McCann said that if the chief had acted inappropriately or if the Mesquite police union had threatened Ellestad, he would have investigated it thoroughly and there would be repercussions. But he hasn't seen any proof.
Community tensions were evident at recent Mesquite City Council meetings, during which then-City Manager Aaron Baker was the target of many harsh comments, with Mesquite police Sgt. Wyatt Oliver saying in the April 27 meeting that Baker's office had "bulldozed" the Police Department.
"Time and time again we put ourselves out there to make the city a better place, but we are put in a position to be put down by the city manager, to be ignored, to be not given the information we request from the city during negotiations, and it's unacceptable," Oliver said.
Baker resigned on May 12. He was not available for a phone interview this week but said in a text message to the Review-Journal: "I love and care about Mesquite, and I am grateful for the community members, employees and elected officials and wish them only the best."
Contact Alexis Ford at aford@reviewjournal.com or 702-383-0335. Follow @alexisdford on Twitter. Review-Journal staff writer Rio Lacanlale contributed to this report.
A previous version of this story incorrectly characterized the Mesquite city attorney's handling of a sexual assault case. It also incorrectly stated the year that former Detective Gary Erickson pleaded guilty in a separate case.