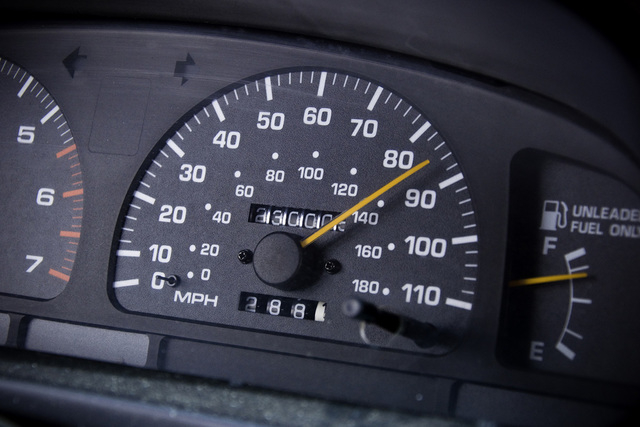 You won't see members of the state Transportation Department's board of directors backing a bill to increase the speed limit on rural Nevada interstate highways to 85 mph.
Fearing that encouraging a study of where higher speed limits would be feasible sends the wrong message about safe driving, the department's director will lobby against Senate Bill 2, a measure introduced by Sen. Don Gustavson, R-Sparks. The proposal would allow speed limits to be increased on portions of interstate highways from 75 mph.
Department director Rudy Malfabon told members of the state board on Monday that he was planning to address the Board of Examiners this week for funding to study which sections of highways would be best suited for higher speed limits.
But board members said they prefer Malfabon not conduct a study because that would leave the impression the board is considering or supports increasing the speed limit.
While the matter was not on Monday's Transportation Board agenda, individual members weighed in, most of them opposed to an increase.
"Even studying this sends the wrong message that we support increasing the speed limit," said board member Tom Skancke.
Board member Tom Fransway called the proposal "irresponsible and ill-advised."
"Let Utah do it's thing," Fransway said in reference to that state allowing speed limits of 80 mph on portions of Interstate 15. "I don't know that the public needs to spend money on that (a study)."
Board members said supporting higher speed limits is contradictory to the "Zero Fatalities" message transportation leaders support. Zero Fatalities is a safety awareness program that addresses seat-belt usage and distracted driving as well as speeding.
One board member supported the higher speed limit plan.
Controller Ron Knecht said accident statistics don't prove that higher speed limits are detrimental because better automobile technology and superior road engineering are making highways safer. He said he believes the state's engineers would make responsible decisions about where to implement higher speed limits in Nevada.
"Zero Fatalities is a nice-sounding slogan, but there's some false hope involved in believing that it can be achieved," Knecht said.
After hearing from board members, Malfabon indicated he would back away from seeking funds for a study.
In other business, the board received an update on Project Neon, the 3.7-mile, $1.5 billion upgrade to the Spaghetti Bowl interchange.
Ground won't be broken until February, but the state has made major strides in property acquisition and planning.
The state had to modify its agreement with the city for a portion of the project that will link Grand Central Parkway with Industrial Road with an overpass over the Union Pacific railroad tracks. It also has lined up the timetable for hiring a contractor for the job, considered the largest public works project in state history.
Project manager Cole Mortensen told the board Monday that the final request for proposals will be issued this month and proposals will be due in July. A contractor is expected to be selected in September with the contract awarded in fall.
The board approved spending up to $1.5 million for unsuccessful proposals. That's because the state will take ownership of all the proposals submitted and will have the ability to pay for any intellectual property that may be submitted from an unsuccessful bidder. Mortensen said it's a measure to get the best solutions for the project, even if they don't come from the winning bidder.
The acquisition of the 60 land parcels needed for the project is nearly complete. The state has ownership, legal occupancy or condemnation authority on 53 of the 60 properties. Of the seven remaining parcels, six are City of Las Vegas parcels and one has a private owner. There are multiple occupants on the seven parcels, so relocation is necessary for one residential occupant, five small businesses and one large business and three billboard sites.
To date, $97.4 million has been spent on acquisitions and legal costs.