Weather cancellation of RiSE festival leaves storm of ill will
Updated October 9, 2018 - 6:41 pm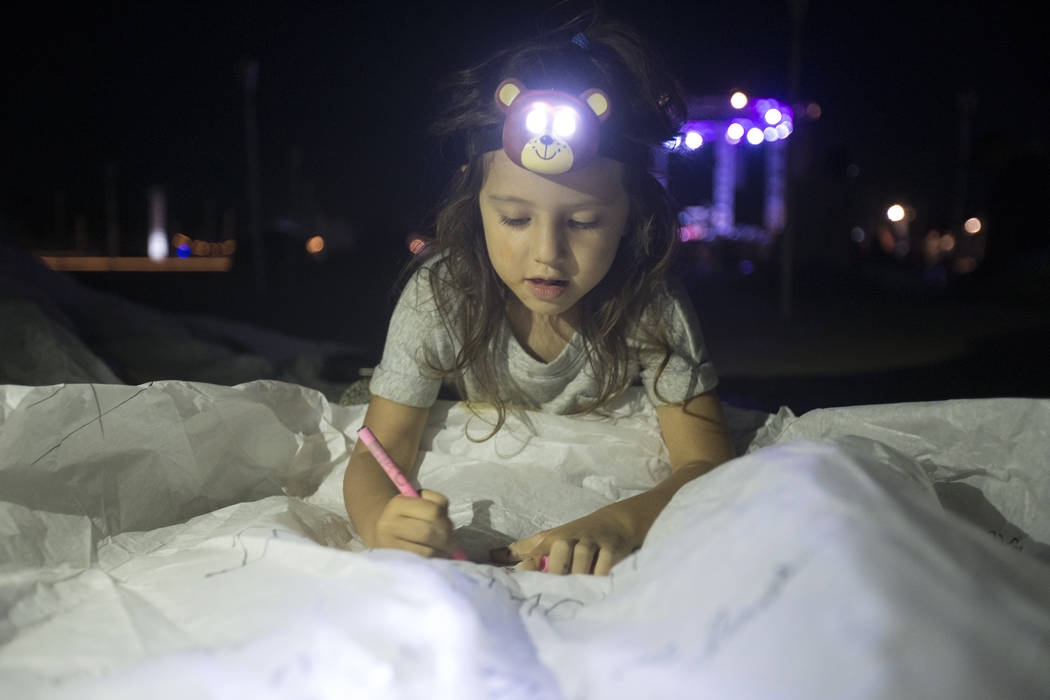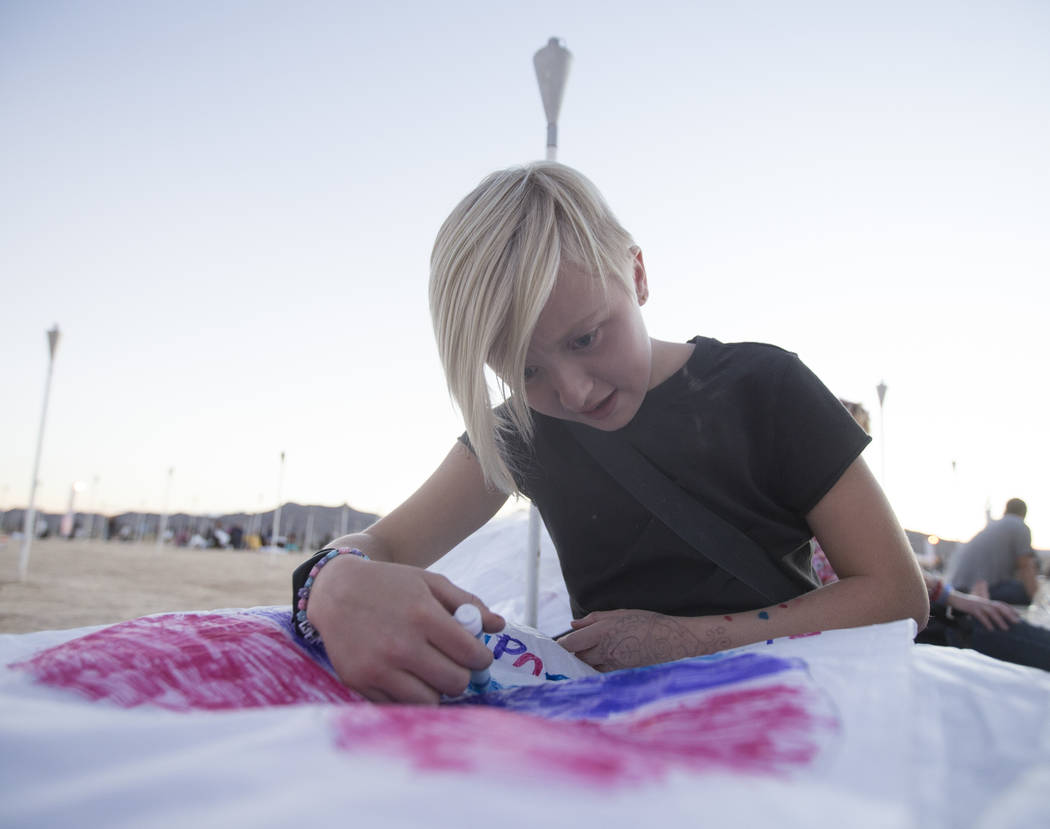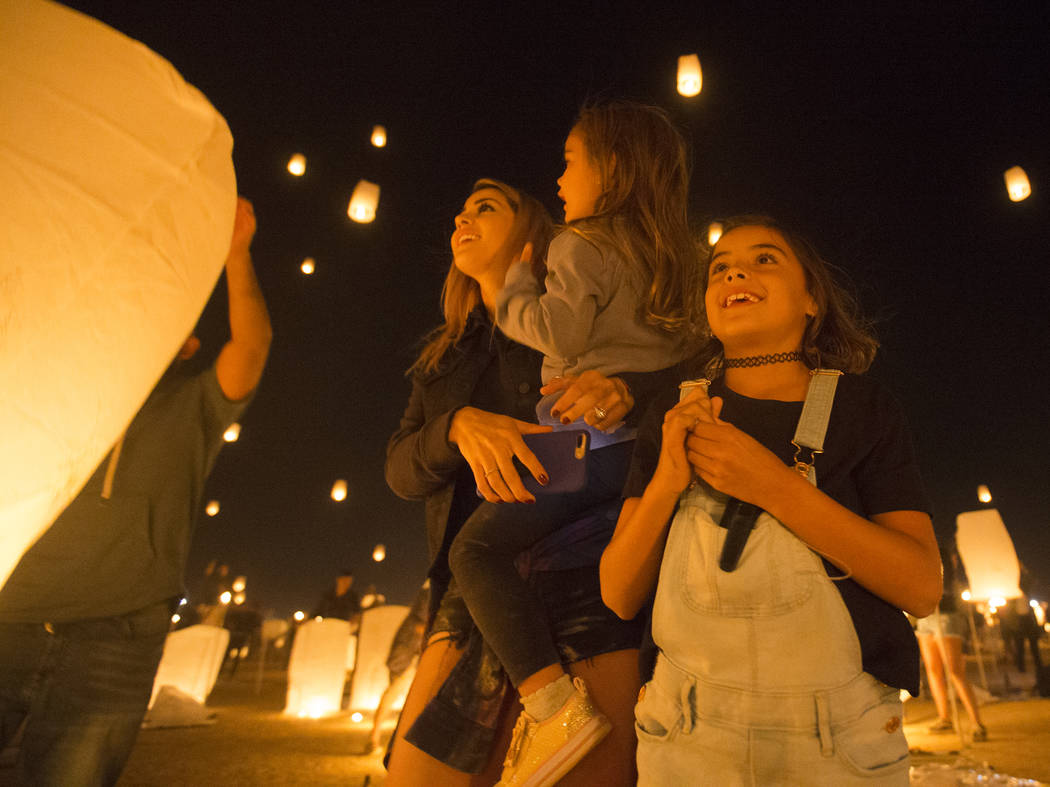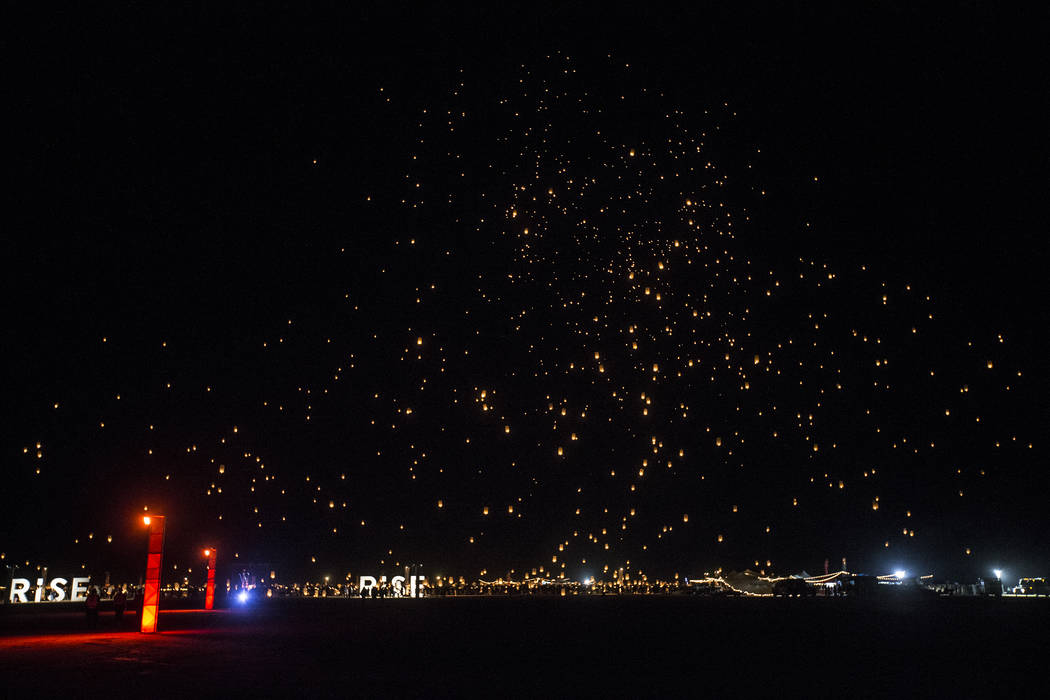 The weather-related cancellation of the launch of thousands of illuminated flying lanterns Saturday at the RiSE festival left a storm of ill will among paying customers, who weren't offered full refunds.
On Friday, the lanterns were dispatched as planned over the dry lake bed in Jean, about 28 miles southwest of Las Vegas. Attendees wrote messages of inspiration, remembrance and goodwill on the lanterns, which were released into the night sky as shining symbols of healing and hope.
On Saturday, however, organizers announced about a half-hour before the planned first release of lanterns at 8:15 p.m. that they had to cancel because of lightning and rain moving into the area.
That was a major bust. Called on an inbound lightning storm, no mention of refund, no mention of voucher for next year. I get it, public safety, but we were surround by storms all afternoon, should have done one launch at 7pm when it got dark #livid #risefestival @therisefestival pic.twitter.com/d1PuAKpFl2

— Brittney Sandell (@brittneys1497) October 7, 2018
The weather didn't cooperate for a safe sky lantern launch at the Rise Festival tonight. For safety reasons, including expected lightning, strong winds and rain, the launch was canceled at 7:48 p.m. and all participants were safely out of the area in less than two hours. pic.twitter.com/otwSlEFdmZ

— Bureau of Land Management- Nevada (@blmnv) October 7, 2018
#risefestival This event was an absolute abomination. The organizers said they had professional forecasters give the weather report and yet the event still went sour. There was no mention of any cancellation up until the winds starting picking.

— Irving Violet (@IrvingViolet2) October 7, 2018
Series of events today: wake up, drive 4 hours to Vegas for Rise Festival, sit in desert for 5 hours, storm cancels festival, try to leave parking lot for 2 hours, drive home for the next 4 hours. What a day.

— Ryan Dea (@ryanalexdea) October 7, 2018
Upset. Disappointed. Wet. Dirty. #risefestival was a complete disaster. Organizers mishandled the entire timing of the storm.

— Jon O (@BoogieScience) October 7, 2018
An estimated 26,000 people paid up to $129 each to attend either day of the two-day festival, many from distant locales. They took to social media to share their unhappiness.
"Upset. Disappointed. Wet. Dirty. #risefestival was a complete disaster. Organizers mishandled the entire timing of the storm," one user posted on Twitter.
On Sunday, RiSE organizers posted on Instagram and Facebook that they would offer customers who didn't purchase insurance 40 percent off tickets to next year's event.
"In the end, in conjunction with local authorities, we were forced to make a difficult decision. But your safety is our top priority and we simply could not risk the well-being of thousands of people," the post said, in part.
Rough return
Major transportation problems at the end of the inaugural RiSE in 2014 left hundreds stranded in the dark for nearly four hours as they waited for buses to take them to their vehicles, parked 11 miles away at the Gold Strike casino.
That chaos was among the reasons that Bureau of Land Management officials rejected RiSE's application for a special recreation permit in 2015, said Steve Leslie, supervisory outdoor recreation planner for the BLM in Las Vegas. The festival instead was held in 2015-17 on the Moapa River Indian Reservation, about 35 miles northeast of Las Vegas and outside federal jurisdiction.
At 3:04 p.m. Saturday, RiSE organizers emailed attendees stating that they had "professionals monitoring weather" on site and that "if the forecast changes, we may adjust the synchronized release time and could release lanterns as early as 7 p.m."
RiSE co-founder Jeff Gehring told the Review-Journal on Tuesday that organizers were working with the National Weather Service, the BLM and other law enforcement agencies to release lanterns at 7 p.m. Saturday, but it was determined that "we couldn't get a release done in time."
"If we tried to do it, we would have had people trying to set up lanterns with winds," he said.
The team kept monitoring the weather, but ultimately had to end the event early.
"As founders of the festival, that was an excruciatingly painful decision, because we recognize the lanterns are one of the most magical experiences," he said. "We're still looking at other options to make our participants whole."
Pahrump resident Dorothy Van Zuilen, who brought her 9-year-old granddaughter to the event, said trying to stick to the original launch schedule was a big mistake.
"Had they done it at 7 p.m. … it could have been perfect," she said. "But they didn't announce anything until 7:45. … We went from writing messages and getting ready to set up the lantern, to 'We have to throw it out and leave.'"
Van Zuilen, 47, said she chose Saturday to attend because it was her late son's 20th birthday.
Her son, Noah, died two years ago of an undetected congenital heart defect. She said she wrote a note for him on the lantern, as well as messages to other loved ones she has lost unexpectedly over the years.
Because sky lanterns are illegal in Nevada without a permit, guests had to leave their unused lanterns with staff members as they exited the venue.
"When you're putting your hopes and dreams and messages on your lanterns, to turn around and have them destroyed?" Van Zuilen said.
Oceana Sanchez, 31, who brought her two young daughters from San Diego, said their weekend at the festival and in Las Vegas cost about $1,000.
Sanchez said she had attended two years ago after leaving an abusive relationship.
"That literally saved my life. It picked me up, and gave me something to look forward to and let go of my hurting pain. I took (the daughters) so that they can have that same healing process that I had," she said.
Her daughter Isabella, 7, wrote a letter to her dad, whom she hasn't seen in a few months, on her lantern.
Amid the rain and chaos, Sanchez said, it took 45 minutes to find her car and more than two hours to get out of the parking lot.
"The release of the lanterns is the moment that we needed to heal," she said. "Instead, we lost our money and our memories."
Contact Briana Erickson at berickson@reviewjournal.com or 702-387-5244. Follow @brianarerick on Twitter.