Who is the Nevada assemblywoman in middle of the Oregon standoff?
February 11, 2016 - 8:51 pm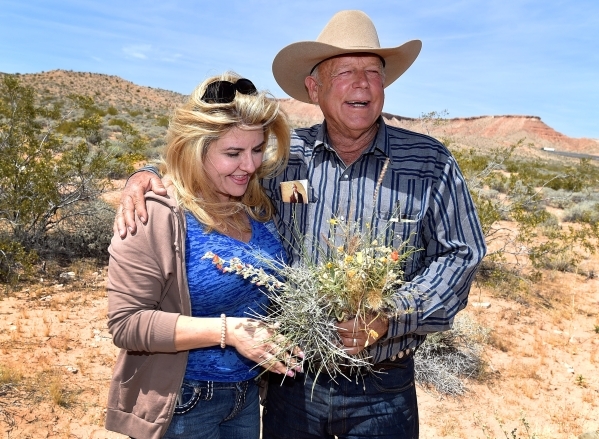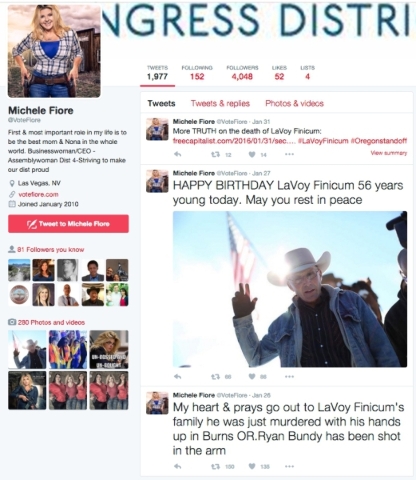 A Nevada lawmaker known more for her controversial comments than political prowess has again thrust herself into the national spotlight.
Assemblywoman Michele Fiore, R-Las Vegas, traveled with Assembly-woman Shelly Shelton, R-Las Vegas, and another Nevada lawmaker to Port- land, Oregon, on Wednesday to talk to attorneys for Ammon and Ryan Bundy.
A day before her trip, Fiore told the Review-Journal the she wanted to stand up to the federal government and defend people from its overreach. Instead, she worked with federal agents to defuse the standoff.
Even before her plane landed Wednesday night, Fiore, 45, was on the phone with the last four protesters holed up at the Malheur Wildlife Refuge outside of Burns, Oregon.
For hours Wednesday night and Thursday morning, Fiore intervened in negotiations between the protesters and federal agents. FBI Special Agent in Charge Greg Bretzing said she and evangelist Franklin Graham provided "significant assistance" in ending the 41-day standoff.
But Fiore's critics say she helped cause standoff in the first place.
Annette Magnus, executive director of Battle Born Progress, a left-leaning Nevada advocacy group, said Fiore was one of several "reckless politicians … complicit in creating this situation."
"She's not a hero, she's one of them. She's one of these terrorists," said Magnus, whose group advocates permanent federal protection of the Gold Butte area near Bundy's ranch.
Standoff charges questioned
On Tuesday, Fiore said she questioned criminal charges against the refuge occupiers and wanted Oregon authorities to release more video of the death of protester Robert "LaVoy" Finicum, whom Oregon State Police shot dead at a U.S. Highway 395 roadblock on Jan. 26.
The FBI released over 25 minutes of aerial footage of the incident two days after the shooting. During a Jan. 28 press conference Bretzing said troopers shot Finicum after he refused to surrender and reached for a gun.
"That was an ambush," Fiore said.
In the moments after the shooting, Fiore, who was not in Oregon at the time, told several media outlets Finicum was shot while following police orders.
"My heart & prays go out to LaVoy Finicum's family he was just murdered with his hands up in Burns OR.Ryan Bundy has been shot in the arm," she tweeted that night.
On Tuesday, she said she believes the FBI was using hired contractors in the shooting; that authorities intended to kill the Arizona rancher; and that federal agents planted the gun found in his jacket pocket.
She said she based these conclusions on the FBI's video and theories floated on a far-right Internet blog.
Eric Herzik, political scientist at the University of Nevada, Reno who studies Nevada politics, said those comments reveal Fiore as an "extreme voice" speaking to a small group of like-minded people.
"Most Americans would look at it going, 'Who is this person?'" Herzik said. "I'm sure the group of so-called patriots take that as spoken truth."
Fiore has been occupied
Thursday marked Fiore's first trek to Oregon since the standoff started, but it's not her first involvement in it.
Fiore said she has had several phone and Skype video calls with the occupiers, and her conversations with the last four holdouts are heard on videos posted to YouTube by protester David Fry.
Jesse Sbaih and Barry Michaels, Fiore's rivals for an open congressional seat, on Wednesday said her involvement in the Oregon dispute is inappropriate for a Nevada lawmaker, and for a candidate for federal office. They said she's little more than an attention-seeker.
Herzik agreed, saying Fiore's involvement could be seen as a publicity stunt.
Less than eight hours after the standoff ended, Fiore's congressional campaign sent out a statement from the lawmaker, saying it was "an honor" to work with Graham and the FBI, and how "exhausting but gratifying" it was to see a peaceful end to the confrontation.
"It's a little unusual for a state legislator from an urban area, and from one not in the same state," Herzik said. "Why would anyone care that an assemblywoman from Nevada — from Las Vegas no less —is supporting the militia?"
But Herzik also said Fiore has been consistent in her support of states' rights to public lands, and "she has supported the Bundys all along."
Fiore supported Bundy in the 2014 standoff, contending that federal officials were overreaching their authority, and continued the fight in the Legislature. Fiore sponsored a 2015 bill challenging federal control of public land in Nevada, but the measure was deemed unconstitutional by the Legislative Counsel Bureau and amended heavily. It failed in a 34-8 vote.
Fiore words that stirred things up
Up until last year, she ran a home health care business called Always There 4 You. State regulators pulled the business license for that company last fall.
Fiore first entered public office in 2012 by winning Assembly District 4, which encompasses many of the newer, less established neighborhoods in northwest Las Vegas. She was re-elected in 2014.
Beyond her fight against federal land control, controversies have kept Fiore in the national media blur.
Fiore's 2015 Bundy bill put her on center stage, though not for the reasons she wanted.
During discussion on the bill April 21, she interrupted Assemblyman Chris Edwards, R-Las Vegas, as he was asking about an amendment to the bill. Fiore, seemingly fed up with the questions, grabbed a microphone and asked Speaker John Hambrick, R-Las Vegas, to end Edwards' time, then turned her ire toward Edwards himself, saying, "Sit your ass down."
The comment caused a momentary shock, an Assembly recess and then, an apology from Fiore to Edwards.
Later that year, Fiore grabbed national headlines again for comments she made about Syrian refugees on her weekly radio show.
"What, are you kidding me? I'm about to fly to Paris and shoot 'em in the head myself," Fiore told a radio audience, referring to the terrorist attacks in November. "I am not OK with Syrian refugees. I'm not OK with terrorists. I'm OK with putting them down, blacking them out, just put a piece of brass in their ocular cavity and end their miserable life. I'm good with that."
Fiore backed away from those remarks days later, telling the Review-Journal that her comments applied to terrorists, not refugees.
Herzik said Fiore knows exactly how to snag the national spotlight, so it's difficult to tell whether her sentiments are sincere or a publicity grab.
"She's been consistent, but it also promotes herself," Herzik said, noting national attention to her 2015 Christmas calendar, which depicted her entire family, including small children, holding a variety of firearms. "You can't really divorce the two. She is effective at getting herself public notice."
Review-Journal writer Henry Brean contributed to this report. Contact Colton Lochhead at clochhead@reviewjournal.com or 702-383-4638. Find him on Twitter: @ColtonLochhead