Young learn from Civil War re-enactment
November 2, 2014 - 7:33 am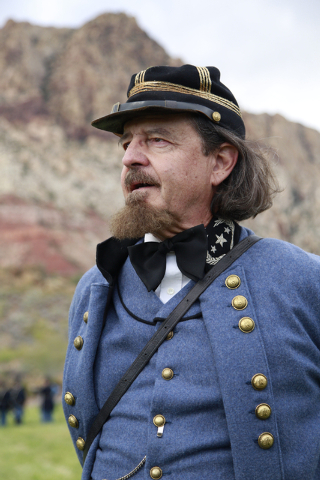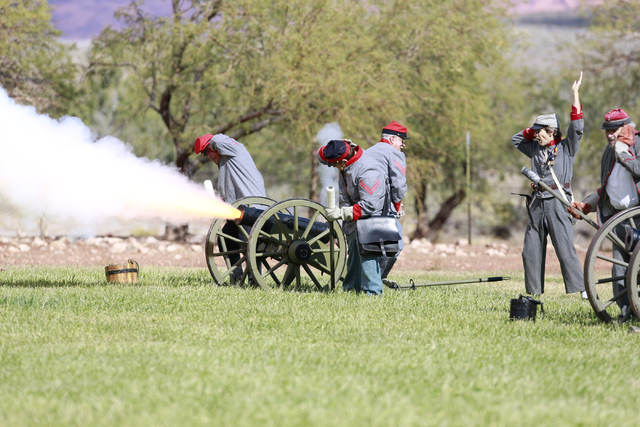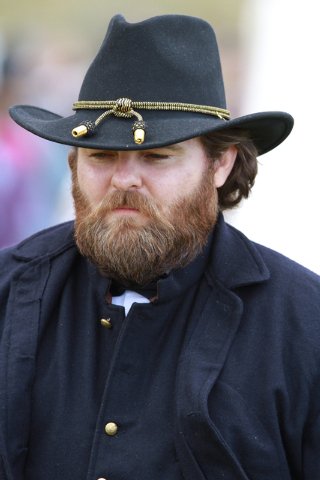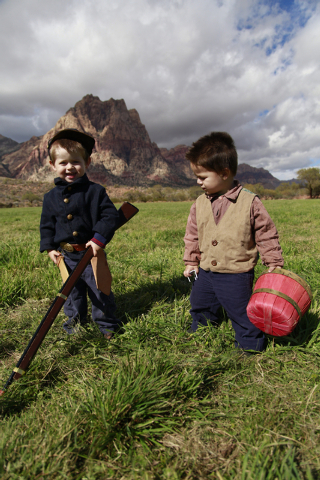 Dressed in Union blues, wielding their toy swords, two infants peer fearlessly through the smoke from cannons and rifles to see their father battle rebel soldiers.
The significance of America's Civil War will not be lost on this generation, thanks in large part to participants who strive to pass down the history of those tumultuous times.
Southern Nevada Living History Association volunteers and spectators took part Saturday in the ninth annual Civil War Days in the Battle Born State, a re-enactment of the war at Spring Mountain Ranch State Park in Red Rock Canyon.
Hundreds of people attended the event in head-to-toe Civil War attire. Many of them were children, who could be heard shouting such things as, "Oh no, they got Grandpa!" as their loved one collapsed to the ground.
The association has more than 100 members from Nevada, California, Arizona and New Mexico, association spokeswoman Lisa Coffey said.
She said young members are encouraged to participate to help preserve the history of the war but remain under strict guidelines until they are 16 years old. "That's when they are allowed to carry a loaded rifle" — a sort of right-of-passage for those who have participated since childhood.
They have the opportunity to learn Civil War history and practice for the re-enactments during monthly get-togethers. Although, for some, like 5-year-old Joshua De Luca, who says he practices "like a million times a day," that isn't frequent enough.
Joshua and his two younger brothers, Liam, 3 and Morgan, 20 months, were raised in the hobby by their parents, Keith and Kimberly De Luca. The family traveled all the way from Monrovia, Calif.
"He's been doing this since he was born," said Kimberly De Luca of her husband, Keith. The De Lucas met for the first time at a Southern California Civil War re-enactment nine years ago.
While most of the younger children could only help with the event from the sidelines, 7-year-old Elijah Serviss was lucky enough to be a flag-bearer during the big battle.
Serviss, a member of the association, said "the best part about practice is having fun."
He can't hold a real weapon yet, but he gets to practice formations and prepare for his role as a messenger.
"Practicing marching formations is just a bunch of walking," Serviss said.
The adult soldiers could be seen practicing their marching formations nearby, carrying long rifles and chanting before the battle began.
Association President Jason Coffey said this year's re-enactment is larger than others, partly because of Nevada's sesquicentennial anniversary. Actors portraying Union Gen. Ulysses S. Grant and Confederate Gen. George Pickett were added, as well as additional artillery.
Born from the Civil War, Nevada was admitted to the union 150 years ago Friday in part to generate support for Abraham Lincoln's re-election and to provide a vote to enact the 13th Amendment to the U.S. Constitution to abolish slavery.
Union soldiers, who lost the day's first battle, apologized to Lincoln, saying they gave it their best.
The president replied,"That's all you can do. We'll get them next time."
The re-enactments will continue from 9 a.m. to 3 p.m. today.
Contact Kimberly De La Cruz at kdelacruz@reviewjournal.com or 702-383-0381. Find her on Twitter: @KimberlyinLV.