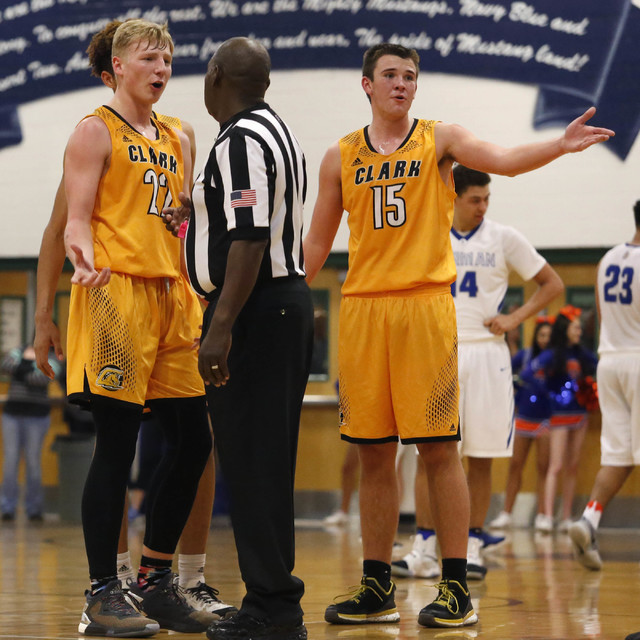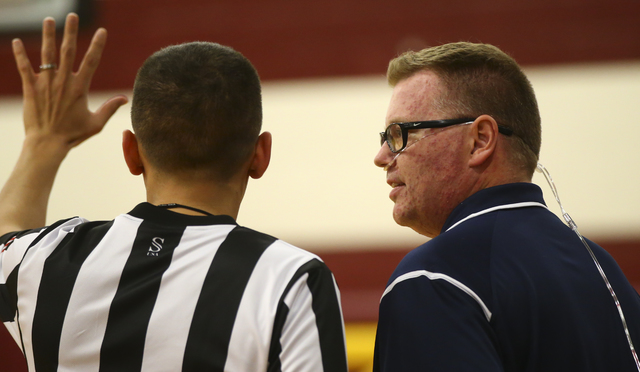 For all the insults they endure, Summerlin-area referees and umpires still say they love their jobs.
"People will be screaming at you and yelling at you and doing all this stuff, and a lot of (referees) are like, 'I don't need the money; I'll just go do my other job and not have to deal with these people,'" said Vince Kristosik, who has been president of the Southern Nevada Officials Association since 2008. "It doesn't happen at every game, but every so often."
Kristosik lamented that the number of local referees keeps diminishing as the economy recovers.
"(At) one time we had about 1,100 referees in our organization. Now, we're down to like 800 and we've been steadily dropping every year," he said.
There is no umpire school, but SNOA offers classes throughout the year. Referees are not required to have experience playing sports.
Officials' availability determines how many games they work. It can be two days a week or as many as six. Kristosik said 80 percent to 90 percent of the referees have full-time jobs; some are attorneys, judges, doctors. Many are teachers, their schedules being conducive to officiating.
Young children will accept a call without question, Kristosik said. Their parents are another matter.
"A lot of them think that their child is going to go on to college and play at a professional level someday," he said. "They are loud. They are boisterous. The kids are easy. Dealing with the parents can be a little more difficult."
The Las Vegas summers bring their own challenges. Referee uniforms, costing $100-$300 depending on the sport, are usually black. The sun is relentless. They're advised to hydrate, hydrate, hydrate.
"It's been 115 degrees this year, even 117 degrees," Kristosik said. "Then you have to have all the gear on: chest protector, shin guards, a mask, uniform pants, all that stuff gets really, really hot."
The pay depends on the sport and the level at which one is officiating. At the youth level, it can be $30-$40 per game. At the high school freshman/JV level, it can be $40-$50. The varsity level is $55-$65 per game.
Marc Ratner is the commissioner of officials for SNOA and just celebrated 50 years with the organization. He serves also as the vice president of regulatory affairs with the UFC.
Ratner said he became a referee after seeing an ad in the newspaper in 1966.
"It said, 'Are you the kind of person who watches a game, disagrees with a call and says, 'I can do better than that.'?" he recalled.
He went to a meeting, signed up and has been officiating ever since. He has officiated at the Cotton Bowl college game but said even high school football can be high-profile. Bishop Gorman plays a national schedule, and the SNOA uses its better officials for those games because they're on national TV.
"Those are good pressure-cooker games," he said. "… I had a major college game with BYU at Notre Dame, and just walking on the field was overwhelming. People will say, 'Once the game starts, it's like any other game.' Well, a game like that, at that level, is never like any other game."
As executive director of the Nevada State Athletic Commission, Ratner was ringside when Mike Tyson bit off part of Evander Holyfield's ear at the MGM Grand in 1997.
"Don't think you're going to get the biggest game off the bat," he advised potential referees. "You have to earn your way."
Cynthia Myles is SNOA's secretary and usually officiates high school track-and-field events.
She got into refereeing when two of her children were in high school. One, Irvina Chalmers, played basketball, and her sister Alisha was a cheerleader at Mike O'Callaghan Middle School.
Myles enjoyed going to the games, so she started as a flag holder at football games. Then she began running the clock. That led to refereeing volleyball games. When she began, there weren't many black officiators, like her, in SNOA. Now it's about 40 percent, she estimated.
Myles said only 20 or 25 of the 1,200 members of SNOA are female, and that she'd like see more recruited.
In her 15 years as a referee, Myles said, she has learned patience and to treat everyone the same, and that "the kids are what make the sport a lot of fun." It's tough, she said, when she has to make a call against a child who was really trying. That's where her motherly instincts kick in.
"It's in the approach you take that can make him a better player," she said. "You go and stand next them and explain why you made the call so he (or she) understands."
Contact Jan Hogan at jhogan@reviewjournal.com or 702-387-2949.
What's the difference?
So, what's the difference between a referee and an umpire?
In general, a referee will run along with the players to ensure they are following the rules. An umpire is normally stationary.
quora.com