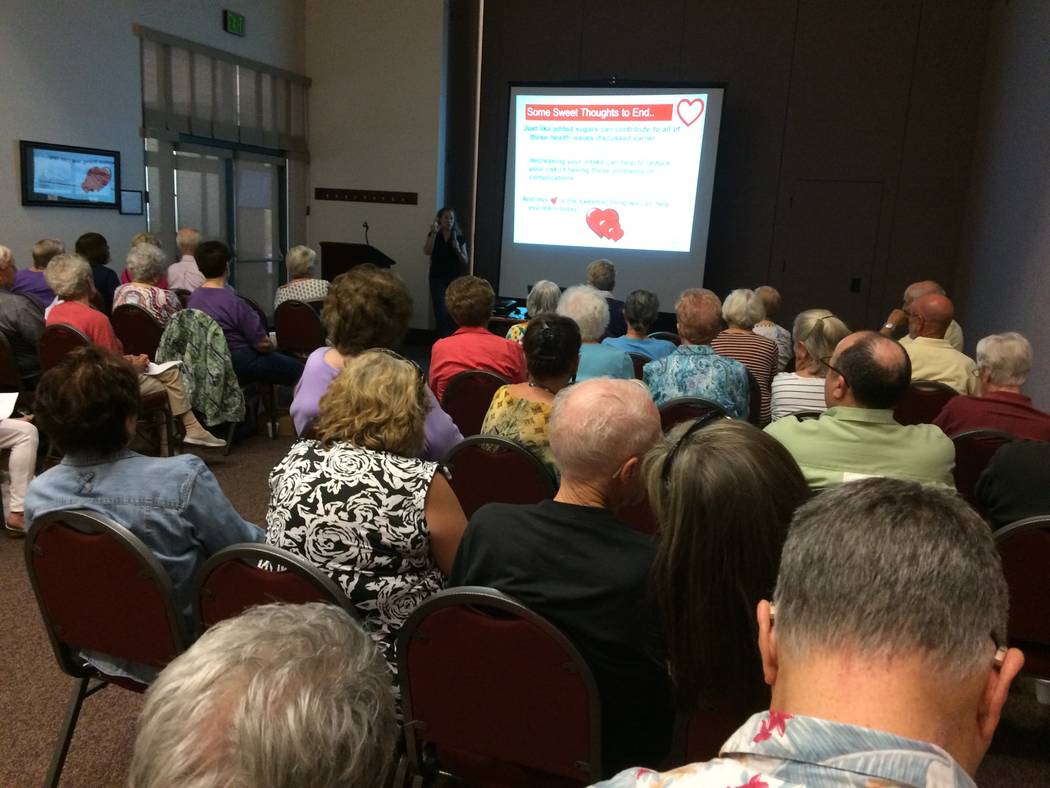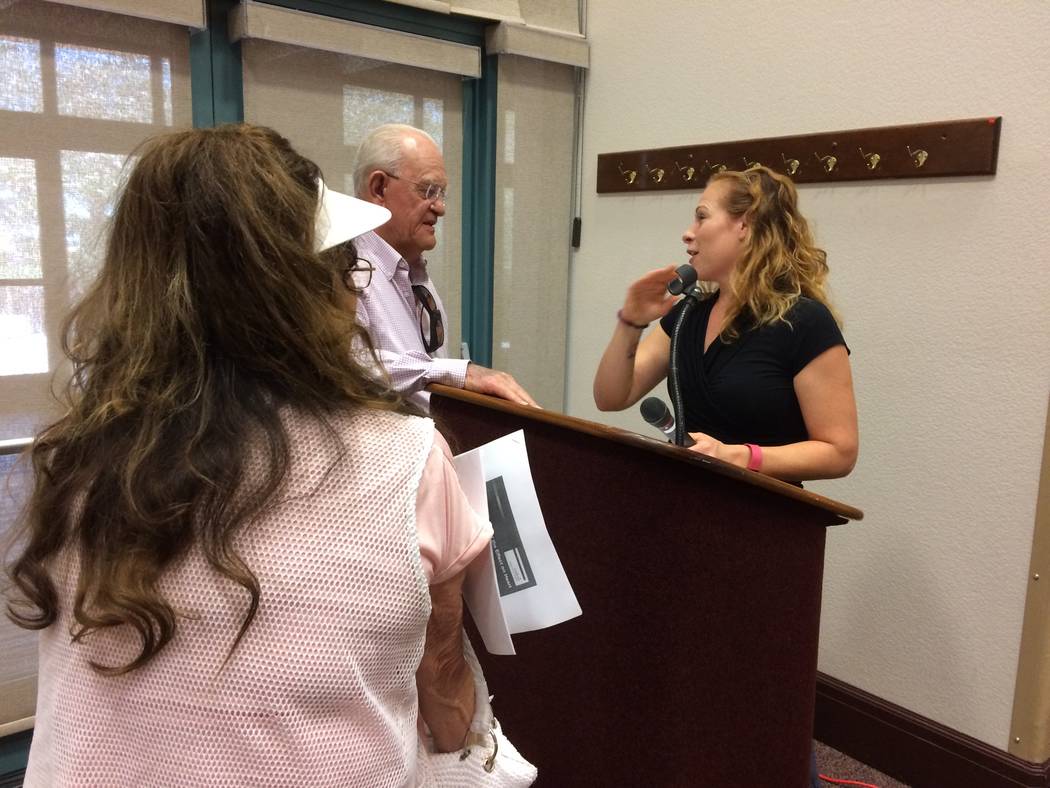 Chances are there's added sugar in your food.
Monica Serna, clinical nutrition manager for Desert Springs Hospital Medical Center, said, "As much as 75 percent of today's foods have added sugar."
Serna spoke to Sun City Summerlin residents May 11 about the effects of sugar on one's health.
Sugar is added, she said, to improve taste and texture and to act as a bulking agent or a preservative. Tomato sauce, for example, has added sugar to counteract its acidity.
Much of our intake of sugar comes from what we drink. A New York City Obesity Task Force study on soda consumption showed that in the 1950s, the average size of a can of soda was 6.5 ounces, with 75 calories. In the 1960s, the can size doubled. In the 1990s, 20-ounce bottles became popular, as well as drinks such as 7-Eleven's 64-ounce Double Gulp.
"People were drinking all of their calories, plus what they were eating at their meals," Serna said.
On food labels, corn syrup, dextrose, fructose and high-fructose corn syrup indicate added sugar.
"There are more than 60 different names for sugar that can be added to your food," Serna said. "A lot of them end in 'ose.' If you're reading a label and there's an ingredients you're not sure of, if it ends in 'ose,' that's an indicator that it's some type of sugar."
More sugar leads to more weight, she said, and can result in health concerns such as high blood pressure, diabetes, coronary issues, vascular disease, atherosclerosis — a buildup of plaque inside arteries — and heart failure.
"Some of the research shows that if you drink one to two cans a day of something very high in sugar, like soda, your risk for diabetes goes up by 26 percent," Serna said. "That's pretty scary."
Attendees shared various reasons for being there.
Kevin Lum said, "As you grow older, sugars can be a big problem. …It's hard to know from processed food how much sugar there is. We all should be looking at (whether we're) having too much sugar."
Barb Andersen said she wanted "to learn good eating habits and ways to avoid added sugar."
"The obvious sugar is on the label but, you know (there's more)," Andersen said. "They've come up with options that seem to be healthier than cane sugar — Stevia and coconut."
Serna showed a slide of sugar consumption by Americans using Food and Drug Administration data. In 1776, most Americans consumed four pounds of sugar a year. By 1850, it was 20 pounds. By 1994, 120 pounds.
She said sugar causes inflammation inside the body, attaches to the arteries and makes them hard and can affect the respiratory system.
Sugar isn't the only problem. Carbohydrates are metabolized into sugar by the body. Excess sugar is stored as fat.
"The research now is showing that a very high-sugar diet is almost worse than having a high-fat diet because it does more damage," Serna said. "If you're buying a low-fat option, you're going to notice that the sugar content is much higher. To make sure it still tastes good, they sweeten, sweeten, sweeten it with added sugar."
The American Heart Association recommends that women consume fewer than 100 calories from sugar per day (about 6 teaspoons); men, fewer than 150 calories from sugar per day (about 9 teaspoons).
Serna suggested tracking how much added sugar you have in a day. Read labels and make a plan to eliminate sugars, limiting them to 10 percent of your daily intake.
If people only do one thing, Serna suggests they "look to more fruits and vegetables."
"Vegetables more than fruit because some people have diabetes," she said. "Cut out processed foods. There are so many additives, especially sugar, that cause severe health problems."
Contact Jan Hogan at jhogan@reviewjournal.com or 702-387-2949.
Health risks
A 2017 paper published in the Journal of Nutritional Biochemistry found a type of high fructose corn syrup, HFCS-55, increased one's risk for fatty liver disease and dyslipidemia, an elevated level of fats in the blood.
The Corn Refiners Association often lobbies the Food and Drug Administration to declare HFCS as safe. In 2012, it unsuccessfully petitioned the FDA change the name of HFCS to "corn sugar."
Processed sugar
Some sugars appear in nature. Table sugar (officially sucrose, which is half glucose and fructose) is derived from sugar beets and sugar cane. Fructose is found in fruits and honey. High fructose corn syrup comes from processed corn kernels. The kernels are soaked to extract the corn starch. Enzymes are added, refining it into a syrup with high levels of fructose. HFCS is frequently found in sauces, ketchup, soft drinks and breakfast cereals.