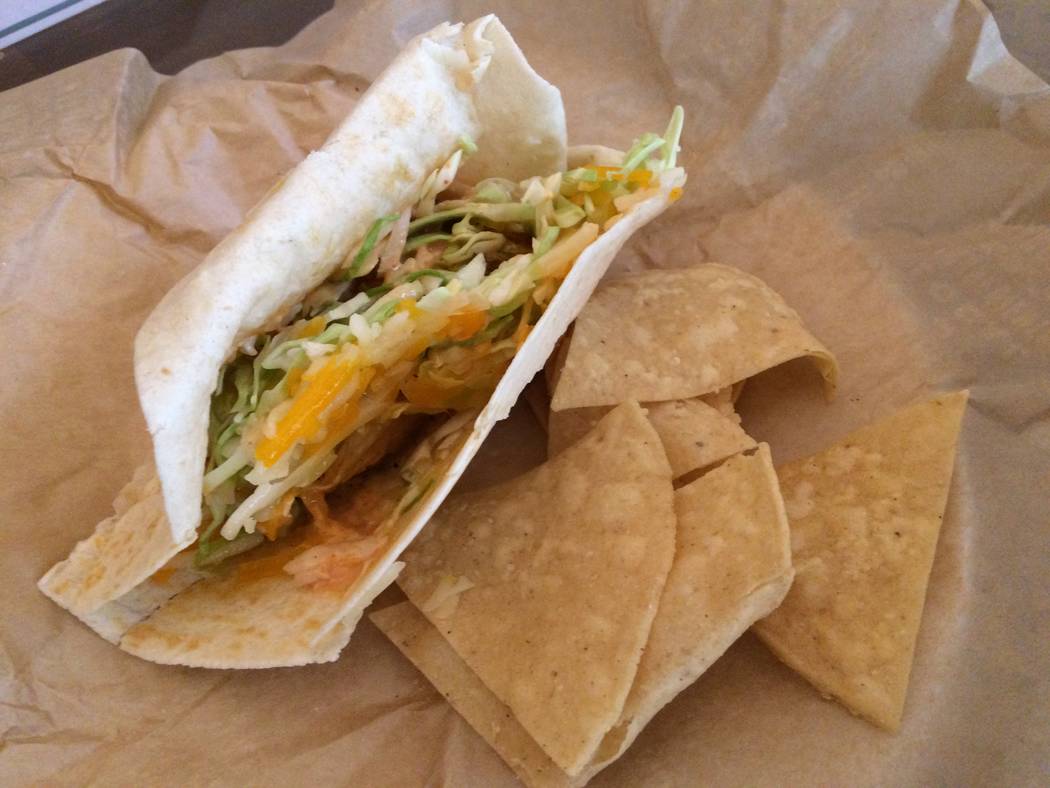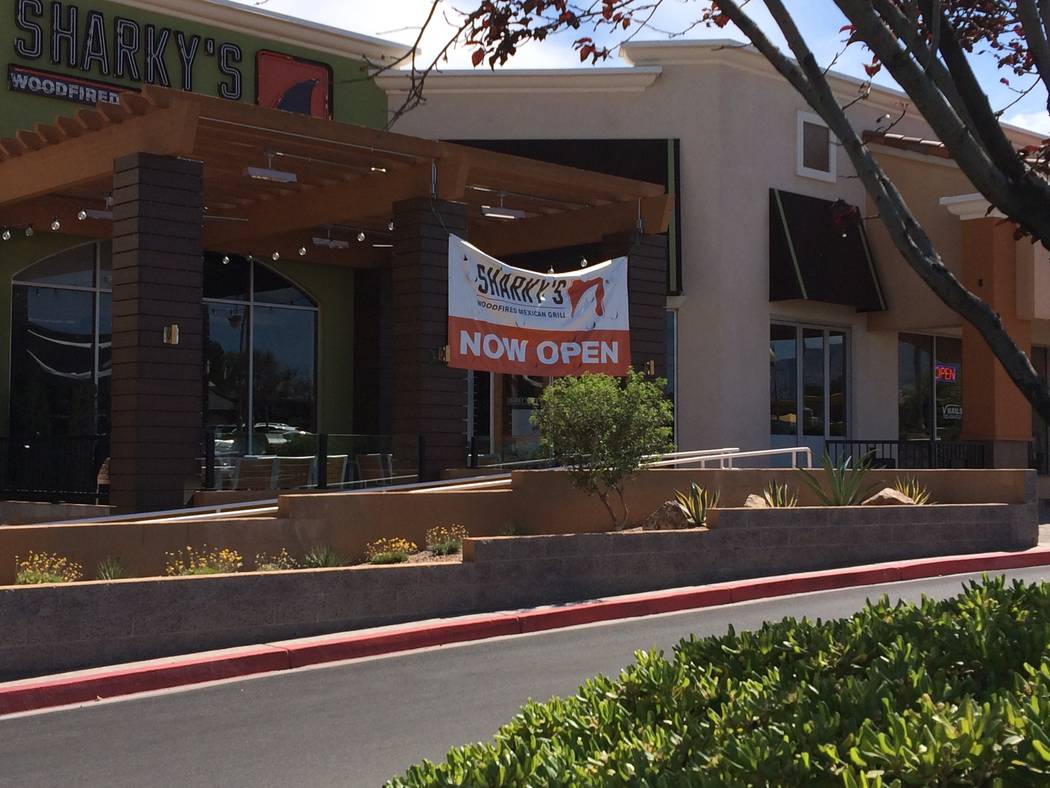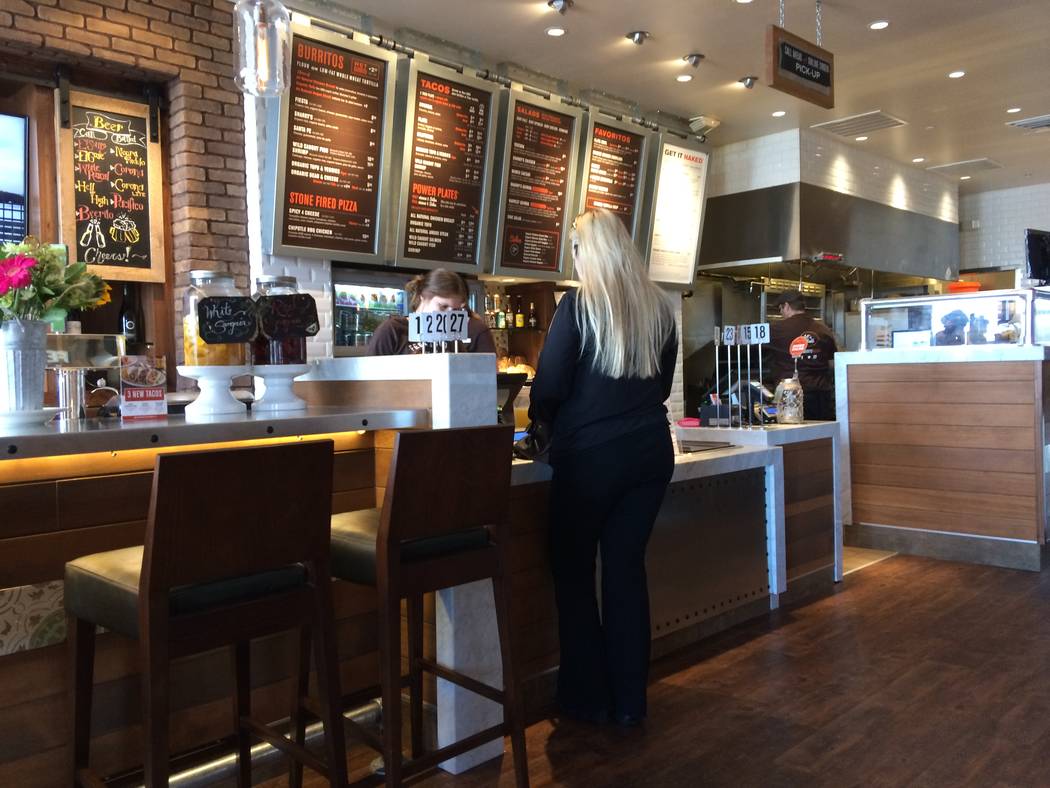 Sharky's Woodfired Mexican Grill isn't on the beach, but you get that seaside vibe when you walk in the door. After all, the restaurant chain started in Southern California.
The interior boasts wood and metal furnishings with brick wall accents. The crew is extra friendly and is known to sing along with the sound system. We were treated to Kim Carnes' "Bette Davis Eyes" when we entered.
Sharky's uses organic ingredients. Burritos, which start at $8.49, can be made with chicken, beef or tofu. Wild-caught fish and shrimp are also on the menu. Tacos are wrapped inside little cardboard holders with fin-like tops. The fajita bowl has grilled veggies with organic rice, beans and classic toppings. Expect more than half a dozen salads and a quinoa option.
Lemonade options include pineapple, watermelon basil and strawberry cilantro. There's also hibiscus ginger green tea.
My fish tacos (choice of white fish, mahi mahi or salmon; I had the grilled salmon) were heavy on meat, light on cabbage slaw. The steak burrito was massive — two-hands massive. The steak was juicy, and only one piece of meat had gristle. The naked chicken salad was large, the meat was tasty and the dressing hit the mark.
Las Vegas residents Clarissa Perez and Steve Keeley said they discovered the restaurant on a vacation in California and based the rest of their trip around them. Sharky's first restaurant opened in 1992 in Sherman Oaks, California. Sharky's has 23 locations, most of them in Los Angeles, Orange and Ventura counties.
Keeley usually opts for the burrito. Perez is a fan of the naked salmon burrito, which has seaweed.
"It was a must for us," Perez said. "Now, every time we go to California, we have to go to Sharky's."
Now, they can enjoy it much closer to home. said the company began looking at the Las Vegas market in 2013.
Contact Jan Hogan at jhogan@reviewjournal.com or 702-387-2949.
Sharky's Woodfired Mexican Grill
Where: 8975 W. Charleston Blvd.
Hours: 10:30 a.m.-10 p.m. Sundays-Thursdays; 10:30 a.m.-11 p.m. Fridays and Saturdays
Information: sharkys.com or 702-255-5605
Social media: facebook.com/SharkysSocial