Injured Las Vegas officer helped others during Strip shooting
October 6, 2017 - 10:05 pm
Updated October 7, 2017 - 4:33 pm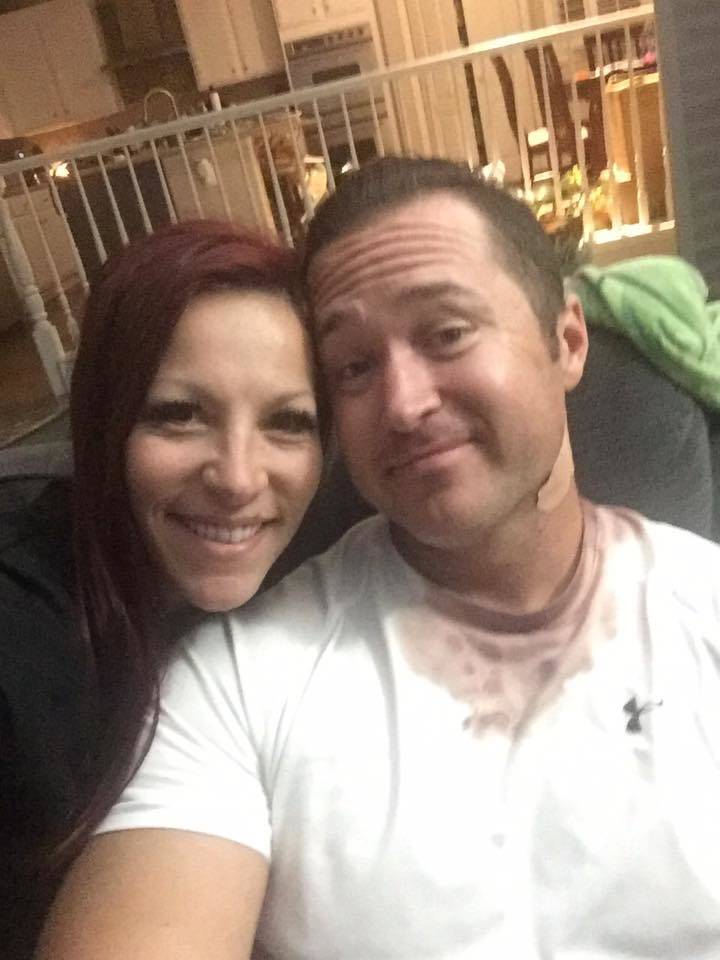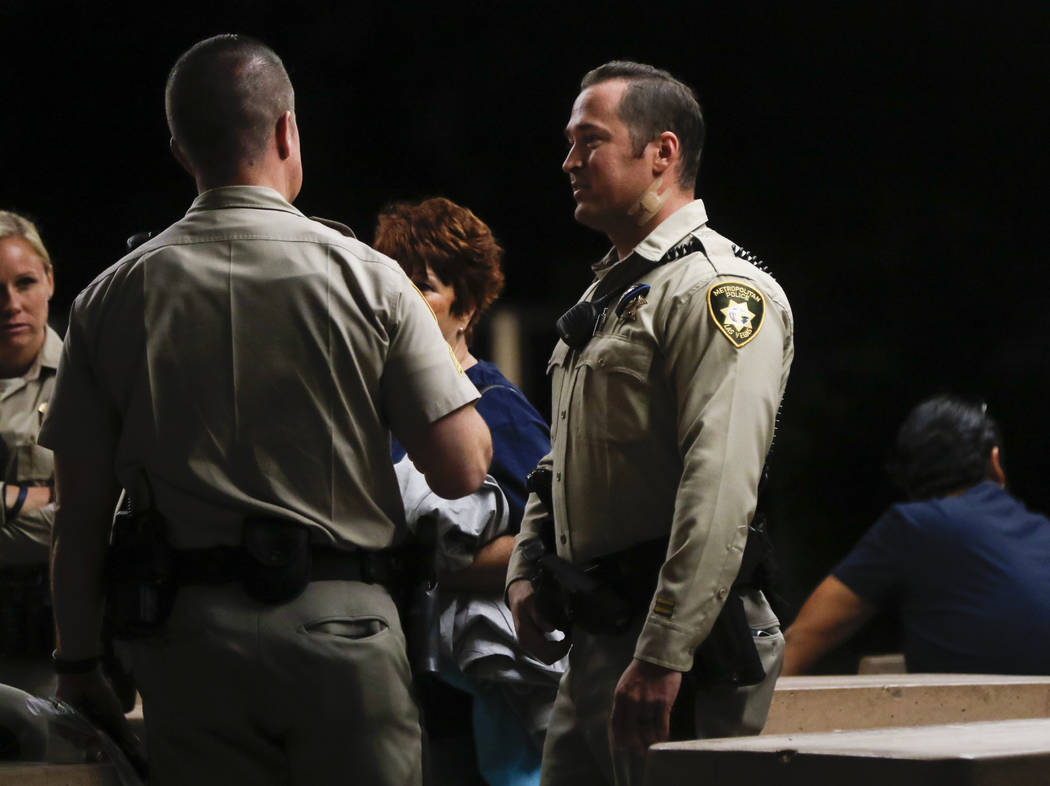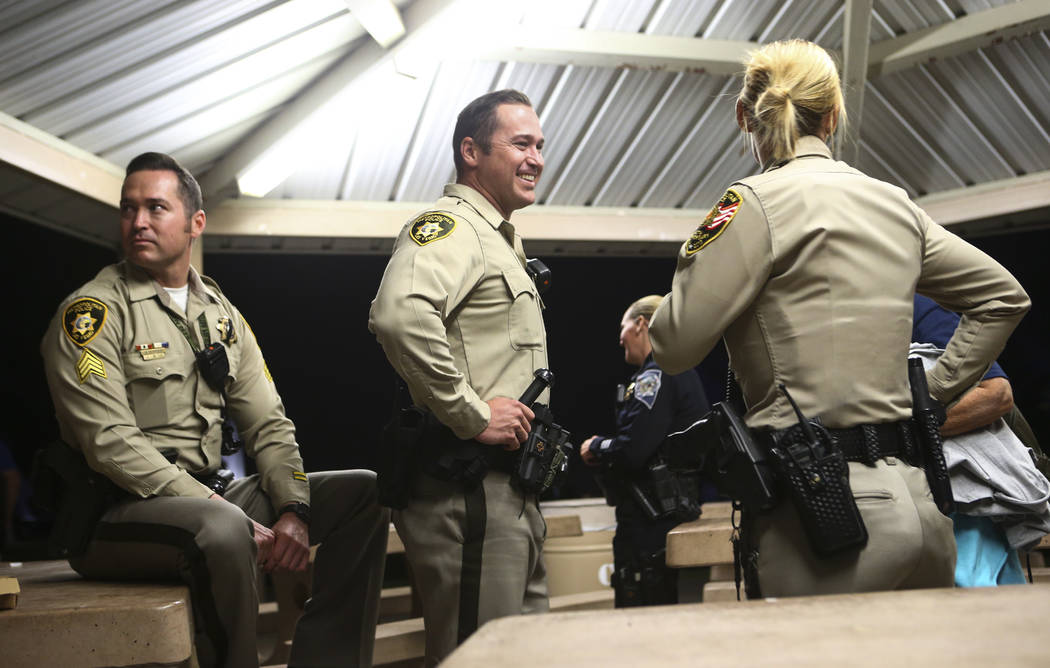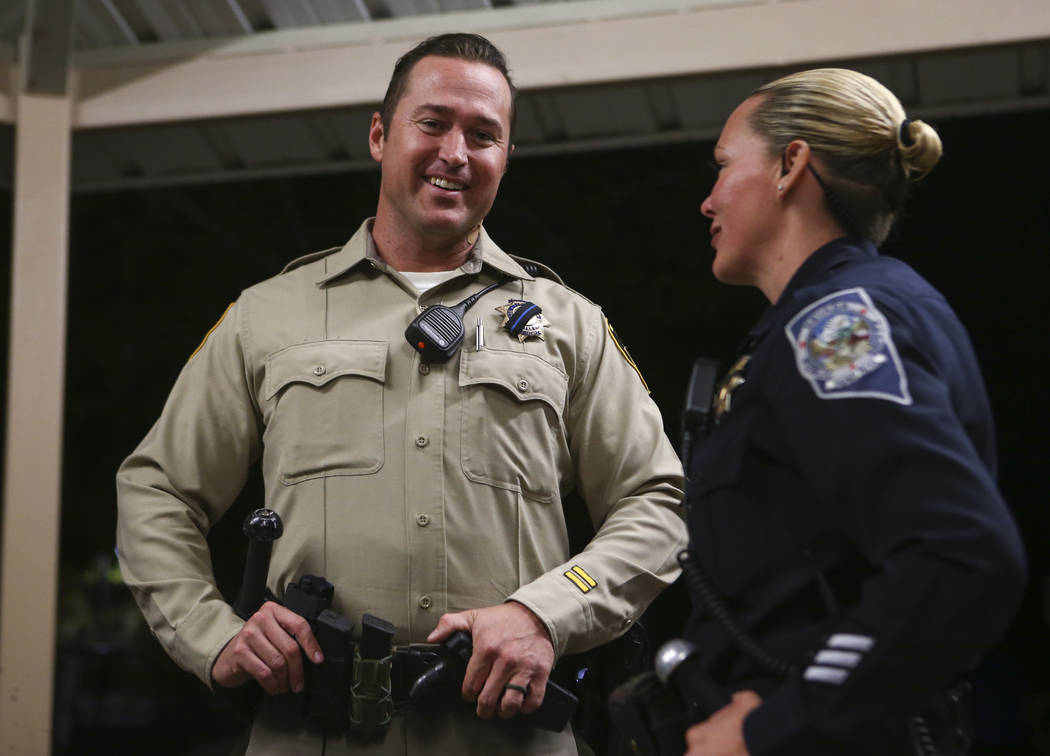 With his pistol in his left hand, Las Vegas police officer Casey Clarkson crouched behind the short brick wall, covering his partner. The bullets kept coming.
Dint. Dint. Dint. Dint. Dint. Dint. Dint. Dint.
They were getting peppered, and on the sidewalk Sunday just outside the Route 91 Harvest festival, he felt helpless. He needed to get these people out. Then, he caught the look on his partner's face.
"Casey," she said calmly, "you're bleeding from the neck."
He paused for a second, lifted his right hand and grabbed his jugular. When he pulled his palm back and looked down, it was filled with blood.
"Holy crap," he said to himself. He needed medical attention, but they were still under fire. It was so loud.
For a second, he pictured himself running to get help. But what good would that do? He imagined himself sprinting away, alone, holding his neck, only to bleed out by himself and fall face-first to the ground, dead.
He looked around, at the terrified people nearby who hadn't trained for this like he had. At the neverending bullets that popped by his feet, then puffed up white dust.
His blood kept bubbling, soaking his collar, his undershirt, his uniform.
"You know what," he thought. "If I'm going to die, I'm going to help somebody."
And he did.
Clarkson has nearly 12 years with the Metropolitan Police Department under his belt. As a detective, he typically worked behind a desk or conducted surveillance. But for the first time in four years, he had volunteered to work overtime and patrol the festival because he needed a little extra money, and it seemed like fun.
"It was just a good time," he said. "Everybody's happy. Everybody's thanking us."
Shortly after 10 p.m., he found himself on the Strip, just outside the venue, with his partner, Tara Brosnahan, also a detective. They were helping an intoxicated woman who needed a cab.
As they headed back to the main entrance, they heard the first shots start.
"Br-r-r-r-r-r-r-rak!" they echoed from afar. "Br-r-r-r-r-r-r-rak!"
For a second, like so many at the festival, Clarkson thought it could be fireworks.
"But it sounded weird 'cause it's like hitting off the casinos," he told the Las Vegas Review-Journal on Thursday. "It just kept going and going."
He and his partner hurried their pace, concerned. As they approached the front gates, people were running.
"There's multiple casualties," one person said. "Somebody shot in the head."
Like "magic," their bodies reacted, running into the unknown. His partner hopped on the radio, the first officer to report what became a massacre.
"Don't come down the boulevard. You're going to be right in the line of fire!" Brosnahan shouted, alerting the patrol cars she could spy speeding in for backup. "Don't come down the road. Don't come down the road!"
With her direction, they screeched to a stop. The officers inside leaped out, and together, with their guns drawn, they ran up to Clarkson and Brosnahan, forming a makeshift team.
"Are you guys ready?" one asked them all.
"All right," they said, and pushed forward.
Unanswered messages
At home, across the valley, Clarkson's twin brother, Branden, was settling in for bed.
As a sergeant, he was responsible for training officers and firefighters for active shooter situations and mass casualty incidents. When the shots started, he was one of the first people called in. He needed to head the "command post" and direct a smooth response.
But he was worried about his brother, who he knew was working the festival.
"I'm texting him as I'm throwing my stuff on, and I was like, 'Hey, bro, are you OK?'" he said. "And I don't hear from him, so I'm just assuming that he's handling business."
When he got to the Metro command post, everyone asked him about his brother.
"I haven't heard from him. I don't know," he told them. "I had no idea (at the time) that he'd been shot."
Fearless strangers
Clutching his neck, Casey Clarkson skimmed the area for an exit.
They were stuck between the half-wall, which bordered Las Vegas Boulevard, and a stretch of chain-link fence, which bordered the festival grounds.
Frustrated, he also glanced up, trying to spot where the gunfire kept coming from.
Someone nearby packed his wound, which slowed the bleeding. His adrenaline pumped.
After what felt like forever, another officer noticed a break in the fencing. The plan was to help people escape in pairs, but Clarkson insisted they do it in fives. There were so many.
"Follow me. Follow my partner!" Clarkson shouted. "We're going to block you guys as you run!"
One group at a time, they bolted.
Along the way, he passed people still lying down, shocked.
He enlisted the help of fearless strangers — some sober, some inebriated — to get everyone up and out of harm's way. Most identified themselves as off-duty nurses, EMTs, officers or people with military backgrounds.
"I just remember seeing so many people coming together," Clarkson said. "Everybody was helpful."
The goal was to get to the medical tent, but once they did, the carnage only became clearer. Bodies littered the lawn.
A nurse quickly pinched his neck wound shut and ordered him to keep pressure on it. He was one of the only uniformed officers around, so everyone began looking to him and his group for direction.
Ambulances hadn't entered the festival grounds yet, because no one knew if the shooting would stop. Other officers worked to take out the shooter., later located on the 32nd floor of Mandalay Bay.
So many people were bleeding out.
"There's no rides, so me and my partner looked at each other and said, 'Which car you want to take?'" Clarkson said. "I had an SUV that was unmarked, but it had lights in it. So she ran and grabbed my car."
In the meantime, Clarkson helped gather the most critical patients, including a man with four bullet holes in his chest.
The officer was ready to load them into his soon-to-be-there SUV when another man pulled up in his truck first, ready to take as many as he could.
When Brosnahan came back, they took another load of people: seven, he recalled, four of them injured, including him. With more cars coming, they sped toward the hospital.
On the way, Clarkson grew tired. He leaned his head to the side, still holding his neck. He stopped answering his partner.
"Casey!" she yelled, almost at the trauma center. He shook himself awake.
Reunited brothers
Safe in a hospital bed, he caught his partner's face again.
This time, it was a look of disgust. A doctor was digging his finger around inside Clarkson's wound, which nurses had numbed.
All stitched up, he declined morphine and opted to head to the command post, where he knew his twin would be working.
When Casey walked inside, Branden was awash with relief. They bear-hugged each other, and the room went silent.
The sweet moment didn't last long.
"Hey, uh, freaking text me back, why don't you!" Branden shouted.
"I was holding a hole in my neck!" his brother shouted back.
Everyone erupted in laughter.
Fitful sleep
It still feels surreal.
At home, Clarkson was overwhelmed to see his wife and their daughter, 6, and son, 4. The children know he's hurt, but not what he's been through.
"You kind of compartmentalize things, especially in the job that we do," he said. "We see a lot of carnage. We see a lot of bad. But we see good, too."
He recalled everyone who jumped into action, no questions asked. Half the people working the medical tent were civilians.
"Sleep's been bad. Fitful," he said. "You get what you can, here and there."
But after what he went through, he's grateful he's here to struggle with sleep at all.
Contact Rachel Crosby at rcrosby@reviewjournal.com or 702-380-8125. Follow @rachelacrosby