Troubles follow some officers who fire their guns on the job
November 27, 2011 - 12:00 am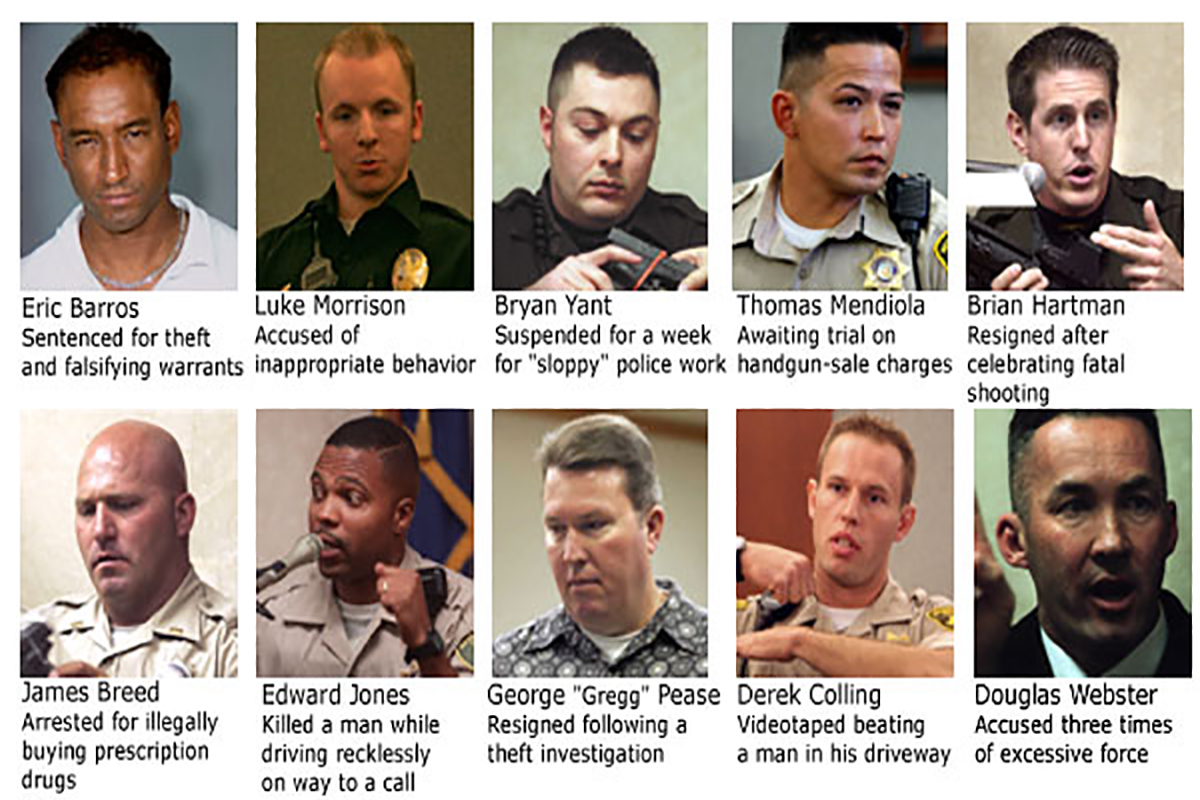 Just weeks after he and two other officers shot and killed Erik Scott outside a Summerlin Costco store last year, Las Vegas police officer Thomas Mendiola knowingly gave a handgun to a two-time felon, prosecutors have alleged.
The charge cast further suspicion on what already was a controversial shooting. Mendiola, no longer a police officer, awaits trial.
As an officer involved in a shooting, he's not unique in finding trouble.
A Review-Journal examination of all police shootings in Clark County since 1990 found that cops who use their guns sometimes show a pattern of questionable behavior beforehand or land in serious trouble after.
Their ranks include Metropolitan Police Department officer Derek Colling, who has shot and killed two people, and earlier this year was videotaped beating a man who was observing an unrelated arrest from his own driveway; officer Ronald Pearce, who shot and killed a man who attacked him in 1994, and later served a year in federal prison for counterfeiting; and officer Mark Mills, who wounded a man during a SWAT drug raid and was one of several cops in an off-duty 1997 brawl on the Strip that resulted in a $900,000 lawsuit settlement.
Involvement in an on-duty shooting isn't necessarily a sign of a troubled officer. Sometimes shootings go with the job, and some of the department's most respected officers have shot at people.
But the propensity of troubled officers to shoot has been shown in at least two studies based on internal police records. One, by The RAND Corporation in 2008, looked at the New York Police Department. A year later, Los Angeles County examined its sheriff's office.
"It is absolutely legitimate," said Samuel Walker, a professor at the University of Nebraska at Omaha and author of The New World of Police Accountability. "Any time there's a controversial incident, look at that officer's history."
Law enforcement experts say police departments need effective early warning systems to identify cops who are sloppy or whose actions in minor incidents presage bigger — and perhaps more deadly — things to come.
Walker said that police have realized a small number of officers account for a large share of problems.
"Historically, the dirty little secret in policing is that police know who the problem officers are," Walker said.
In one of Las Vegas' biggest police scandals, some officers knew who the problems were. That information just took too long to get to the top.
A SUSPECT ACADEMY CLASS
On Feb. 28, 2003, Las Vegas police officer Brian Hartman shot Orlando Barlow in the back while the unarmed man was on his knees, surrendering to other officers who had holstered their weapons and were moving in to arrest him for domestic violence.
Hartman said Barlow, at least 40 feet away in the dark, had made a movement he perceived as a threat.
As is routine in Clark County, the shooting was ruled justified at inquest. The department's Use of Force Review Board also cleared Hartman of any wrongdoing.
About a year later, Deputy Chief Mike Ault was overseeing the department's Internal Affairs Bureau when he noticed a suspicious grouping of badge numbers linked to complaints. The numbers are assigned when an officer enters the police academy, and Ault thought the grouping of sequential badge numbers might indicate a lingering problem in one academy class.
Ault was using a new early warning system that tracked several categories, including uses of force, citizen complaints, and "resisting a police officer" charges, which can be used to justify improper use of force. A certain number of negative marks would trigger an alert, and a supervisor would be told to counsel the officer.
Ault and his staff identified the supervisors of each member of the suspect academy class, which had graduated less than three years earlier. They discovered that many were assigned to the same sergeant on the Southwest Area Command graveyard shift.
Most squads had three or fewer alerts over several months. This one had 37.
It also had Brian Hartman.
B.D.R.T. CASE BRINGS EPIPHANY
About the time of Ault's discovery, Clark County Sheriff Bill Young received a troubling letter from an anonymous officer about a rogue squad: Hartman's.
An investigation found the officers were celebrating Barlow's death. They had printed T-shirts depicting Hartman's rifle and the initials B.D.R.T. (Baby's Daddy Removal Team), a racially charged term and reference to Barlow, who was black and who was watching his girlfriend's children before he was shot.
Investigators soon discovered the squad's ineffective sergeant had been replaced by Hartman as un­official leader.
"It was pretty apparent to us that the squad pretty much moved as he wanted," Ault said.
Out of control, the officers were racking up complaints and use of force reports. Just three months after Barlow's shooting, squad member Jeremy Krogh fired a shot at a 17-year-old girl who drove a car at him. He missed. Investigators also discovered that Krogh had used a Taser on someone without reporting it.
Not only did the lieutenant overseeing the squad fail to notice the problems, he believed it was his best-performing unit since its officers were racking up felony arrests.
In one of the department's most extensive house-cleanings, graveyard shift officers Hartman, Krogh and James Vargas resigned or were fired, and another officer was disciplined. The sergeant was demoted, the lieutenant was suspended without pay and the area command's captain was transferred.
Ault, now retired, said he began tracking squads monthly after that.
Walker said that kind of timely analysis of squad-level performance is the next step in the evolution of police early warning systems.
"People have known about this problem for decades and departments have not really followed up with these systems," he said.
HIGH-PROFILE CASES STAND OUT
In its 2008 study, RAND found that NYPD officers with the most negative marks were three times more likely to have been in a shooting.
Similarly, the report from the monitor of the Los Angeles County Sheriff's Department found correlations between officers in shootings and those with a history of demotions, alleged improper use of force and unreasonable force complaints.
Because officer disciplinary records are confidential, the Review-Journal could not do a similar analysis for departments in the Las Vegas Valley. But some high-profile cases in the public record stand out. They include:
■ Luke Morrison, whose fatal shooting of ice cream truck driver Deshira Selimaj sparked controversy in 2008, subsequently left the Henderson Police Department after accusations of "inappropriate behavior" with a minor.
■ Douglas Webster, a Nevada Highway Patrol trooper who in 1993 shot and killed a man who took his baton, had three citizen complaints of excessive force. Three months before the shooting, he hit a man in the head with a baton, causing him to lose an eye. NHP paid a $100,000 settlement. Webster retired in 2004.
■ James Breed, a veteran of six shootings between 1994 and 2004, left the Las Vegas police after his arrest for illegally buying prescription drugs in Arizona. He later told a judge he became addicted after a 2001 car-chase injury.
■ George "Gregg" Pease, who killed three people while a Las Vegas officer in the '90s, was disciplined for cavorting with a prostitute after his first shooting and investigated for alleged improper relations with other women before he resigned following a theft allegation.
■ Jesse Gerstel fired on a fleeing vehicle on the Strip in 2009, a rare case ruled unjustified by the Las Vegas police Use of Force Review Board. He was later arrested for domestic violence and is no longer with the department.
■ Edward Jones, one of two Las Vegas officers who shot and killed a knife-wielding, mentally ill man in 1996, two years later drove into oncoming traffic while speeding to a call, killing magician Anthony "Chappy" Brazil. He's still a cop.
■ Bryan Yant was suspended for a week without pay for sloppy police work in one case and in relation to the shooting death of Trevon Cole last year. Yant killed one other person in 2001 and wounded another in 2003. He's been assigned to desk duty.
■ Paul Pagano was arrested for driving under the influence of alcohol two years after he shot and wounded a robbery suspect. He's no longer with the Las Vegas department, and has been arrested on two additional drunken driving charges.
■ Eric Barros, involved in a nonfatal shooting in 2001 and another in 1999, was sentenced to three years' probation in 2006 for theft and falsifying evidence during a drug raid. He blamed his actions partly on a gambling problem. He's no longer with the department.
■ William Miller, who shot a man who lunged at him in an apartment in 2004, was arrested by Henderson police on charges of domestic violence and coercion in 2008. He was convicted of battery and is no longer with the Las Vegas police.
---
Review-Journal reporter Brian Haynes contributed to this report.