Chargers 'turn the faucet all the way on'
December 3, 2016 - 11:28 pm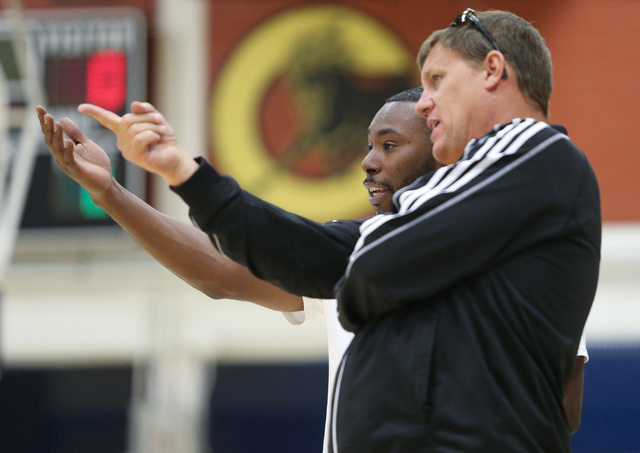 With one statement tournament win, the Clark boys basketball team proved it belongs in Class 4A.
This year the Chargers moved up to the state's top division after winning the last three Division 1-A (now Class 3A) state titles. To open their new era, they competed in the Legacy Tip-Off Classic and won the championship Saturday night 67-56 over Centennial.
"I feel like we're setting the tone," Clark sophomore Ian Alexander said. "Someone to compete with, making a name for ourselves."
Alexander's 19 points led a team that up until the fourth quarter looked like it was going to need every basket. At halftime the Chargers led by just a point and were tied going into the fourth quarter.
But Clark saved its best basketball for the fourth quarter. The final frame was the game's only one that featured one side scoring at least 20, and the Chargers scored 22.
"Coach always says, 'Turn the faucet all the way on,' " Alexander said. "We basically turned the faucet all the way on and played really hard."
Alexander was named tournament MVP, which included a 22-point outburst earlier Saturday against Lutheran (Colo.) to reach the finals.
"Words can't describe how good Ian has been for us," coach Colin Darfour said. "Ian's contribution hasn't been rivaled by anyone on our team or anyone on any other team."
Clark opened its season with the Legacy Tip-Off Classic and is now 4-0 in its first season in the state's highest division for high school sports. Capping the tournament with a win over a team like Centennial, that has won back-to-back Northwest League titles, helps solidify the Chargers' place as a legitimate contender in the Sunset Region.
Darfour disagrees. He points to Clark's history at the lower division and said the Chargers were already there, and will be the rest of the season.
"There were a lot of teams on the 3A side that were 4A-worthy," Darfour said. "There's not much difference."
Contact Justin Emerson at jemerson@reviewjournal.com or (702) 387-2944. Follow @J15Emerson on Twitter.