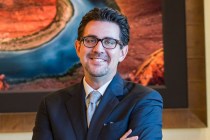 Sponsored Content
Jeremy Aguero ||Principal Analyst, Applied Analysis
The Roaring Twenties of the 20th century and the 2020s of the 21st century, though 100 years apart, present compelling parallels in their economic landscapes. In the 1920s, the world was emerging from the shadows of World War I, leading to a period of economic boom and cultural expansion. While the 2020s are yet to […]
Senior quarterback Micah Alejado scored four touchdowns as No. 1 Bishop Gorman defeated Liberty to win the Class 5A Division I state title Tuesday at Allegiant Stadium.
Allegiant Stadium will host four Nevada high school football state championship games Tuesday beginning at 9 a.m. Here's a breakdown of all four games.
Hours before the shooting death of Se'Mauri Norris-Johnson on Halloween night, his high school football coach was talking about him with a coach of the University of Georgia football program.
The Nevada high school football playoffs are complete. Here is a full schedule with the scores for all classifications (updated through Tuesday, Nov. 21).