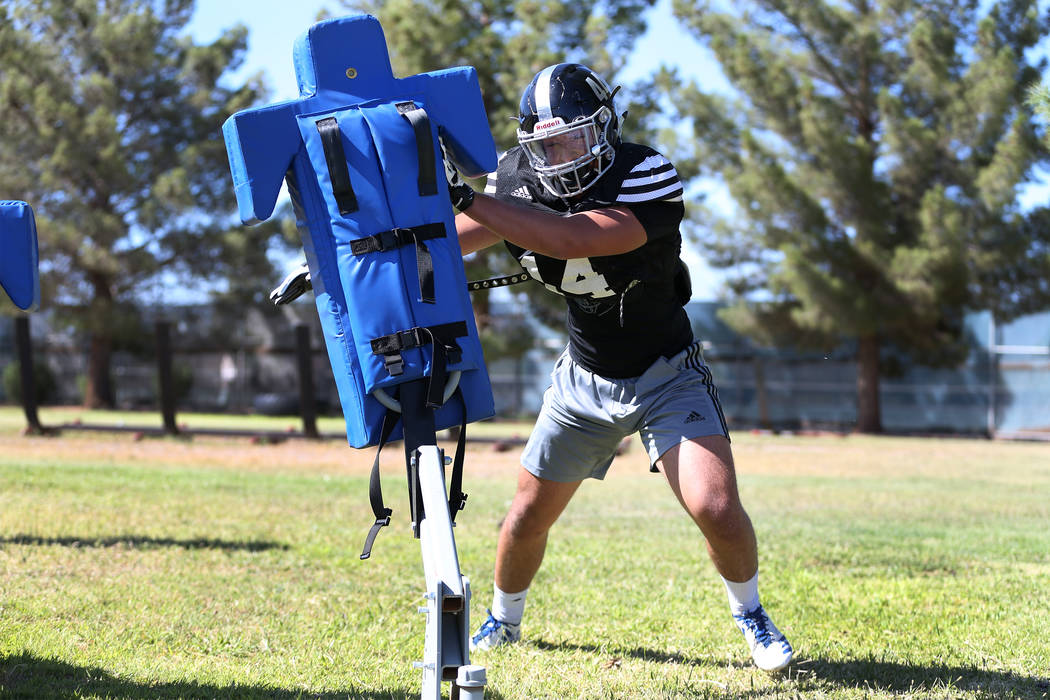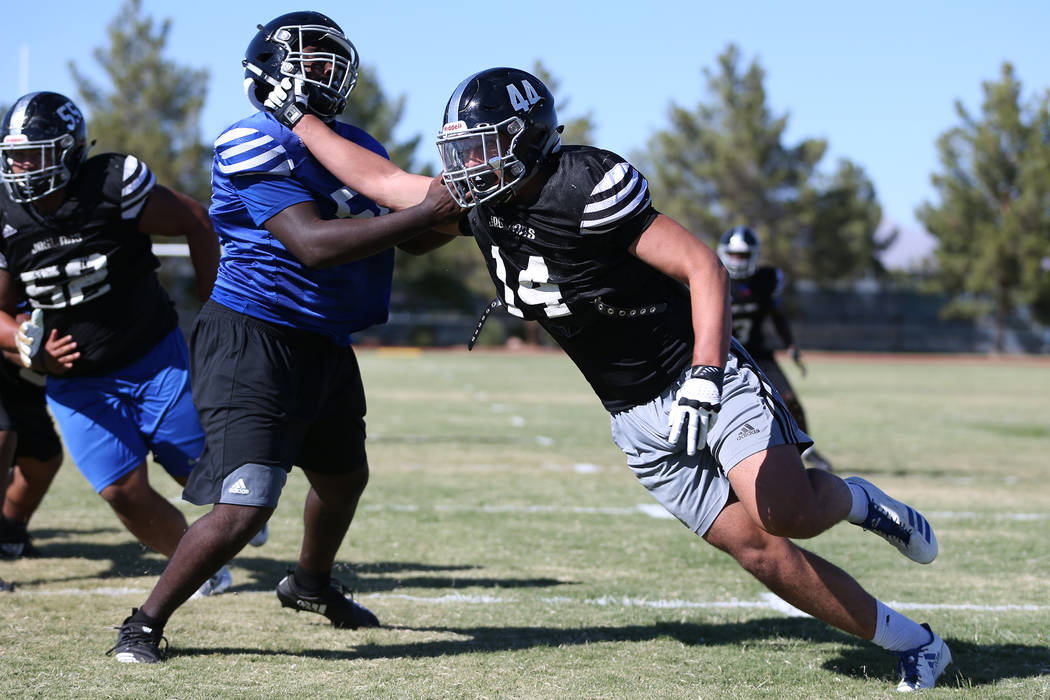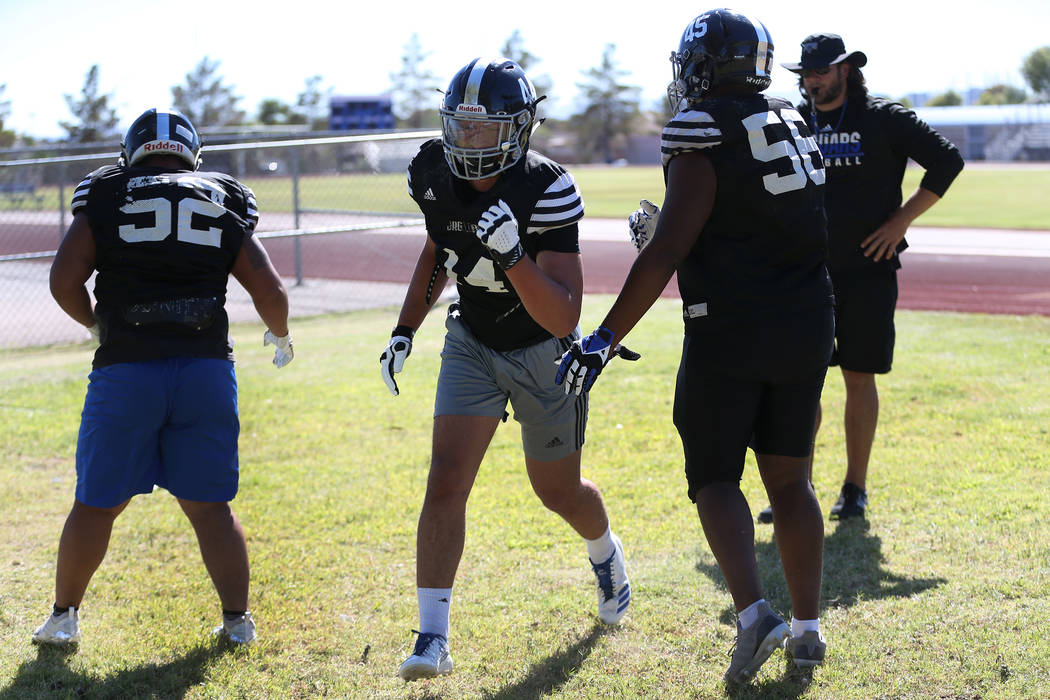 Gabriel Lopez isn't the most imposing member of the Desert Pines defensive line.
But there's no doubt that the junior defensive end is the leader, not just of the line but the entire defense.
"He's our Alpha male on our defense," Desert Pines coach Tico Rodriguez said. "The kid is relentless. He's just all-day tough."
Lopez and the defense will need to show their toughness as the fourth-ranked Jaguars (3-0) host No. 3 Liberty (1-2) at 7 p.m. Friday.
"You're playing a national power — I consider Liberty that as of right now — and this is probably one of their better teams," Rodriguez said. "They've been a consistent power in Nevada, so they're a great challenge for us."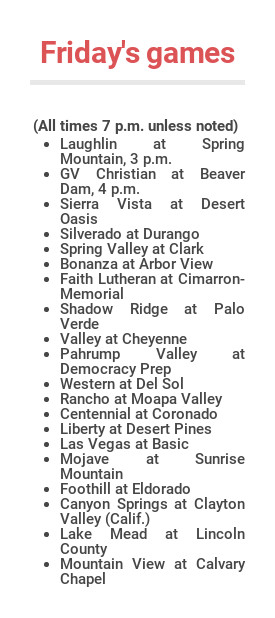 Lopez, a 6-foot-3-inch, 225-pound junior, will key a standout defensive line that includes big-time defensive end/tight end prospect Darnell Washington (6-7, 255).
Washington might grab your attention, but Rodriguez said Lopez makes his defense go.
"He's not an extremely big guy — he's only 225 pounds — but he plays really quick," Rodriguez said. "He's intelligent, and he knows what the offense is trying to do to him. And his technique is better than most kids."
Lopez leads the Jaguars with 27 tackles and six sacks, and has helped the defense allow just 40 points in three games. But he knows that slowing Liberty will be a much bigger task.
"We've just got to prepare mentally," Lopez said of playing the Patriots, who have won the last eight Sunrise Region titles. "We've just got to know they bleed just like us. We've got to come out and work hard, harder than we've ever worked against any opponent."
Liberty's offense features two tackles who have committed to Division I schools in Troy Fautanu (Washington) and Brandon Yates (West Virginia).
"We've just got to tighten down and play hard-nosed football, because they like to ram the ball down everybody's throats," said Lopez, who has a scholarship offer from Minnesota. "So if the D-line comes to play, we should be good.
"They've got the best linemen in the state. We're going to show them we've got the best D-line in the state."
Desert Pines won the past two Class 3A state championships before moving to Class 4A this season. Rodriguez thinks his program is ready to compete at the state's top level.
"That was a big thing for us to move up to 4A," Rodriguez said. "We were ready a couple years ago. We've just been preparing as a program. We built up through 3A to get to the point where we feel we have a competitive team to compete in 4A."
The Jaguars will get that challenge against a team that has advanced to the 4A state title game three times since 2012.
"We've been waiting," Lopez said. "I've been here since freshman year on the varsity. We've been beating all the 3A teams, and it just feels great to finally be in 4A. We're about to show them what we're all about."
More preps: Follow all of our Nevada Preps coverage online at nevadapreps.com and @NevadaPreps on Twitter.
Contact prep sports editor Damon Seiters at dseiters@reviewjournal.com or 702-380-4587. Follow @DamonSeiters on Twitter.
3 games to watch
Sierra Vista at Desert Oasis — The Southwest League opener between the rival schools has the teams headed in different directions. The Diamondbacks are undefeated and have had two weeks off to prepare for the Mountain Lions. Sierra Vista has played a tough schedule and is 1-3.
Shadow Ridge at Palo Verde — The Mustangs are 4-1, but they have faded down the stretch the last two seasons. They missed the playoffs both years, finishing just behind fourth-seeded Palo Verde.
Las Vegas at Basic — The Wolves get back on the field this week after forfeiting their previous two games because of a fight against Clark. Las Vegas is looking to get back into the win column after consecutive losses.