Questions grow after pepper spray used at Canyon Springs-Basic game
September 16, 2017 - 3:15 pm
Updated September 16, 2017 - 11:51 pm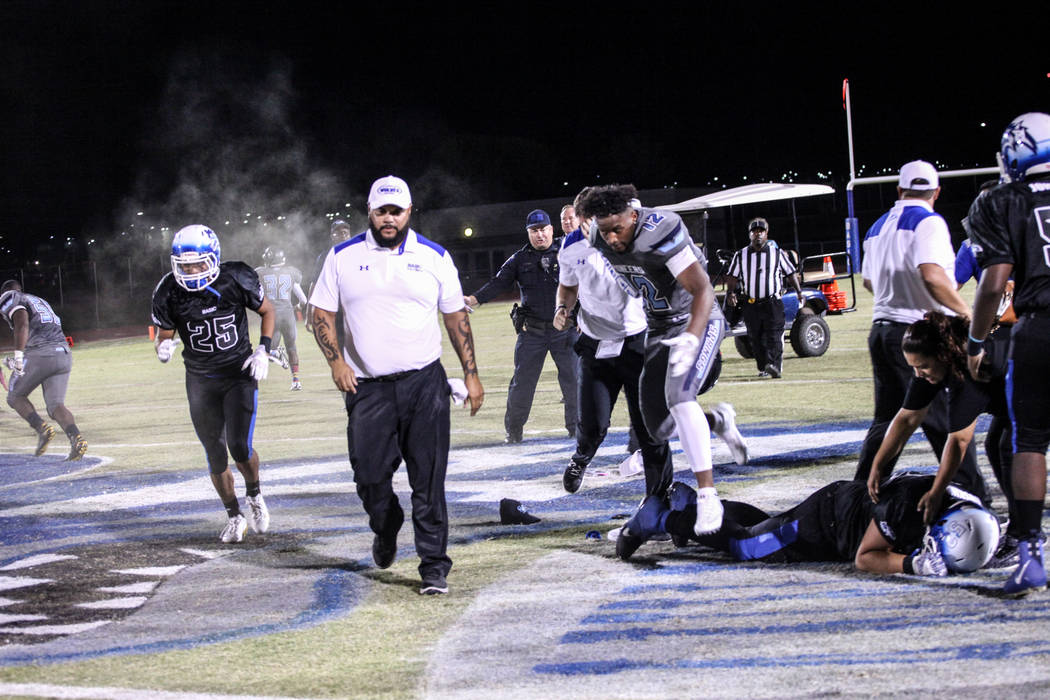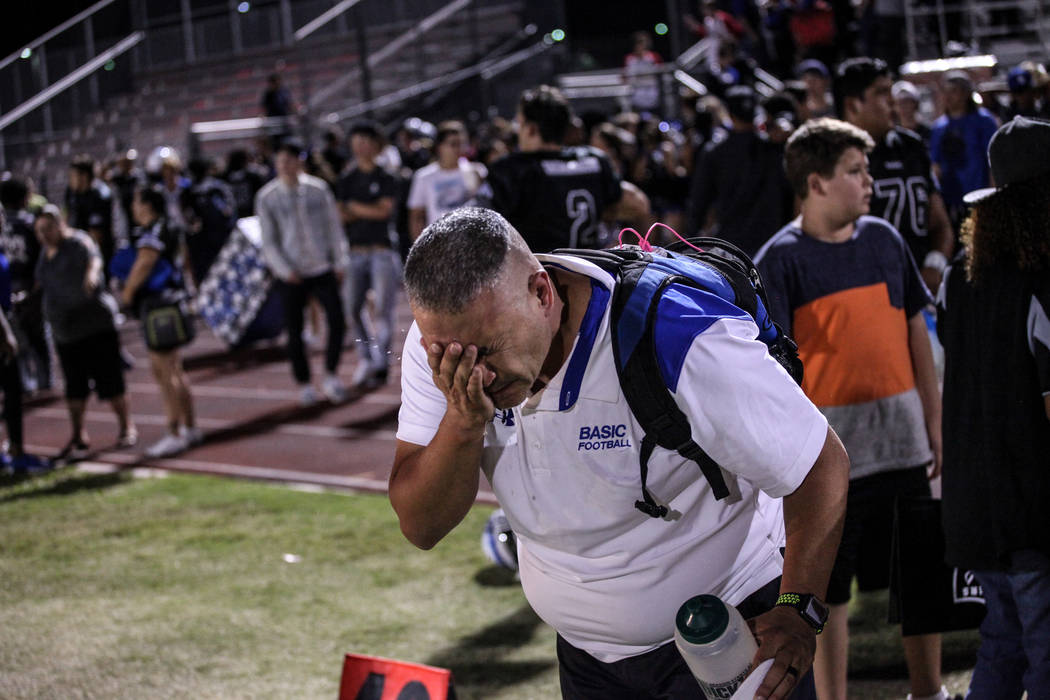 Friday night's Basic-Canyon Springs high school football game ended in a cloud of police pepper spray and a blizzard of social media comments. But no arrests were made, and it's unclear whether players involved will be disciplined.
The Clark County School District's police captain Saturday defended an officer's use of pepper spray to disperse a crowd of players and coaches. Whether players involved will be penalized — dropped from the team, suspended or expelled — or teams will be forced to forfeit games is unclear.
The postgame fight became a trending topic on Twitter locally and nationally. Video taken after Canyon Springs High School's 20-15 win shows several Canyon Springs players screaming in pain as they walked back to their sideline.
Canyon Springs coach Gus McNair was sprayed, and his son was hit with pepper spray and cried for several minutes. Basic players and coaches also were targeted and flushed their eyes with water on the field before departing to the locker room. No arrests were made after the incident.
McNair, Basic coach Jeff Cahill and athletics administrators from both schools did not return multiple phone calls seeking comment. Bart Thompson, Nevada Interscholastic Activities Association executive director, did not respond to phone calls and emails.
'Uncalled for'
Basic assistant coach David Gallegos, who was taken to the ground during the scuffle, said the postgame brawl was "uncalled for" and said "(the Canyon Springs) staff ran all the way across the field. By that point, we were trying to break it up, and it turned into a big mess."
Added Gallegos, who said he was stomped on and hit with helmets: "It turned out to be way bigger than what it was. Next thing I know, everybody was sprayed, and that was it. It happened that quick."
Friday's was the second big fight following a local high school football game in 13 months. On Oct. 7, 2016, fights broke out inside two Centennial Hills restaurants — Raising Cane's and In-N-Out — after Arbor View beat archrival Centennial 28-7 at Centennial High School. One person was taken to the hospital with minor injuries after that fracas.
On Saturday, Canyon Springs Principal Greg Hunter declined to comment. But Basic Principal Gerald Bustamante said both schools had hoped for a peaceful ending to what morphed into a gratuitously violent game.
"We were hoping players would just go their separate ways," he said. "We never want a fight to happen, but we know it gets very emotional at games and we try to anticipate that."
Cause for tension
Gallegos said the teams had a disagreement before their game last season after Basic coaches took issue with how Canyon Springs' players were drifting onto Basic's side of the field during warmups.
With that in mind, school officials separated the team's buses on opposite ends of the high school campus before Friday's game, Bustamante confirmed. But the move failed to defuse any tension.
The players started brawling near Basic's sideline immediately after the game and fought for about 30 seconds before police intervened.
During the game, referees assessed 39 penalties, including 19 personal fouls. Four Canyon Springs players were ejected from the game during the second half, including star quarterback/running back DiaMante Burton.
Southern Nevada Officials Association Commissioner Marc Ratner said his group is reviewing the incident and did not provide a timetable for any disciplinary decisions.
"I've talked to one of the officials. I've talked to the school district, but it's too early to make any decisions about anything," he said. "We've got to look at a lot of things. We'll try to get some stuff for the world on Monday or Tuesday … It'll be all kinds of people involved. We're just getting all the statements. It's never good when we have these problems."
Repercussions could include forfeiture of Friday night's game and an additional game. The Canyon Springs players who were ejected must sit out their next scheduled game, too.
Bustamante said it's too early to tell whether his involved students will face any disciplinary actions such as suspension or expulsion. The school's football field is equipped with several surveillance cameras, and footage from them will be reviewed starting Monday, he said.
Police response
The Clark County School District Police Department, as of Saturday morning, was standing by its officer's decision to deploy the pepper spray, and the unidentified officer had not been placed on administrative leave, Capt. Ken Young said.
"There's nothing at this point that says he needs to be disciplined," Young said. "For him to use the pepper spray, that doesn't make it an automatic suspension."
The Henderson Police Department confirmed Saturday its officers were not involved in the incident.
Bustamante said images and video captured and shared on social media sensationalized the fight.
#NVPrepsFB. pic.twitter.com/uBeTaFIILV

— Sam Gordon (@BySamGordon) September 16, 2017
"It's very unfortunate," he said, "but I think what was captured on videos probably made it seem like a bigger deal than it was."
A video of the incident posted on the Las Vegas Review-Journal's Facebook page was viewed more than 22,000 times and drew 164 comments by Saturday afternoon. Commenter Lizzie Gutierrez wrote, "They should've called the game. My boys both had games called because of the behavior and fighting between the players. When a game starts out that way there's never a good ending."
Martin A. Mlezco wrote, "No excuse for this type of behavior by the players or anyone else! This is a game that should be teaching sportsmanship and not a life changing event."
A Basic student who attended the game and spoke on the condition of anonymity said spectators were "surprised but more mad that it kind of happened."
"Everybody kind of expected to be mad that we lost, it was our homecoming game," he said. "We didn't expect a fight."
Contact Sam Gordon at sgordon@reviewjournal.com. Follow @BySamGordon on Twitter. Contact Rio Lacanlale at rlacanlale@reviewjournal.com or 702-383-0381. Follow @riolacanlale on Twitter.