USC commit Palaie Gaoteote focuses on Bishop Gorman finish
November 8, 2017 - 5:10 pm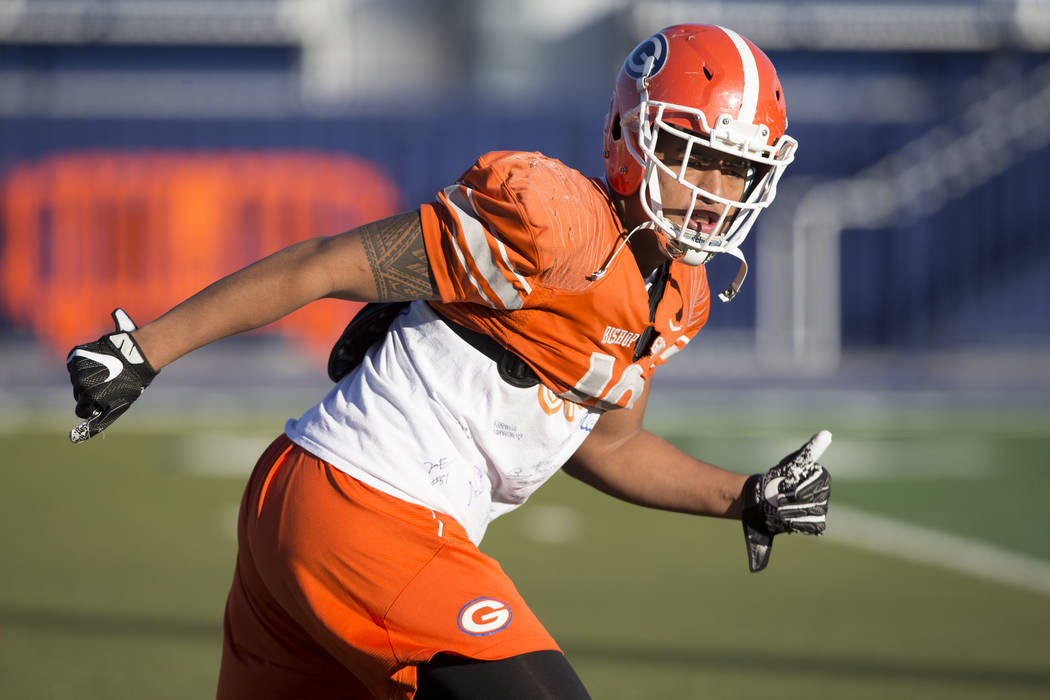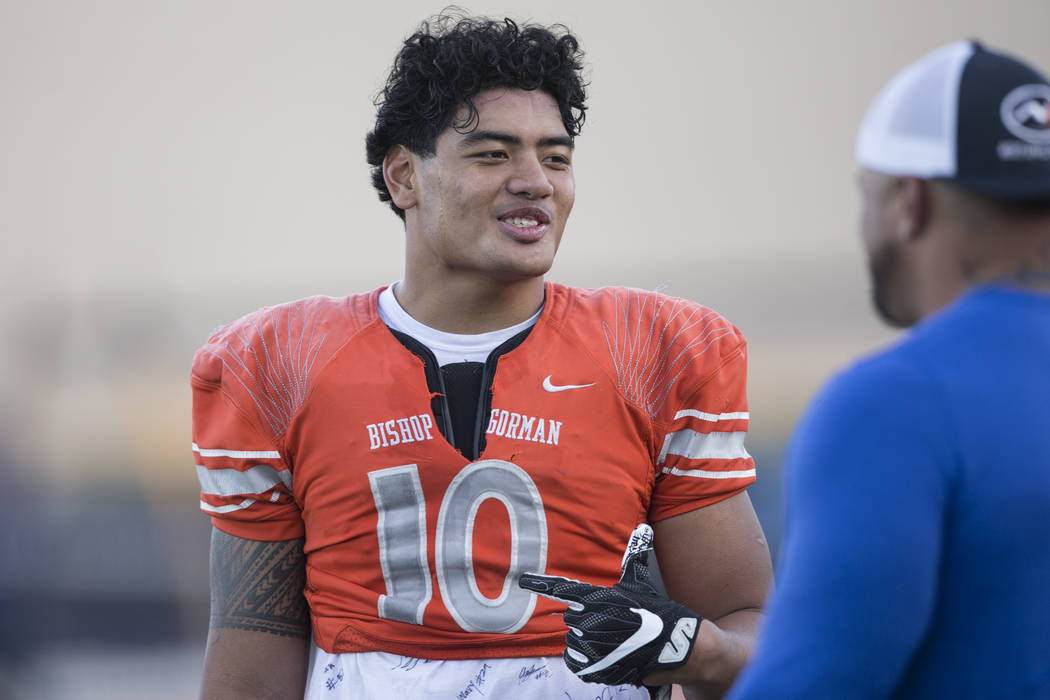 Bishop Gorman senior linebacker Palaie Gaoteote IV has heard his name mispronounced at least 100 ways. So he goes by "E.A." to eliminate some of the confusion.
Easy to say. Hard to forget.
Gaoteote — whose full name is pronounced Paula-ee-ay Now-tay-oh-tay — is committed to Southern California as the nation's top prep linebacker — a tackling machine who studies game tape like it's the SAT.
The measurables are obvious: 6-foot-2-inches, 240 pounds with 4.7 seconds speed in the 40-yard dash. But coach Kenny Sanchez is more enthralled with "how smart and how cerebral of a football player" Gaoteote is, quarterbacking the defense and diagnosing plays before the ball is snapped.
Gaoteote, too, acknowledges his feel for football as his most valuable asset but does so rather humbly, a credit to the Samoan culture he quite literally wears on his sleeve in the form of a tribal tattoo that encompasses half of his right arm.
"It means everything," he said of his heritage. "(My tattoo) basically is a rite of passage to my manhood. Tells the story of me and my upbringings and where I've been."
Gaoteote's story began in American Samoa, where his father, a former Airborne Ranger in the U.S. Army, coached high school football and introduced him to speed and footwork drills at age 3.
Inspired by his dad and uncle Ma'a Tanuvasa, a hall-of-famer at Hawaii who won two Super Bowls with the Denver Broncos, Gaoteote started flag football in kindergarten as his family moved to Oahu. He began playing tackle football as a seventh-grader.
But there was one problem. He couldn't tackle.
"Athletically, he was good enough, but he wasn't physical," the elder Gaoteote said. "He was really afraid of tackling and things like that."
So Gaoteote III turned to "old-school parenting," strapped on some shoulder pads and ran over the younger Gaoteote again and again.
Finally, he hit back.
"(My son) decided he was tired of getting knocked down," he said. "He went back to the field that week, and he wasn't afraid anymore."
Equipped with that confidence, Gaoteote started the rest of his middle school career and as a freshman at Mililani High School, where he won a state championship in 2014.
Gaoteote, however, wanted more out of his high school football career, especially after seeing cousin Haskell Garrett — now a freshman lineman at Ohio State — succeed at Gorman.
He recalled watching the Gaels' 2014 game against Servite (California) and noticing the flashy uniforms. "From that day, seeing the level of talent … that kind of pushed my motive wanting to leave (Hawaii) and coming to play at Gorman," he said.
Gaoteote's parents were on board with the idea, and they moved to the valley in the summer of 2015. Gaoteote reunited with Garrett and made a favorable impression on Gorman's coaching staff by playing his way into the starting lineup.
The Gaels won the second of their three consecutive mythical national championships, and he received his first scholarship offer from Washington State toward the end of his sophomore year. Then came Nebraska. And Wisconsin. And Notre Dame.
And numerous other major programs, including Alabama and Ohio State.
But there was something about USC that Gaoteote couldn't resist.
"That was my dream school growing up," he said. "In Hawaii, you're either a USC fan, an Oregon fan or a (Hawaii) fan … I was one of those that grew up as a Trojan. I've always wanted to go there since I was like, 5."
Gaoteote committed to USC in Februrary and is focusing on his senior season while resisting calls and pitches from other universities.
The Gaels are 9-2 with seven consecutive shutout victories over local opponents and in prime position to win their ninth straight state championship, the third with Gaoteote, who Sanchez compared to former Gorman stars and current NFL players Ronnie Stanley and Xavier Grimble
"If the prototypical guy at his age would look like the guy in the NFL, then he'd be it," Sanchez said. "Plus, the way he can play, he can pretty much control his own destiny."
Contact reporter Sam Gordon at sgordon@reviewjournal.com. Follow @BySamGordon on Twitter.
Thursday night's games
(All at 7 p.m.)
Foothill at Liberty
Green Valley at Canyon Springs
Faith Lutheran at Bishop Gorman
Legacy at Arbor View
Mojave at Virgin Valley
Sunrise Mountain at Desert Pines