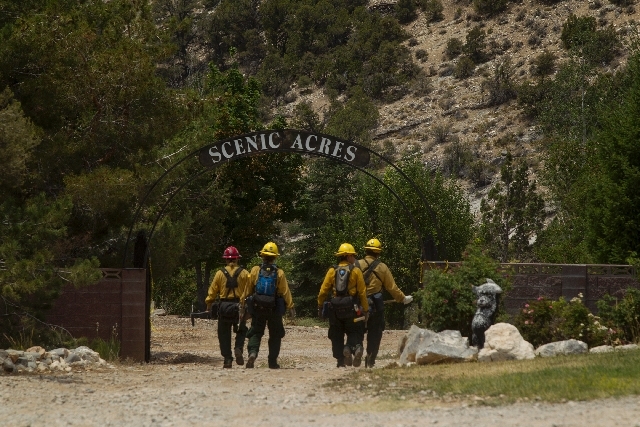 A fire ignited Monday by lightning just south of Carpenter Canyon in the Spring Mountains now covers about 1,950 acres.
No evacuations have been ordered, and the community remains open, but Trout Canyon Road is closed at Highway 160, according to Bureau of Land Management officials.
Fire crews worked overnight Tuesday as the blaze grew and the smoke column dissipated by Wednesday morning.
Five engines, a Hotshot crew, a helicopter and a law enforcement officer — a total of 120 people — are working the scene.
Firefighters began preparing for structure protection of the Trout Canyon community of 21 homes and warned residents sensitive to smoke to stay inside.
North of Reno, firefighters were also battling a fire Wednesday.
Rain helped quell flames and firefighters have 40 percent containment of a wildfire burning on Seven Lakes Mountain near the Rancho Haven community about 45 miles northwest of Reno, officials said.
Sierra Front fire managers say the Red Rock Fire covers more than 11 square miles of grass, brush, juniper and pinyon pine in steep and rocky terrain.
No injuries were reported, and no structures have been damaged.
More than 220 firefighters, including Truckee Meadows, BLM and Sierra Front crews are protecting about 50 homes south of the 5,450-acre fire.
The fire was reported Monday afternoon east of U.S. Highway 395 in Lassen County, Calif., and quickly spread east across the California-Nevada state line into Washoe County.
Containment is expected Friday.
The Associated Press contributed to this report.