13 homes destroyed, hundreds threatened by Utah wildfire
August 14, 2013 - 2:19 pm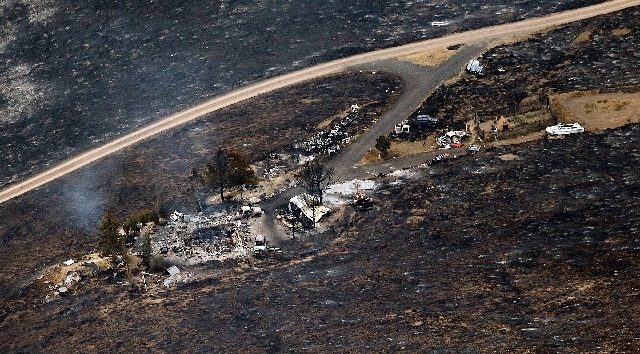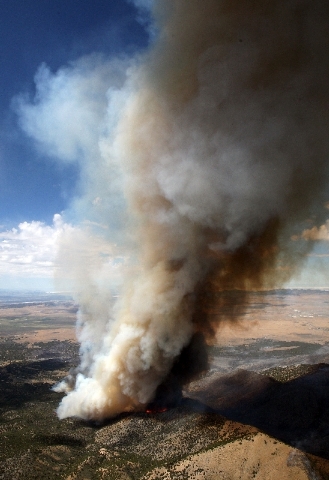 WANSHIP, Utah — A lightning-sparked wildfire has destroyed 13 homes and threatened hundreds of others Wednesday near a Utah resort town.
The blaze near Park City was among several in the West, where fires have devoured dry grass and brush and burned to the edges of small communities in several states.
Shifting winds in Utah pushed the fire toward homes in the Lake Rockport Estates subdivision about 10 miles outside Park City. It destroyed a dozen homes on Tuesday, plus another home overnight. Fire officials say it also burned 20 outbuildings and several vehicles and boats.
The fire has grown to more than 1,200 acres, or nearly 2 square miles. It is 5 percent contained. Two helicopters working the fire early Wednesday were expected to be joined later in the day by a pair of Blackhawk helicopters.
The fire died down overnight but is expected to flare up with winds again Wednesday afternoon, fire spokeswoman Jennifer Hansen said.
Evacuations will remain in place possibly until Thursday, she said.
"We have homes that are completely surrounded by black, vegetation completely gone. But we were able to preserve the homes," Steve Rutter, a fire management officer with the state, said late Tuesday. "It looks really ugly right now. It's a big black spot but there are still a lot of people who will be able to go home when we open it back up."
About 215 homes are still threatened, Hansen said.
More than 100 people were assigned to help fight the fire.
Russ Moseley chose to stay in his home and fight back flames with a garden hose as it came within 150 feet, he told The Salt Lake Tribune. He said he could feel the heat radiating on his face and saw the fire swallow homes below his and blow up propane tanks.
"It's like being in Vietnam," Moseley said.
In west-central Utah's Skull Valley, more than 20 structures were threatened by the Patch Springs Fire that covered some 16 square miles. No evacuations had been ordered.
More than 200 firefighters were working to contain the largest blaze in Utah, which has jumped at least 6 miles across the border into Idaho. The lightning-caused State Fire has charred almost 33 square miles in steep and rugged terrain.
Nationwide, there were 35 large active fires burning Tuesday, according to the National Interagency Fire Center in Boise. All were in the West.
Even so, fewer than 3 million acres have been burned by U.S. wildfires this year, NIFC reported, well below the 5.9 million acres that had burned by this time last year and 6.3 million acres that had burned through mid-August in 2011.
In Idaho, fire crews prepared to capitalize on favorable winds and lower temperatures to continue burnout operations around the small mountain community of Pine, where the Elk Complex remained the nation's No. 1 firefighting priority.
The lightning-caused fire had burned across more than 140 square miles and destroyed structures in the community of Fall Creek, fire spokeswoman Ludie Bond said.
A wildfire near Glenwood Springs, Colo., prompted a small number of evacuations Tuesday, Garfield County Sheriff's Office spokesman Walter Stowe said. The Red Canyon Fire was threatening 20 structures and was 10 percent contained Wednesday, according to the Post Independent.
Meanwhile, health district officials in northern Nevada were closely monitoring air quality concerns after a smoky haze from a wildfire in the Tahoe National Forest more than 60 miles away.
———
McCombs reported from Salt Lake City. THE ASSOCIATED PRESSs John Miller in Boise, Idaho, Bob Moen in Cheyenne, Wyo., and Scott Sonner in Reno, Nev., contributed to this report.