16 New Year's resolutions for Las Vegas in 2016
December 31, 2015 - 2:38 pm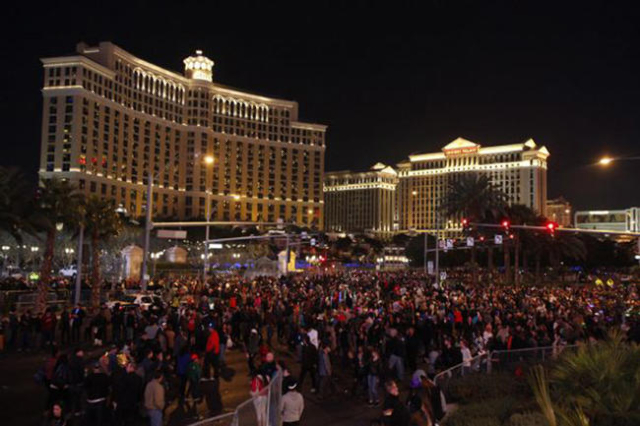 With ushering in the new year comes a reflection on the past year and optimism for the upcoming year. Although many get broken or just forgotten about entirely, plenty will be made.
Here are 16 New Year's resolutions for Las Vegas residents — and some for the city as a whole — that we hope to see last through 2016:
Supporting local sports programs
With former Bishop Gorman head coach Tony Sanchez at the helm of UNLV's football team this season, locals have seen a turnaround in the program. As UNLV athletic director Tina Kunzer-Murphy told Alan Snel in a previous RJ article, "Tony has done a fantastic job of engaging the entire community. He's made Rebel football matter to Las Vegas."
And, we can't forget the Fremont Cannon — let's keep it painted red in 2016.
Experiencing all the city has to offer
Although Las Vegans live in the entertainment capital of the world, not many locals really get out and experience all the city has at its disposal.
Dining at restaurants that bare the name of celebrity chefs and attending shows on the Strip or at the Smith Center can be expensive, but even if you can't splurge, there's plenty to do in Las Vegas that won't break the bank. Here are a few ideas to get you started. And as one study found, life experiences make many people more happy than possessions.
Drivers, bicyclists, and pedestrians learning to (safely) share the city's roads
According to Las Vegas police, as of Dec. 25, there have been 124 traffic-related fatalities in Las Vegas this year.
In an effort to help curb these fatalities, Metro has announced an increase in safety efforts on Boulder Highway — a road that, according to Metro, has seen 14 fatalities in 2015, including eight pedestrians and a bicyclist. Police officers have tried other tactics to draw attention to pedestrian safety and the dangers of distracted drivers, including dressing up like a turkey and riding as a passenger in semi-trucks to peer into passing cars.
In order to see the number of traffic-related fatalities decrease in 2016, as has been noted in a Review-Journal editorial, drivers, bicyclists and pedestrians all need to share the burden of making roads safer.
Learning to love Las Vegas (and stop saying you want to move away)
If there's one thing everyone in Las Vegas has heard at least one local say, it's that they want to move out of the valley.
Before you find the quickest route out of town, take some time to appreciate all that locals have in Las Vegas that you would be hard-pressed to find elsewhere. Besides 24-hour services and relatively mild weather, where else can you take fitness classes taught by actual Cirque Du Soleil acrobats, see Britney Spears in concert any night of the week or tour a museum all about the Mob and one devoted to neon lights?
Giving back to the community all year long, not just on "Giving Tuesday" or around the holidays
Las Vegans really get into the giving spirit in December, but what about the other 11 months? There are plenty of ways you can donate or give back to the community throughout the year without living beyond your means.
You know all those promotional T-shirts that casinos give away around March Madness or the Kentucky Derby (and are just sitting on the floor of your closet)? Donate them.
The travel size amenities you collected over the year from hotel stays, because you thought you may need them at some point? No matter what type of shelter it is — homeless youth, adults, or Safe Nest women's shelter — they can always use hygiene products.
Do your kids get a lot of toys during the holiday season and then again on their birthdays? Work with them to eliminate old toys and donate them to a new home. There are children at Sunrise Children's Hospital all year long, not just during December, who would enjoy and appreciate new toys any day of the year.
If you don't have anything to donate, your time is always an option. Spend your lunch break reading to your child's class or volunteering at a charity walk event.
Getting some fresh air
In case you forgot, about 45 minutes from the Strip are some awe-inspiring hiking trails just waiting to be stepped on.
Not only can a day on the trails help relieve stress, but it can also help with those New Year's weight loss resolutions many of us make (but never stick to).
Want to brighten someone's day while taking in the clean, brisk mountain air? Look toward animal shelters. Although it's not guaranteed that you won't fall in love by the end of the hike, some shelters allow you to take a dog who is awaiting a furever home out for a fun day of hiking.
Taking a trip to see the rest of the Silver State
There are quite a few Las Vegans who have called Nevada home for years, yet have never wandered outside of the valley.
Instead of taking a weekend trip to LA or heading to Utah, spend a long weekend exploring the Silver State. From admiring Area 51 from afar or staying a night at the famous Clown Motel in Tonopah to experiencing a real-life mine tour in Virginia City, there are plenty of fun and interesting things to do outside of Las Vegas — you just have to get out there and find them.
Working to increase employment opportunities and decrease the jobless rate
The Las Vegas Valley's unemployment rate held steady at 6.3 percent in November, a number that went unchanged from October.
With IKEA expected to open next June, Chick-Fil-A opening three restaurants in the valley, and the announcement that Faraday Future will build a $1 billion auto plant at Apex in North Las Vegas, there will be a lot of new job opportunities popping up across the Las Vegas Valley in 2016 — but more can always be done.
Getting out of your comfort zone and taking up a new hobby
One of the biggest perks about living in such a diverse city is that there is truly something for everyone. In 2016, Las Vegans should break away from the usual routines and pick up a new hobby or adventure.
Want to ditch your fear of heights? Make a list of thrill rides in the valley and ride one a month until your list is complete.
Wish you could be as athletic as Jennifer Lawrence in "The Hunger Games"? Grab some friends and challenge yourselves to a round of indoor archery tag. May the odds forever be in your favor as you attempt to dodge flying arrows from every direction.
Interested in winemaking or brewing your own beer? Sign up for a class at U Bottle It.
Continuing to be a leader in ending veteran homelessness
More than 1,400 homeless military veterans have found housing in the valley since the beginning of 2015.
Because of the city's continued efforts to get homeless veterans off the streets, Las Vegas became one of 13 cities across the country that is certified as having met the requirements associated with the Mayors Challenge to End Veteran Homelessness, a program that was implemented by First Lady Michelle Obama.
Being courteous to your fellow Las Vegans: A little goes a long way
Taking a few seconds to do something simple for someone else can turn around a stranger's entire day.
If you're waiting in line at the grocery store with an entire cart full of items, allow the person waiting behind you with one item to go ahead of you. Similarly, if you reach the front of the line at the coffee shop and don't know what you want to order yet, tell the person behind you to go ahead.
When you walk your dog — who is hopefully on a leash — around your neighborhood, pick up after their messes.
Searching for a parking spot and see someone already waiting for a car to back out? Don't take the spot. Before you race on to the elevator, take two seconds and let people exit the elevator first.
Getting on board with the movement to bring a major-league sports team to Las Vegas
Whether or not you're the ultimate hockey fan doesn't matter in the grand scheme of things, because a professional sports team coming to Las Vegas has the potential to help the economic development of the city.
Residents aren't the only people who will go to games, and when people come in from out of town, they have to pay for food, hotels and souvenirs, all of which pours money into our city's economy.
Trying to shop "small" all year long, not just on Small Business Saturday

Shopping at chain restaurants and stores are great for some, but what has a greater impact is purchasing items from a local business.
While it's almost impossible to suggest shopping only at local stores for everything, start small. For a week, instead of purchasing your morning coffee at Starbucks or Coffee Bean, shake up your routine and stop by a local coffee shop.
Need to pick up a carton of eggs or some vegetables? Skip the grocery store and head to The Farm.
Supporting the arts
Between art galleries, installations and theaters, it's not very hard to find arts and culture around the Las Vegas Valley. Productions are being held around the valley on an almost nightly basis, while galleries throughout downtown and the Arts District change gears fairly often.
Check out our coverage of the arts scene in Las Vegas to get started.
Vote
It's an election year, and as they say, it's your civic duty. Nevada, a swing state, had some of the lowest voter turnout in Clark County history last summer, but with a presidential race as hot as next year's, your voice should be heard. Remember to double check your registration information is accurate before the caucus begins in February.
Spending some time away from your cell phone
Sometimes it feels like we're glued to our phones. It doesn't matter if you are at work, driving in your car, at the movies, a five-star restaurant, a Cirque show — anywhere — there will always be someone staring down at their phone, missing everything that's going on around them.
In 2016, take a break and enjoy life in the moment. You may be surprised not only how much more you can get done, but how much more enjoyable the little things in life are.
Contact Caitlin Lilly at clilly@reviewjournal.com. Find her on Twitter: @caitiesmith