2001 case getting new look
October 5, 2007 - 9:00 pm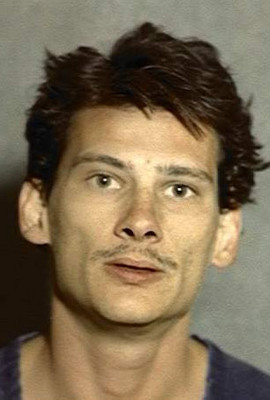 Las Vegas police are investigating a third accusation that fugitive Chester "Chet" Arthur Stiles sexually assaulted a young victim, police confirmed on Thursday.
In 2001, the father of Stiles' girlfriend at the time called police to report Stiles was suspected of child molestation and sexual assault. Police then arrested Stiles for resisting arrest, battery by a prisoner and other charges.
The call to police was placed by Jerry Krause, the father of Tina Allen, Stiles' ex-girlfriend who has gone on national television to express shock over recent allegations that Stiles sexually assaulted a young girl on videotape.
Officer Ramon Denby, a spokesman for the Police Department, confirmed that the Crimes Against Youth and Families bureau is looking into the 2001 allegation.
A nationwide manhunt is under way for Stiles, who is wanted in connection with the sexual assault of the girl authorities say is seen with Stiles on the videotape turned over to Nye County authorities on Sept. 8. The girl who authorities say is seen being sexually assaulted by Stiles in the video was found safe with her mother in Las Vegas last week.
Authorities previously alleged that Stiles molested two girls. On Dec. 13, 2003, Las Vegas police detectives interviewed a then 6-year-old girl who said Stiles molested her several times, according to a federal warrant.
Fewer details are known about the 2001 molestation accusations against Stiles.
According to a report of the 2001 arrest, Krause called police on Feb. 15, 2001, to report that Stiles was loitering around Red's Market on Buffalo Drive near Flamingo Road. Krause told police that Stiles was a suspect in a hit-and-run accident and was suspected of molesting a child on Feb. 13, 2001, the report states.
When police arrived at the market and tried to arrest Stiles, he fought with them and fled, the report states. Officers chased Stiles and took the 6-foot-2-inch, 180-pound man into custody, the report states.
Before the arrest, an officer found a reference to a Feb. 13, 2001, child molestation report against Stiles, but after the arrest, police couldn't find a copy of the report.
It's unclear whether Stiles was ever charged with molestation at the time, but he did face other charges in connection with the arrest.
Police tried again this week but were unable to locate the Feb. 13, 2001, molestation report. It was unclear why the report wasn't available.
Krause died in 2004, according to the county coroner's office. His wife, Nola Krause, and Allen couldn't be reached for comment Thursday.
Allen previously told major media outlets that she has known Stiles for about 10 years and dated him off and on during that time.
She told CNN's Larry King that she last saw him in early September and was shocked to hear that Stiles is accused of sexually assaulting a young girl.
Allen also later told CNN that she may have introduced Stiles to the victim in the homemade child pornography tape.
"Why couldn't I recognize something?" she said during the CNN broadcast.
Contact reporter David Kihara at dkihara@reviewjournal.com or (702) 383-4638.