6 Southern Nevada hospitals included in paying $250M settlement
October 30, 2015 - 10:09 am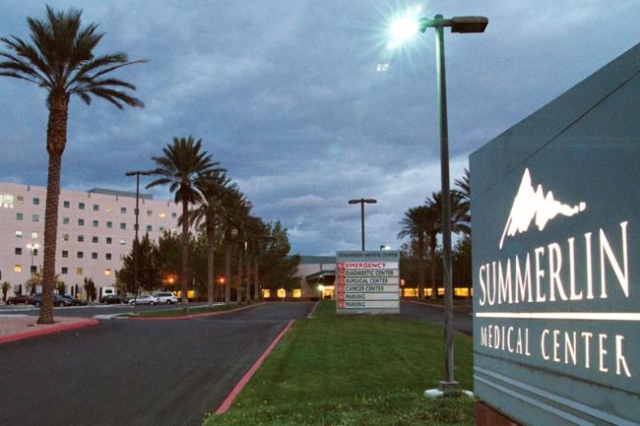 Six Southern Nevada hospitals are among hundreds of U.S. facilities that will pay a total of more than $250 million stemming from allegations that they implanted cardiac devices in Medicare patients in violation of coverage requirements, the U.S. Justice Department said Friday.
The 457 hospitals are from 43 states, the Justice Department said.
The settlement involves a type of device that detects and treats extremely fast, life-threatening heart rhythms, called fibrillations, by delivering a shock to the heart, the Justice Department said.
But only patients with certain medical characteristics and risk factors qualify for the device, known as an implantable cardioverter defibrillator, or ICD, the Justice Department said. The conduct occurred between 2003 and 2010.
Medicare guidelines provide that doctors should not implant ICDs in patients who have recently suffered a heart attack or had other procedures, such as heart bypass surgery. Each of the hospitals that settled on Friday had implanted ICDs during 40 day waiting periods that Medicaid requires for heart attack patients and 90 day waiting periods for bypass patients.
Hospitals hit with the largest fines include Ascension Health in St. Louis ($14.9 million), Catholic Health East in Newtown Square, Penn., now part of Trinity Health Corp ($11 million), and Catholic Health Initiatives in Englewood, Colo. ($7.8 million).
Spokespeople for Ascension and Trinity said the hospitals were pleased to have resolved the matter. The Trinity spokeswoman said the hospital fully cooperated with the Justice Department and that its doctors acted in patients' bests interests. Trinity settled the case to avoid additional legal costs, the spokeswoman said.
A Catholic Health Initiatives spokesman could not be immediately reached for comment.
The Las Vegas-area hospitals involved include Centennial Hills, Desert Springs, Summerlin and Valley, owned by Universal Health Services based in King of Prussia, Pa.; Sunrise, owned by HCA based in Nashville; and North Vista, owned by IASIS Healthcare Corp. based in Franklin, Tenn.
The hospitals and others were defendants in a federal whistleblower suit brought under the U.S. False Claims Act, a law that imposes liability on companies that defraud the U.S. government.