79-year-old helps open program with Alzheimer's drug test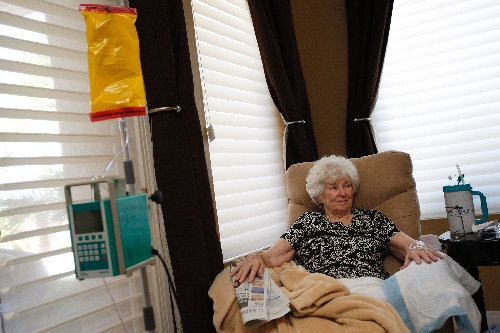 Carol Nowicki sits in a bedroom chair in her daughter's Las Vegas home and receives an intravenous medication that could stop the progression of Alzheimer's disease.
The 79-year-old, white-haired great-grandmother smiles and says it is exciting to be part of a drug trial run by the Cleveland Clinic Lou Ruvo Center for Brain Health.
"If I can help anybody else, I'm all for it," she said Wednesday, smoothing out wrinkles in the blanket covering her.
The sunlight that streams in the window causes her to squint, but the tiny lady's grin broadens as she discusses the center at the corner of Grand Central Parkway and Bonneville Avenue.
"Those people there are out to find answers," she said. "It's nice to be part of that."
No one seems more excited about today's official opening of the Life Activity Center — a dedicated space at the Ruvo complex for hosting medical education and other events — than Nowicki and her daughter, Sandra Starr.
"Wouldn't it be wonderful if the scientific inroads that end Alzheimer's are made right here in Las Vegas?" Starr said.
The Cleveland Clinic Lou Ruvo Center for Brain Health, which opened its doors near downtown less than a year ago, is a highly specialized clinical center designed to advance the research, early detection and treatment of neurological diseases, including Alzheimer's, Huntington's, Parkinson's and Amyotrophic Lateral Sclerosis (ALS).
The $80 million complex houses clinical space, a diagnostic center, neuroimaging rooms, physician offices, labs devoted to clinical research, a caregiver library and the Life Activity Center.
The dedication this morning of the new activity center signals the completion of the distinctive building designed by famed architect Frank Gehry and featuring a swirling stainless steel facade that smacks of a mind struggling to find focus.
Nevada businessman and philanthropist Larry Ruvo named the center he founded after his father, whose last years were spent suffering from Alzheimer's, a still incurable disease of the brain that causes the progressive degeneration of brain cells.
Memory is lost. Behavioral changes occur. Staring into space is common.
In 1906 German neuropathologist Alois Alzheimer first described the abnormal clumps and tangled bundles of fibers that he found in the brain of a deceased dementia patient.
So far, Starr said, her mother has been blessed: The disease that was diagnosed a little over three years ago has been slow to progress.
Starr sought medical help for her mother, whom she moved from Colorado to live with her family, not long after she sent an anniversary card on a birthday.
"That just wasn't like her," said Starr, who also found that her mother was forgetting other family details.
Still, the great-grandmother easily converses with a visitor.
"I'm still pretty good at cards," she said.
Dr. Charles Bernick, a longtime Las Vegas neurologist who also serves as the Ruvo Center's associate medical director, said two prescription drugs, coupled with Nowicki's stepped up exercise and mental activity, apparently have helped slow progression of her Alzheimer's.
"She is a good example of what we're about," he said about work of the Ruvo Center. "Tests found her to be very high functioning, and the question was: How do we keep her functioning as best as possible?"
Bernick not only prescribed a drug treatment but also encouraged more exercise. In addition to playing bridge three times a week, Nowicki works out twice a week at a physical fitness center.
She's also in the fifth month of an 18-month drug trial that sees her go under treatment for almost four hours twice a month. No one knows whether she's receiving a placebo.
"I doubt it, though," said Nowicki, a widow who has four children, eight grandchildren and two great grandchildren. "I feel good."
Bernick said about 5 million Americans, and as many as 40,000 Nevadans, have Alzheimer's.
Now that 77 million baby boomers are heading into retirement, researchers predict close to 16 million people will be affected in the United States by 2050. Most people with Alzheimer's begin to show symptoms after age 70.
Signs of Alzheimer's can begin in the late 40s, including forgetting recently learned information, having difficulty concentrating, losing track of time (even the day of the week or the season), social withdrawal and depression.
Bernick said Nevada will see a 100 percent increase in this kind of dementia during the next 20 years. He predicts that the Ruvo Center will soon have about 8,000 patient visits a year.
New imaging techniques available at the Ruvo Center can provide an earlier diagnosis of Alzheimer's, which is thought to happen when abnormal proteins trigger brain cell death.
Earlier diagnosis of the disease is critical, Bernick said, noting that the cost of placing someone in a care facility runs around $4,000 a month.
New drugs on the market and a diet rich in antioxidants, coupled with stepped up exercise and mental activity, can help slow down the onset of severe symptoms, he said.
As Sandra Starr watched her mother go through the last few minutes of the experimental drug regimen, tears welled in her eyes. She said it is wonderful that Las Vegas has a medical institution run by the Cleveland Clinic, the Ohio-based academic medical center consistently named annually by U.S. News & World Report as one of the nation's best medical institutions.
"We're so lucky that we have doctors specializing in this," said Starr, whose husband, Michael Starr, is the executive vice president and general manager of Primm Valley Resorts. "There's been very little change in three years. She hasn't gone downhill. We're very fortunate to have this center in Las Vegas.
"It gives you hope."
Contact reporter Paul Harasim at pharasim@review journal.com or 702-387-2908.