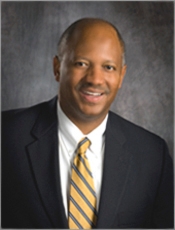 Thursday's big reveal of three finalists for the position of Clark County School District superintendent was marred by the arrest and citation of a public speaker who protested the selections and was forcibly removed from the School Board meeting.
Before school police intervened, parent activist Andres Mendoza ridiculed board members "as ignorant and good for nothing." He also criticized the search firm of McPherson & Jacobson for failing to thoroughly screen finalist and Dallas Independent School District Superintendent Michael Hinojosa whose system struggles with low graduation rates and financial problems.
The other two finalists in the running to succeed retiring Superintendent Walt Rulffes are Colorado Education Commissioner Dwight D. Jones and Superintendent James Browder of Florida's Lee County School District.
Mendoza also was unhappy that the firm did not include Jim Rogers, the former chancellor of the Nevada System of Higher Education, as a finalist. His education advocacy group, No Parent Left Behind, circulated petitions seeking to have Rogers appointed as interim superintendent.
When Mendoza exceeded the three-minute limit imposed on public speakers, School Board President Terri Janison repeatedly told him that his time was up. She then told school police to escort "Mr. Mendoza out of the meeting for disrupting our meeting."
School police rushed the podium and took Mendoza by the arms. Mendoza was cited for interfering with the peaceful conduct of a public action.
"This is how they want the parents to participate?" Mendoza asked as he left the Greer Educational Center, 2832 E. Flamingo Road, at the instruction of police.
One audience member, Ahlak Lim, applauded the move. "It's disturbing to see so much name calling," he said.
Rogers, who was not at the meeting, said the board's action sent a clear message to the public that, "We will do as we damn well please."
"I mean it's outrageous," said Rogers, who owns KSNV-TV, Channel 3, where Kevin Janison, the School Board president's husband, works as a weatherman.
For that reason, Terri Janison abstained from the 6-0 vote approving the three finalists.
Tom Jacobson, who owns Nebraska-based McPherson & Jacobson, and consultant Steve Joel said the reason why Rogers and other local candidates did not make the final cut was because they did not rank high enough on the five criteria established by the School Board: collaboration skills, experience in developing large budgets, a demonstrated focus on student achievement, communication and the development of good board relationships.
Rogers had offered to work for free because of the district's ongoing financial crisis brought on by a bad economy.
"The board did not select finances as a criteria," Jacobson said.
Joel acknowledged the controversy surrounding Hinojosa, but explained that all superintendents typically have to work through complex financial and political challenges. The firm thought that Hinojosa had been aggressive in fixing financial problems for the Dallas district.
At the beginning of the 2008-09 school year, Hinojosa reported that Dallas had an estimated $64 million shortfall, which led to the layoffs of 375 teachers and 40 assistant principals and counselors, according to The Dallas Morning News. About 160 central staff positions also were cut, which required 63 layoffs.
Hinojosa, who became Dallas superintendent in 2005, has called the crisis "my biggest disappointment."
Dallas is the nation's 14th-largest school district with almost 160,000 students. Clark County has 309,000 students.
The School Board in Dallas has not extended his contract within the last two years.
If Hinojosa left Dallas, the 54-year-old could draw his Texas retirement while working in Las Vegas. His annual pension is estimated to be more than $200,000. The Clark County School District is offering a salary of $270,000 that is subject to negotiation.
Another finalist also has struggled publicly with financial issues.
Jones, the education commissioner of Colorado, was asked to reimburse the state $940 for personal calls made over more than two years on his public cell phone, according to an October report in The Denver Post.
Jones also has faced criticism for purchasing costly office furniture and incurring pricey restaurant bills at the state's expense.
Jones said he bought the furniture for safety reasons and that the new televisions would allow for more teleconferencing and lower travel costs, The Denver Post reported.
Jones' most expensive meal on the state's tab was a $244 dinner at the Ritz Carlton on June 21, 2009, with three other officials, records show.
Jones' accounting department asked him to reimburse the state $102 for meals at a restaurant called Strings where his wife dined with the spouse of another official.
Jones, 48, was appointed commissioner in 2007. He earns $223,860 for managing the Colorado Department of Education, which provides "leadership, consultation and administrative services" for the state's 178 school districts. The department has more than 300 employees.
Jones has devoted his working life to education, beginning as an elementary teacher in Junction City, Kan. He was an assistant superintendent for curriculum in Wichita, Kan., and worked as a vice president for the Edison Schools charter network for 11 years.
"He has a vast background and a tremendous national reputation as someone who campaigns on behalf of kids," Joel said.
Before Jones was appointed commissioner, he was superintendent of the Fountain-Fort Carson School District, where "he earned statewide recognition for narrowing and eliminating achievement gaps," according to the Colorado Department of Education.
Jones served on the Colorado team that twice failed to win the competitive education grants called Race to the Top, according to The Denver Post. The last failure followed Colorado's enactment of reforms such as linking teacher evaluations to student achievement.
Jones supported the changes, angering teachers' unions, according to The Denver Post.
Browder presides over Florida's Lee County Public Schools, which serves the Fort Myers area. It's the ninth-largest district in Florida with about 80,000 students in grades K-12.
Browder has worked for 36 years as an educator in Lee County and was appointed superintendent in 2003.
As one of his reforms in Lee County, Browder has started "pay for performance" for teachers.
According to a Sept. 10 report by the Naples Daily News, Browder also is being courted for a senior-level administrative position overseeing Edison State College's charter school system.
Browder worked at the college in Fort Myers, from 1998 to 2000 as dean of instruction. He built his career in Lee County, where he has worked as a teacher, coach and administrator, the Naples paper reported.
Browder is required by the terms of his contract to give at least 60 days' written notice to his School Board, and to notify the board if he formally applies for a job.
Upon his departure, whether by his volition or the will of the board, Browder is due two years' worth of his $167,815 salary, according to the Naples Daily News.
The three finalists are expected to participate in community meetings and interviews with the School Board on Wednesday and Thursday.
The goal is to pick a new superintendent by mid-October.
Contact reporter James Haug at jhaug@reviewjournal.com or 702-374-7917.