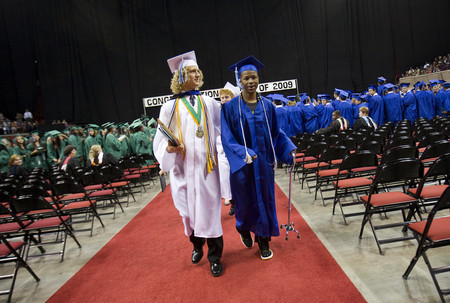 Green Valley High School's graduating seniors adopted "Impossible is Nothing" as their class motto.
The slogan could explain how LaQuan Phillips has defied the odds, going from immobilized in a hospital bed in September to walking across stage to receive his high school diploma.
Phillips, who was partially paralyzed as the result of a collision during a football game Sept. 5, graduated from Green Valley on Tuesday at the Thomas & Mack Center.
"No matter what they tell you you can't do, only you know what you can do," Phillips said to a standing ovation while accepting the school's Golden Gator for Courage and Inspiration award.
Phillips, a starting linebacker for the Gators since his junior season, was told by coaches hours before kickoff against visiting Centennial on Sept. 5 that he would serve as a team captain for the first time.
But in the second quarter that same night, his life was changed forever.
Upon realizing he would be unable to play in the Henderson Bowl against rival Basic on Oct. 30, Phillips shifted his goal entirely to walking for graduation.
In the past nine months, he has gone from surgery at Sunrise Hospital to alleviate swelling on his vertebrae to regaining movement at Shriners Hospitals for Children Northern California to shedding his wheelchair while at Healthsouth Rehabilitation Center in Henderson.
At the time of the injury, doctors told Phillips it could take up to six months to see any signs of improvement. It took him less than two to stand with assistance, and he now walks with use of a cane.
Phillips drew applause the moment he walked into the arena. He was the first student to receive a diploma.
"Dreams come true," said Phillips' aunt and legal guardian, Delphine Lakes. "Phenomenal. Overwhelming. I don't think words can describe how it feels."
Skyler Holloway, Phillips' football teammate and fellow choir member, recalled Phillips promising him from his hospital bed that he would walk at graduation.
Tuesday, Holloway sat next to Phillips and watched it happen.
"Sometimes things look bleak, but LaQuan pulled it out," Holloway said. "It's just inspirational."
Phillips, 18, will attend Nevada State College, where he plans to study biology in hopes of becoming a physical therapist.
"That's one thing that's always interested me and will keep me around sports," he said.
Still, the former football and track standout dreams of returning to athletics someday.
"I can't wait to get back to football," he said. "It's my ultimate goal."
Phillips said his next area of rehab is to attempt to return movement to his hands.
"I'm still waiting on those hands to get a little bit more functional," he said. "I do a lot with them now. I'm just waiting to drive with them."
Phillips is to undergo surgery in July at Shriners in Sacramento, Calif., to "provide some stabilization to his spine," said Craig McDonald, medical director of Shriners' spinal cord injury program.
"He certainly has continued to impress us with his motivation and the degree of recovery he's experiencing," said McDonald, who didn't rule out a full recovery. "He continues to show new changes and encouraging recovery every month."
Lakes added: "He'll probably always have a little arthritis because of the muscles … but he should be back to as close to normal as possible."
In spite of the injury and being in the spotlight ever since, Phillips woke up Tuesday with thoughts likely shared by Green Valley's other 570-plus graduates.
"At first, I was kind of sad," he said. "The reality that everything you've been used to for so long is now about to end and is going to dramatically change; sometimes it's scary.
"But my aunt has always trained me to be ready for this. Now that it's all over, I realize I was more prepared than I thought I was."
Lakes, who has raised Phillips since his mother, LaJuana, died of breast cancer at age 37 in 2000, broke into tears when the crowd rose for a standing ovation.
"You put your hands over your face, and you cry," she said. "There are people around you who are screaming his name. That made me think, 'That's my boy. That's my boy.'"
Contact reporter Tristan Aird at taird @reviewjournal.com or 702-387-5203.
Video and slideshow