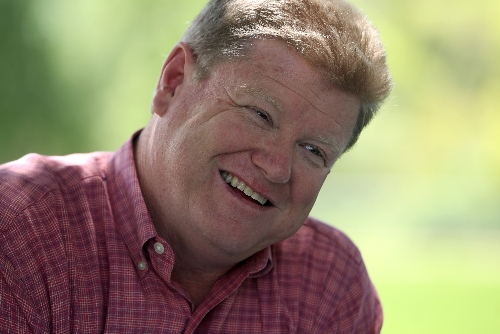 If betting were allowed on Nevada elections, then bookmakers probably would make Republican Mark Amodei a prohibitive favorite over Democrat Kate Marshall in Tuesday's special 2nd Congressional District election.
Based on early voting, Amodei, a longtime former state senator from Carson City, could beat Marshall, the state treasurer from Reno, by 20 percentage points in Tuesday's special congressional election.
"This race was over before it started," said Fred Lokken, a web college and political science professor at Truckee Meadows Community College in Reno.
"Amodei will win," added Eric Herzik, a political science professor at the University of Nevada, Reno. "The early voting is heavily tilted Republican. The registration advantage is for Republicans, and there could be backlash against President (Barack) Obama that hurts Marshall."
Independent Helmuth Lehmann of Reno, and Independent American Party member Tim Fasano also are on the ballot. Lehmann earned his spot by collecting 184 voter signatures.
Secretary of State Ross Miller predicts a paltry 25 percent to 30 percent turnout for the election. Polls are open on Election Day from 7 a.m. to 7 p.m.
Two weeks ago, Miller persuaded legislators to cover the expected $539,000 costs of the special election. Otherwise counties, all of which have been cutting costs in the wake of the recession, would have had to pay for it.
The special election is being held because Gov. Brian Sandoval in April appointed three-term Rep. Dean Heller, R-Nev., to replace John Ensign in the U.S. Senate in May. Tuesday's winner will serve out the last 15 months of Heller's congressional term.
Ensign resigned in the wake of an ethics scandal brought on by his affair with Cindy Hampton and reports of a $96,000 check his parents gave to Doug Hampton, her husband and a member of the senator's staff.
While the election is Tuesday, you couldn't tell it from driving around Minden, Carson City and Reno, home of more than half of the voters. A few signs for Amodei have been placed in front of homes and on street corners, but finding signs for Marshall is difficult.
Except for having received sample ballots, most voters know there is an election only from the constant negative advertising both candidates broadcast on Reno television news programs.
"I have never seen a lower level of interest in a congressional race," Lokken said. "Voters will vote with their feet by not participating."
Part of the reason Southern Nevada residents may not be familiar with the race is only about 10 percent of the district's voters are in Clark County.
Candidates have been buying television advertising in Reno, but not in Las Vegas.
The 2nd Congressional District covers all of Nevada except the heavily populated central part of Clark County.
Through Thursday, 54 percent of the nearly 70,000 early votes were cast by Republicans, compared with 34 percent by Democrats.
Those numbers indicate Republicans are far more excited about voting than Democrats, since just 43 percent of the district's 396,000 registered voters are Republicans, compared with the 35 percent who are Democrats.
Making matters worse for Marshall is the fact a Democrat never has won a race in the 2nd Congressional District since it was created in 1982. And the district has 31,400 more registered Republicans than Democrats.
In November, Heller won the seat for the third time by beating Democrat Nancy Price by 30 percentage points. Five-time Rep. Jim Gibbons once even scored a 10-to-1 victory.
Money talks in politics and the national Democratic Congressional Campaign Committee has contributed nothing to Marshall's campaign.
Meanwhile, groups affiliated with the national Republican Party have made nearly $1 million in independent advertising buys for Amodei.
A national Democratic spokeswoman wouldn't say why the party has not bought advertising for Marshall.
The pass taken by national Democrats is surprising, since Marshall has been running a campaign based on their strategy that Democrats will preserve Medicare and Social Security while Republicans will junk those programs.
That strategy helped Democrats win two seats in congressional elections earlier this year and is being used in New York, where a successor to former Rep. Anthony Weiner also will be elected Tuesday.
"Kate is the only candidate who will protect Medicare and Social Security and protect jobs," said James Hallinan, her spokesman. "Nevadans want jobs and want their Medicare and Social Security protected."
Hallinan expects Marshall to win with a large crossover vote by Republicans and independents, along with a big turnout on Election Day.
Marshall's campaign has been hammering Amodei for his decision last spring to praise a proposed plan to cut federal spending from Rep. Paul Ryan, R-Wis. That plan includes Medicare cuts.
But Amodei has clarified that he praised Ryan's plan when no other spending cut proposals were on the table. He has emphasized that he would not reduce any benefits for current Medicare or Social Security recipients or for people within 10 years of retirement.
To keep those programs solvent, Amodei maintains Congress eventually must change the ages of eligibility or adopt a means test.
With victory looming, Amodei has come out with TV advertisements that do not mention Marshall, but thank people for voting and show him interacting informally with citizens.
"If you are happy with the economy under Barack Obama, then Mark Amodei is not your candidate," said Peter DeMarco, Amodei's spokesman.
The winner Tuesday won't be seated in Congress until after Oct. 4, when the state Supreme Court canvasses the election results.
Contact Capital Bureau Chief Ed Vogel at evogel@reviewjournal.com or 775-687-3900.