Amodei travels to Washington as state's newest member of Congress
September 14, 2011 - 4:27 pm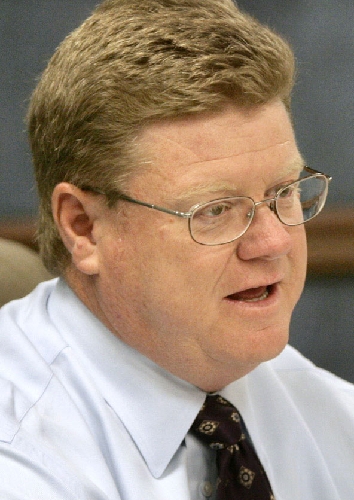 WASHINGTON — The lights were off and the door was locked Wednesday at Suite 125 in the Cannon building on Capitol Hill, the office belonging to constituents of Nevada's 2nd Congressional District.
The state flag stood outside the door, and a small stack of newspapers and magazines littered the entrance to the suite, which has been vacant since May.
But the office could be reopened for business as soon as today now that voters have selected a new member of Congress poised to get to work.
In Carson City on Wednesday, Rep.-elect Mark Amodei slept a few hours after Tuesday night's victory party in Reno, showered, shaved and boarded a plane at noon for the nation's capital and the House of Representatives.
Fresh off a landslide victory over Democrat Kate Marshall, Amodei, 53, is expected to take the oath of office today before his new U.S. House colleagues. His hope was to get up to speed quickly to start weighing the federal spending and the economic recovery package proposed by President Barack Obama.
Amodei left his family behind in Nevada but brought along campaign manager Jay Parmer.
For a new lawmaker needing to staff an office, learn the issues and the ways of the House and immediately begin raising money and strategizing for re-election — all the while Congress is in the midst of work — the task ahead is daunting, a congressional management expert said.
"It's going to be like drinking from a firehose while you are running a marathon at 100 miles an hour. That's exactly what the poor man is facing," said Bradford Fitch, president and chief executive of the Congressional Management Foundation, which studies the workings of Capitol Hill.
Amodei intends today and Friday to meet with fellow lawmakers. He has given no hint as to who will head his congressional operation or which committees he will ask to join. Among his immediate tasks: finding a place to live.
"There is no time for baseball games and football games this fall," Amodei said on election night. "I hope I can make a difference. Let's go."
Amodei on Wednesday was recognized for his newfound political celebrity, invited for a two-minute interview on Fox News.
He said his victory bodes well for the Republican presidential nominee's chances to take Nevada in 2012 and for Republican Sen. Dean Heller in his race against Rep. Shelley Berkley, D-Nev. He said Republican presidential candidate Mitt Romney called to congratulate him Wednesday on his nearly 22 percentage-point victory.
"People in Nevada are very tired of the way things are going. They don't think the answer to the question is the federal government needs to get bigger. They have tried it the administration way and the majority leader's way, and it didn't work," Amodei said in a reference to Senate Majority Leader Harry Reid, D-Nev.
The Nevada secretary of state's office said Amodei can take office immediately, although the state Supreme Court will not canvass and certify the results of Tuesday's election until Oct. 4.
Deputy Secretary of State Scott Gilles said he sent the unofficial election results Wednesday to Karen Haas, the clerk of the House. Those results show Amodei won in all 17 counties, receiving 57.93 percent of the votes, compared with 36.06 percent for Marshall in a race where only slightly more than 30 percent of voters cast ballots.
Haas asked Gilles three weeks ago to send the unofficial results and explain the canvassing process in Nevada.
"When they swear in Congressman-elect Amodei is up to them," Gilles said. "Congress judges the credentials of its members. They make the decision when to seat him."
Amodei will be given an annual office allowance of between $1.4 million and $1.5 million, Fitch said. He will be allowed to hire up to 18 full-time staffers and four part-timers, divided among his Washington office and outposts in the Nevada congressional district, which includes all of the state except the urban core of Clark County.
Because Heller took his staff with him when he moved from the House to the Senate in May, Amodei "will be hearing crickets when he walks in the door," Fitch said. House leaders and Heller and Nevada Republican Rep. Joe Heck probably will loan staff to Amodei to answer phones and perform office tasks "to give him a helping hand as he begins to staff up."
Amodei will serve the final 15 months of Heller's congressional term. Heller, a three-term member of Congress, was appointed to the Senate by Gov. Brian Sandoval to replace the disgraced Sen. John Ensign. The vacancy in Heller's seat prompted the need for Tuesday's special election.
A spokesman for the state treasurer's office expected Marshall to be back in the Capitol on Monday.
While she lost by a huge margin in a heavily Republican district, Marshall twice has won the statewide treasurer's office, and Democrats still lead in statewide voter registration. As a lawyer, she could be a candidate for attorney general or another constitutional office in 2014.
Contact Review-Journal Capital Bureau Chief Ed Vogel at evogel@reviewjournal.com or 775-687-3901. Contact Stephens Washington Bureau Chief Steve Tetreault at stetreault@stephensmedia.com or 202-783-1760.