AMR workers flame Las Vegas fire chief over patient transport takeover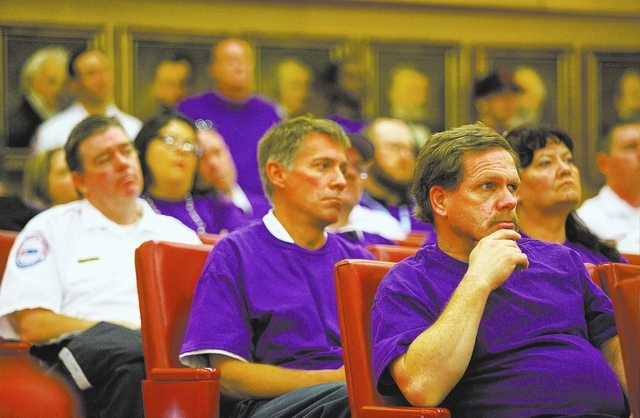 With more than 100 private ambulance employees glaring at his back Wednesday, Las Vegas Fire Chief Willie McDonald told City Council members he has changed the balance of lucrative hospital transports so his department will handle 50 percent of the calls.
McDonald's goal is to eliminate the dual response system in which medical calls are answered by the Fire Department and private ambulances, with only one getting to bill for transporting a patient to a hospital.
He told the council it's a waste of resources to have both respond unless there is a critical need. By eliminating the dual response method, he said, "you don't send 'em when you don't need 'em."
His report sparked some opposition from Councilmen Ricki Barlow and Bob Beers, while other council members kept their opinions to themselves.
When McDonald left the chambers, he was surrounded by some angry American Medical Response workers fearful of losing their jobs under his new plan.
After media interviews, he took questions from the paramedics and emergency medical technicians, who challenged his contention that firefighters were better trained and faster on the scene.
Beers upset AMR paramedics and EMTs when he compared the firefighters to quasi doctors and AMR employees to nurses. Dozens stalked out as he was talking.
"It's clear this change is not being driven by concerns residents have. Something else is driving it," Beers said.
Many Las Vegans have long wondered why 911 medical calls are usually answered by both the Fire Department and AMR. The Fire Department has 22 ambulances, and AMR has 70.
McDonald explained that there has been a history of "two transports going to one call for one patient." Starting Monday, he reduced that significantly by not having AMR dispatched, and just dispatching "what's needed." He said the Fire Department is "re-establishing our role as the primary responder."
The fire chief, on the job since August, has chosen to have firefighter-paramedics respond to medical emergencies in higher numbers. Instead of handling 30 percent of the hospital transports, he wants the Fire Department to handle 75 percent, which would bring in more revenues to the city.
As of Monday, his goal was to increase the transport call to 50 percent of daily calls, cutting into AMR's calls.
A report analyzing the Fire Department's services recommended that it either take over the transport business or turn it over to private ambulance companies. The report said the city could save as much as $18 million by getting out of the transport business but might make as much as $14 million in new revenue by increasing transports.
The report never estimated what the increased costs to the Fire Department might be, however, according to Jeremy Aguero of Applied Analysis, who studied the report on AMR's behalf.
International City/County Management Association's Center for Public Safety Management, a nonprofit, was paid $155,000 for its report.
Scott White, AMR's general manager, said it is too soon to determine the number of layoffs necessary by McDonald's decision to end the dual transport system.
Clark County spokesman Erik Pappa said the county has no plans to change its relationship with private ambulance companies, which handle the majority of hospital transports.
"We think the current system works fine," he said. "We want to keep our firefighters available to work emergencies."
City Manager Betsy Fretwell is working with the department and AMR to try to resolve some differences. 
McDonald didn't have information on how much time firefighters have spent waiting in hospitals to transfer patients because the policy had started only two days earlier. However, he said the lowest number of rescue units available at any one time to respond was eight, while the rest of the 22 ambulances were responding to calls.
The Los Angeles Fire Department was advised Monday to conduct a pilot program using civilian ambulances to transport patients to hospitals. PA Consultants said that could reduce the amount of time the department's medics are tied up in emergency rooms, help control costs and make better use of existing fire resources, the Los Angeles Times reported.
McDonald said the Fire Department "provides a higher level of service" and usually arrives faster than AMR.
That claim angered some AMR paramedics and EMTs who said they go through the same medical training as firefighters do and that they are not always the last to arrive.
One AMR employee said, "The system is not broken, and we're not costing you anything."
AMR pays a franchise fee of nearly $400,000 a year to the city for receiving dispatch calls, calls now being reduced from 75 percent to 50 percent and under the current plan expected to drop to 25 percent.
Contact reporter Jane Ann Morrison at jmorrison@reviewjournal.com or 702-383-0275.