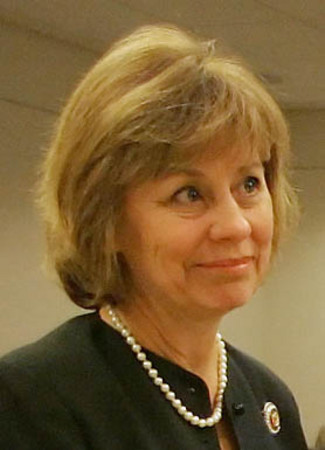 Despite having fallen short of her fundraising goals, former Assemblywoman Sharron Angle said Wednesday that she is in the race for U.S. Senate, hoping to be the Republican nominee against Sen. Harry Reid, D-Nev.
Through the end of June, Angle had raised just over $35,000, her campaign announced Wednesday, the day quarterly campaign finance reports were due to the Federal Election Commission.
Angle said she was encouraged by that total, most of which came from "individual donors residing in Nevada," according to a news release from her campaign.
Her campaign is moving forward, and she is planning an official announcement of her candidacy, she said.
Angle originally said she wanted to raise $100,000 by May to demonstrate that she could be a viable opponent to Reid.
"You always have to set goals. That doesn't mean you have to achieve that goal in order to campaign," Angle said. "Will Harry Reid not run if he doesn't reach $25 million? I doubt that."
Reid, whose campaign has raised $11 million, has said he plans to hit $25 million by the time November 2010 rolls around.
Reid's campaign announced this week that it had raised $3.25 million in April, May and June and has $7.33 million in cash on hand.
Another potential Reid challenger, Rep. Dean Heller, R-Nev., also reported fundraising that paled in comparison.
Heller raised $166,000 in the second quarter of 2009, according to his FEC report.
His total fundraising for the current election cycle stands at $265,000, and his cash on hand total is $255,000 — but his campaign is also continuing to carry $287,000 in debt.
At this point in 2007, Heller had raised $233,000 for the quarter and had $469,000 on hand. His campaign debt was $390,000 at that time.
Heller is national Republicans' first choice to take on Reid. He has not indicated that he wants to run against the Senate majority leader, but he hasn't ruled it out definitively.
Several other Republicans are considering the race, but the only one to file a finance report as of late Wednesday was an unknown from Moapa named Billy Parson, according to the FEC Web site.
Candidates must file federal paperwork if they raise at least $5,000.
Parson reported $6,600 in cash on hand and $10,000 in debt.
Contact reporter Molly Ball at mball @reviewjournal.com or 702-387-2919.