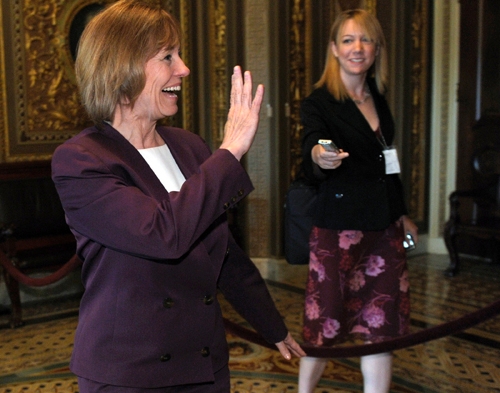 WASHINGTON — Sharron Angle presented herself to Republicans in the U.S. Senate on Tuesday, making a case that she is up to the challenge of taking on Senate Majority Leader Harry Reid in the fall election.
Speaking at a U.S. Capitol luncheon after she was introduced around the room, the former assemblywoman from Reno told senators she was having success raising money online after her victory last week in the Nevada Republican primary, according to senators who were present.
The senators were presented with polling data that showed Angle with a lead over Reid at this point. She said she expected incessant attacks but would keep the focus on Reid and work to turn his Democrat-blue seat into a Republican-red one in the fall.
"She said she was going to work hard and looked forward to the opportunity, and that was it," said Sen. Johnny Isakson, R-Ga.
According to senators, Angle was asked no questions after her brief remarks, which came during a 90-minute lunch. Applause was heard three times during the closed event.
Isakson said Angle's remarks were geared toward an audience of political pros and contained no criticism of Reid.
"She talked about her record and what she was for," he said. "She is a fiscal conservative and that sort of thing.
"Definitely it was not the type of speech you would make if you were speaking to the unwashed back home, so to speak. It was primarily to say, 'Hey,' to people in her party, to introduce herself."
Since she became the Republican nominee, Angle's interactions with the media have been limited to conservative-friendly talk shows that excite her base and help her raise money. That did not change on Tuesday.
She arrived at the luncheon by a side door, avoiding reporters who were awaiting her.
Upon her departure, she was escorted down a senators-and-staff-only back staircase by the executive director of the National Republican Senatorial Committee and ignored almost all questions by more than a dozen chasing reporters as she walked steadily through the Capitol and out into the rain where a car awaited.
When asked whether she was pleased by the reception she received from the senators, she said, "Yes," as she moved along. She smiled throughout the walk as photographers scurried to take pictures.
The luncheon took place behind closed doors. Glimpses inside the room when the door was opened at several points showed Angle alongside Sen. John Ensign, R-Nev., as he introduced her individually to various senators.
"Everyone knew who she was," Ensign said later. "She is our Senate candidate."
After Angle left, it was Ensign who spoke on her behalf in answer to questions about her stance on Social Security and other issues. Democrats have opened the general election campaign by attacking Angle's comments that she wanted to "phase out" Social Security.
"Her Social Security position is the same one I have had for years," Ensign said. "The bottom line is she wants to save Social Security, keep it the same for seniors today and those who are going to retire. But for younger people, allow them to do what members of Congress are allowed to do, take some of our retirement and put it in stocks and bonds.
"I think it is a pretty reasonable position."
Ensign said "average Americans" will think Angle's positions "are pretty reasonable. She is against spending and against taxes, and right now that is a pretty popular position to Americans."
Despite his role on Tuesday, Ensign said he has not been asked to advise Angle or play a role in her campaign. Many Republicans are keeping some distance from Ensign, who is under investigation by the Senate Ethics Committee and the Justice Department on allegations of wrongdoing stemming from his extramarital affair with an aide and family friend two years ago.
Reid did not comment on Angle's presence in the Capitol, just a few hallways down from his office. Although he remained in the building, he canceled his normally scheduled Tuesday meeting with reporters, with aides saying it was because his wife, Landra, was undergoing surgery to fix a broken nose from a car accident in March.
Reid spokesman Jon Summers said Angle's awkward encounter with the media shows she is not ready for prime time.
"It is laughable that Sharron Angle is afraid to talk to reporters during her 'Don't Be Afraid of Me' tour to try to court Washington Republicans," Summers said. "It must be because she knows that the more people get to know her and her dangerous agenda the less inclined they'll be to support her."
Republicans generally spoke positively about Angle after the lunch. Several commented further that Republicans planned to make the Nevada Senate race more about Reid and warned against underestimating the challenger.
Sen. Tom Coburn, R-Okla., predicted Angle will perform well "because Harry Reid stands for what is wrong right now with what we are doing up here, and the people of Nevada have got that figured out."
Sen. John Thune, R-S.D., who defeated Democratic leader Sen. Tom Daschle in 2004, said Angle was battle-tested in the state primary and could duplicate his feat.
"I am a big believer that timing is important in politics," he said. "This is the year when those things can happen. There is a lot of anxiety around the country."
But several conservative Republican senators indicated they are not on board with Angle when it comes to privatizing Social Security and eliminating the Department of Energy, two of her more controversial stances.
"Some candidates from time to time, perhaps attempting to show a sense of anger, outrage or whatever, express what I would characterize as very extreme views that do not have much basis in either practicality or what is going to occur in the evolution of our country," Sen. Richard Lugar, R-Ind., told Politico in a story the paper posted to its website.
Sen. Mike Crapo, R-Idaho, told the newspaper that the United States needs "to have a robust energy policy, and I would think the Department of Energy would be an important part of that."
Talking with reporters afterward, Senate Minority Leader Mitch McConnell, R-Ky., passed up the chance to say whether Angle could defeat Reid in November. McConnell's spokesman said later that the senator demurred because he has indicated he was not going to bad-mouth fellow Senate leader Reid.
The conservative Angle was once a Democrat, government records show. Documents on file with the Humboldt County, Nev., clerk's office show Angle was a registered Republican until June 1984, when she changed her party registration. According to the records, she remained a Democrat at least until March 1988.
"Sharron temporarily switched parties several years ago to go work for a conservative Democrat who was running for state Senate. She remains loyal to the GOP and has been elected as a Republican in all of her runs for political office," Angle campaign spokesman Jerry Stacy told the Review-Journal.
Voter registration records indicate Angle also has been a member of the Independent American Party. When Angle registered with Washoe County on Feb. 2, 1996, she marked her affiliation as Independent American Party. A year later, she changed her party affiliation to Republican.
After leaving the Senate on Tuesday, Angle took a short drive to the National Republican Senatorial Committee, where she met with party strategists and fundraisers for an hour and its chairman, Sen. John Cornyn of Texas, for 30 minutes, said committee spokesman Brian Walsh.
"I have made it clear that Sharron and her campaign will have the full resources and support from the NRSC and from my Republican colleagues in order to ensure her victory against Harry Reid this November," Cornyn said after the meeting.
The Associated Press and Review-Journal writer Laura Myers contributed to this report. Contact Stephens Washington bureau chief Steve Tetreault at stetreault@stephensmedia.com or 202-783-1760.