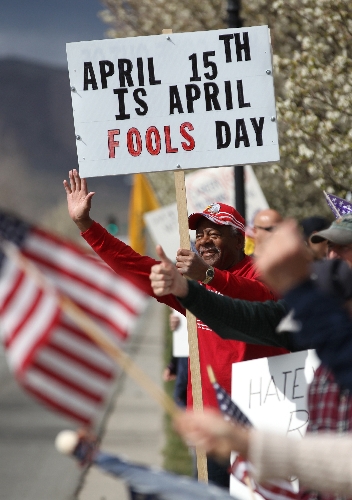 "We're not going away!"
That was the chant — from Las Vegas to the Legislative Building in Carson City — and the main message Friday as hundreds of people gathered at twin tea party rallies in Southern and Northern Nevada.
Carrying U.S. flags and a grudge against taxes, men and women, young and old, said they came to back Gov. Brian Sandoval's pledge not to raise levies and to work toward electing a new president and a more conservative Congress.
The tea party gatherings were less boisterous and much smaller than in the past couple of years — about 250 people in both cities — yet members of the movement seeking to cut federal spending and shrink government said they're here to stay.
"We're not going away," said Sharron Angle, the tea party favorite who lost her 2010 bid to oust U.S. Sen. Harry Reid, who recently predicted the tea party movement would fall to the wayside once the economy improved. "Harry Reid must be confused."
In Las Vegas, Angle was the keynote speaker outside the Grant Sawyer Building, the last one to address a crowd that had swelled to about 250 people at one point, but had only about 100 people left by the time she spoke at 6:45 p.m.
Her voice shaking with emotion, Angle at first thanked people for backing her in 2010 and for supporting the tea party. Although she's a declared candidate for a U.S. House seat in Northern Nevada, Angle did not mention her campaign or Sandoval. Instead, she and most of the dozen-plus speakers focused on defeating President Barack Obama and electing more conservatives.
"It's the beginning of a quest," Angle said of the 2012 effort, saying that she and others would "never, never, never" give up. "We're going to elect a different president. And we're going to elect a more conservative Congress."
Last year, Republicans took over the U.S. House while Democrats maintained slim control of the U.S. Senate.
Angle serenaded the crowd at the end of the three-hour rally in Las Vegas by joining an entertainer singing Lee Greenwood's popular "God Bless the USA," which includes the line "I'm proud to be an American."
Others who spoke at the rally included Danny Tarkanian, who lost the GOP primary to Angle last year, and his wife, Amy, who is one of several people seeking the job as the next chair of the Nevada Republican Party. Another contender for the chairmanship, Mark Hutchison, also rallied people against Obama's health care insurance law. An attorney, Hutchison is representing the state for free in a lawsuit Nevada has joined with other states to halt the law in its tracks.
Many in the crowd weren't at their first tea party, gatherings that began after the economy tanked as Obama was preparing to take office. They were angry at lawmakers' approval of government bailouts of big industries like banks and carmakers. They sat on brick and rock walls outside Grant Sawyer. Some brought their own folding camp chairs. American flags fluttered in hands.
Missy and Chris Skelton, a long-time Las Vegas couple, said they were upset with how the country is being run. They lost health insurance when their rates went up after Obama's health care law passed and he lost his construction job in December.
"I'm fed up with all of it in Washington," Missy Skelton said. "I think Sandoval's doing a good job, though."
Anti-Obama signs were everywhere.
"Gone January, 20, 2013" one said.
"Let's Roll — Defeat Obama 2012," another said.
Pamphlets, white papers, written screeds were passed from hand to hand.
One man held up an obscure magazine, "Armenian Monthly," with Obama on the cover with the words, "I Lied."
In Carson City, a crowd of 250 cheering and well-mannered tea party supporters heard 10 Republican legislators pledge to follow Sandoval's lead and not to increase taxes this session.
"We are sticking together as a team and will stick together until the end," said Assemblyman John Ellison, R-Elko.
Assemblyman John Hambrick, R-Las Vegas, said they need help from citizens and called on people to make their anti-tax wishes known to Democrats.
"They haven't seen a tax they don't like," Hambrick said. "They will try and try again."
Many crowd members in both Las Vegas and Carson City waved flags and held signs like "Give me liberty, not debt" and "Hate your kids: Raise the debt ceiling."
In the capital, several people emphasized they are not angry with the Legislature and state government, but only with Obama and Democrats in Congress.
"State government is pretty good, that's why we moved here," said Robert Stoecklin of Carson City. "Taxes are low. People are nice. The federal government is too big."
Herman Glockler, of Reno, said he has no problem with state government but that he was "sick and tired of seeing the future of my kids destroyed" by deficit federal spending.
The police estimate of 250 attendees in Carson City was far short of the record 2,000 who attended a similar, but much more rowdy rally in front of the Legislative Building on Tax Day in 2009.
In Las Vegas, police estimated the crowd at about 250 people. Two years ago, the Tax Day rally drew from 1,500 to 2,000 people at Sunset Park. Similar tea party rallies in both cities in 2010 drew 300 people in Las Vegas and 600 in Carson City.
Las Vegas Review-Journal Capital Bureau Chief Ed Vogel contributed to this report. Contact Laura Myers at lmyers@reviewjournal.com or 702-387-2919.