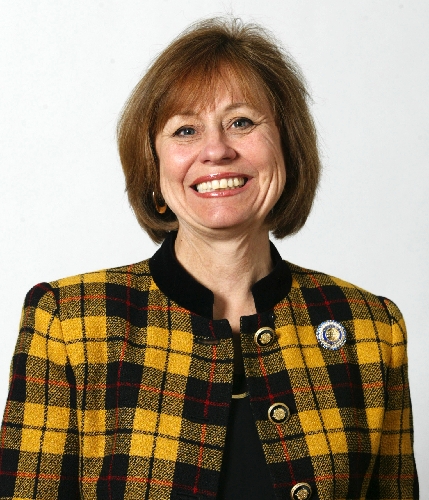 U.S. Senate candidate Sharron Angle shouldn't expect a full embrace at this weekend's state Republican Party convention, although she has become a national GOP star for taking on Sen. Harry Reid.
The Tea Party favorite's top vanquished rival, ex-state GOP Chairwoman Sue Lowden, does not plan to attend the meeting Friday and Saturday to offer a public show of support.
And other Republicans have been grumbling behind the scenes that Angle is too rigid and hasn't done enough to counter the public punches being thrown at her every day by Reid, the powerful incumbent who has the full weight of the state and national Democratic parties behind him.
Yet, Angle is starting to make some progress in pulling reluctant Republicans to her side.
On Wednesday, former Rep. Barbara Vucanovich, a GOP icon in Nevada, told the Las Vegas Review-Journal she has endorsed Angle after meeting with her at the request of Republican Sen. John Ensign. Last month, Vucanovich told the R-J that she didn't plan to support Angle. But she has even donated the maximum $2,400 to Angle's campaign.
"I had a long, candid conversation with her," Vucanovich said. Angle assured her she doesn't plan to do away with Social Security but wants to protect its funding and let young workers opt out and open personal retirement accounts. "I told her I would support her. She'll need help. Harry Reid is going to give her a hard time."
Vucanovich's change of heart is what Nevada GOP Chairman Mark Amodei hopes to see.
"A lot of Republicans are so emotionally invested in beating Harry Reid that if you're not out there beating him like a drum, people are going to say, 'You gotta do something. You gotta do something,' " Amodei said Wednesday, adding he remains confident GOP factions will come together in the end.
"Nothing unifies Republicans like Harry Reid has unified Republicans. Her job is to remind people how unhappy they are with Harry Reid," Amodei said.
Angle, a staunch conservative and former Reno assemblywoman, has never marched in lockstep with the party establishment. That's a popular candidate profile in an election year in which voters are angry at Washington for not doing enough to fix the economy, causing record jobless rates and debt.
Despite GOP fissures, Angle's grass-roots organizing talent could bring discipline and focus to the party torn by infighting between Tea Party conservatives and moderates, political observers say.
"In some respects, Angle can come in and save the Republican Party," said Dave Damore, a political science professor at the University of Nevada, Las Vegas. "It's pretty leaderless and rudderless. They need somebody to come in and train some precinct captains and use the grass-roots network."
Las Vegas businessman Danny Tarkanian, a Republican who finished third behind Angle and Lowden in the June 8 primary, said people had underestimated Angle's appeal in libertarian Nevada as well as the power of the anti-tax and anti-big government Tea Party movement.
"Reid's going to paint her as out of touch, and people will get a little nervous about her," Tarkanian said, acknowledging that some Republicans have expressed doubts. "But I think they'll come back to her in the end because of their strong feelings about Reid."
Tarkanian, like Lowden, vowed after losing the primary to help Angle. They both have kept a low profile since. Tarkanian said he hasn't spoken to Angle. He tried to reach out and found her campaign's voice mailbox full. That's been a frequent complaint as her campaign struggles to grow and keep up with a high-profile general election race.
Amodei asked Tarkanian to introduce Angle at the convention's Friday dinner at Green Valley Ranch Resort in Henderson, where embattled Republican National Committee Chairman Michael Steele also is scheduled to speak.
The day after Angle won the primary, Steele promised the full resources of the national Republican Party would be behind her. And he held her up as the GOP "standard-bearer" best able to take on Reid and the agenda of President Barack Obama, who is in Las Vegas today and Friday to rally for Reid.
Former Nevada Gov. Robert List, a GOP national committeeman, like many other top Republicans thought Lowden would win the primary, but now he's urging party backers to get behind Angle.
Although many Reid supporters, including some high-profile Republican power brokers in the state, believe Angle has given the Democrats an easy, ultra-conservative target to take down, List noted that Reid is highly unpopular. More than half of Nevadans are unhappy with Reid, polls show.
"I've had people say, 'I'd rather have an empty seat (in the Senate) than to have this guy back there tearing our country to pieces,' " List said. "In the end, that's going to be the driving factor for many Republicans who may have supported Danny or Sue in the past."
List said he has met with Angle at least twice since the GOP primary to talk general election strategy. He said the best advice for Angle is to keep the focus on Reid to maintain momentum within her Republican base, and then to reach out to independents, disappointed Democrats and other "constituencies and niches that make up a winning margin."
That's Reid's strategy as well. Reid himself has noted he needs just "one more vote" than his opponents, which means he could win on Nov. 2 with support from far less than 50 percent of voters.
Sue Lowden said she didn't plan to attend the convention because she wasn't a delegate.
"I thought I'd be a candidate," Lowden said, but she added she planned to campaign against Reid through the fall. "I have plans to see and meet up with a lot of folks from all over the state."
Contact Laura Myers at lmyers@reviewjournal.com or 702-387-2919.