February 7, 1999 - 12:10 am
Updated September 12, 1999 - 1:19 am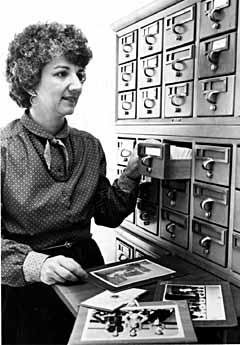 Anna Dean Kepper died young and spent only 10 of her 45 years in Las Vegas. But in that decade she taught the community a new respect for its own history.
"Without Anna Dean there perhaps wouldn't be a state park at the Old Las Vegas Fort," said Frank Wright, curator at the Nevada State Museum and Historical Society in Lorenzi Park.
Without Kepper, fine old houses in the downtown section, now rejuvenated for law offices or moved and faithfully restored at a county museum, would have been torn down.
Without Kepper many of the photos collected from pioneer Las Vegans and now preserved in UNLV Special Collections — many of those used in the First 100 project — would have remained in closets and trunks and been lost to history.
"She had this in-the-bones feeling — even `love' isn't a strong enough word for the passion she brought to her work," said Elizabeth Warren, a historian and preservationist and one of Kepper's closest friends. "It was just part of her makeup, wherever she was, to want to know how people got where they are today."
Kepper was born in Seattle and had dual master's degrees in museology and American folk culture, from the State University of New York, in Oneonta. She moved to Las Vegas in 1973 with her husband, Jack, who taught geology at UNLV.
Years later she told her friend Dorothy Wright how disappointed she had been to find that so much of Las Vegas' colorful history had already been lost, and that much of the rest was inaccessible to the public. "There was a time she almost cried about it," said Wright. "But she found out what there was, dove in, made the best of it. That was her spirit. And it was infectious."
Kepper soon found work as a curator in the UNLV library's special collections section — where original manuscripts and photos, rare books, oral history tapes and other irreplaceable research resources are preserved. She wasn't the first curator and she never headed the department, but she made the community more aware of it, which in turn inspired citizens to contribute historically important papers and photos.
"People who remember her, remember the outreach," said Warren. "She would take the material and celebrate the person. For instance, there was Beta Cornwall, who was almost single-handedly responsible for getting the city library started. Beta contributed a lot of files that showed her relation to that effort, and if a historian wants to know how libraries developed here, he has to look at this material.
"Well, this is a subject many would have seen as dry, but she made it exciting by celebrating Beta Cornwall's life. Beta had been prominent in her time, but by the time Anna Dean came here, she was sort of forgotten outside her own circle of friends. Then Anna Dean put together an exhibit and a reception that showed what she had done and who she was. So people still know who Beta was, even though she's now gone."
Hal Erickson, who was director of the UNLV library when Kepper worked there, shared her enthusiasm for outreach and often traveled with her to gather historic material. "I don't think there was anybody that Anna Dean didn't think had something to contribute," said Erickson at a 1983 memorial service. "Everybody had photographs. They could be of events, street scenes, people. If you were the person she was talking to, she soon had you talking about those pictures, those business records, or those letters and she was making an appointment to see you. You were assuring her that you really had nothing, but she would have picked up things in your conversation and say, `But Mr. So-and-So was very important because he did this or that and we really should preserve those pictures, those records or those letters.' "
Kepper developed a strong friendship with the Lake sisters, Olive, Alice, Ada and Emily, some of whom came to Las Vegas in a covered wagon, before the first railroad trains arrived in 1905. "Olive Lake Eglinton, a member of the first graduating class in 1913 of what was then called Clark County High School, deposited her material and began correspondence with her quickly diminishing circle of Las Vegas classmates to get them to place their material into Special Collections," said Erickson.
Kepper was equally able to get along with the very proper Lake sisters and with tough old Harold Stocker, a former bootlegger by then confined to a wheelchair, who gave unique material about the last days of Prohibition and the first legal casinos.
She enlisted the author of this article, then editor of Nevadan, the Review-Journal's Sunday magazine, to help identify people and puzzling situations depicted in some of these photos. Each Sunday the magazine ran one historic photo, asking readers who might know something about the photo to call UNLV Special Collections and offer the information. Many times the effort was successful, and sometimes the callers donated entire new collections of photos.
Trained as an oral historian, she encouraged history professor Ralph Roske and his students to tape interviews with Clark County pioneers then in their sunset years. The voices and many memories of these founders would have been lost otherwise. Instead, scores of these interview tapes are archived at UNLV Special Collections, though many remain untranscribed for lack of funding.
She also helped organize a project that paid a professional oral historian, Dr. Elizabeth Patrick, to interview a few pioneers with especially important stories to tell. Wright, who then worked for the Nevada Humanities Committee, helped obtain a grant from the committee for the project, and the Review-Journal augmented the grant by purchasing articles Patrick wrote based on her interviews.
Kepper "quickly tuned into the Mormon culture and how important it was in setting the tone of life here," said Warren. Kepper then became the prime motivator behind the effort to preserve the old Las Vegas Mormon Fort, built in 1855 as a religious mission to the Las Vegas Paiute, and also to provide protection and services to travelers on the wagon road between Utah and the Pacific Coast. The late Florence Cahlan, former society columnist of the Review-Journal, had seen that the fort was placed on the National Register of Historic Places. The Daughters of Utah Pioneers had done much to preserve and protect what was left, but the effort had bogged down.
"The Daughters thought they owned it but they really just had a lease, and she helped us upgrade from that," said Leah Dingle, former Clark County president of DUP. "Of course all of us in the Daughters are descendants of people who came West in the great migration, and the fort is part of our history. But there were a lot of other people who were interested in preserving it for a lot of other reasons, and she brought in those people."
History professor Roske was one of the founders of the Association for the Preservation of the Las Vegas Fort, and became its first president in 1973. Kepper became president the following year and held the job until 1979. She helped obtain funds from the National Bicentennial Commission to restore the fort, and city funding to keep it open part time to visitors. Warren picked up the ball by founding Friends of the Fort, a multiorganizational committee. With some help from state Sens. Bob Coffin and Ray Rawson, and from Las Vegas military historian James Hinds, Warren and Friends of the Fort finally got the Nevada State Parks system to acquire the site, laying groundwork for the interpretive re-creation being completed there today.
Meanwhile, the original Association for the Preservation of the Las Vegas Fort had renamed itself the Preservation Association of Clark County, and moved on to broader efforts.
"Anna Dean truly laid the keel of this organization," said Hinds. "But she also had a personal role in the preservation of at least three historic houses." The downtown homes of pioneer businessman Will Beckley and early casino operator P.J. Goumound were moved to the grounds of the Clark County Heritage Museum in Henderson. A Tudor-style home formerly occupied by the influential Houssels and Harmon families was moved to the UNLV campus, where it housed the school of architecture.
During her administration the preservation group organized a historic Las Vegas Auto Tour, originally a guided one-day event which familiarized community leaders with buildings worth saving, and also created a printed itinerary, useful for a self-guided tour and distributed to the public for years.
The Kepper home was a tract house near Valley High School, but Kepper individualized it with antiques, most of which were not merely displayed but used. "She collected antique cooking implements and she really cooked with them," remembered Warren.
Warren remembers Kepper visiting a petroglyph site northeast of Las Vegas and finding the site marred by large Roman numerals spray-painted on the rock. She came home and told her geologist husband, who figured out and confessed that while he was not personally responsible, the big numbers were painted by geology professors from an Eastern university to show off rock formations to students on field trips.
Kepper was so outraged that her husband made an issue of it in national geology circles, and the practice is much diminished.
The Keppers' marriage was as spirited as anything else involving Anna Dean, and culminated in a relatively friendly divorce. Kepper remained devoted to her father-in-law, John Kepper, a retired photographer who remained active in preservation all his life.
About 1979, Kepper began urging others to carry the torch in preserving Las Vegas history. In May of that year she sent a letter of resignation to PACC saying, "I believe for an organization to develop its full potential … that changing leadership is a necessity."
In retrospect, some of those who knew her felt she had either a premonition of, or actual information of, her impending death. Stricken with breast cancer, she underwent surgery and chemotherapy, and at least once regained much of her strength after becoming ill indeed.
She continued to work as death loomed, finishing up far more than "one last project." She died on Dec. 21, 1983.
On Dec. 2 she had passed her final examination for a master's degree in public administration from UNLV. The degree was bestowed posthumously.
Part III: A City In Full