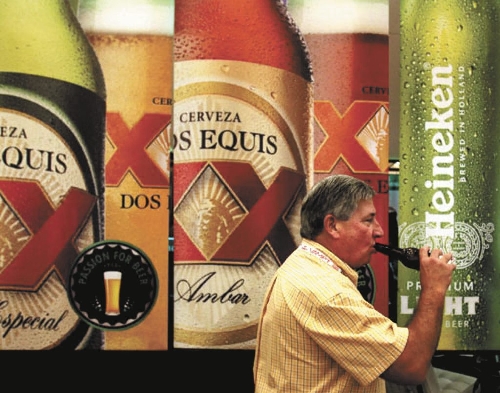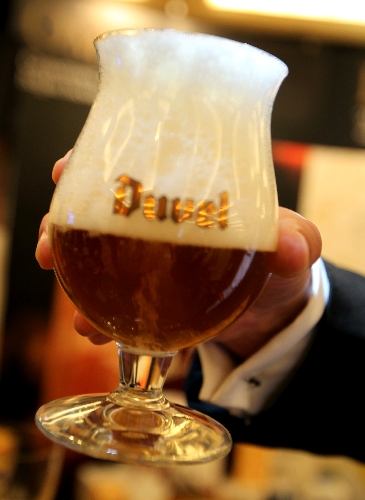 Charlie Pope, a clean-cut fellow from North Carolina, committed the cardinal sin of beer conventions Monday when he tried to bring a bottle of Coors to a Pabst party.
It was beer o'clock at the 74th annual Beer Wholesalers Convention and Trade Show in Caesars Palace when Pope, the IT manager for Coastal Beverage Co., helped himself to the free buffet in the Pabst Brewing Co. booth.
He was just about to tuck into a plate of bratwurst and chicken wings when the Pabst lady saw his beer: a 12-ounce bottle of Coors. It was scandalous. She was having none of that.
"Oh, you're going to eat our food but drink their beer?" the Pabst lady said. "That is a no-no."
He froze for a second. There was a third of a beer left. To some, throwing out perfectly good beer is a sin of its own, even free beer. And hundreds of people were mixing beers all over the trade show floor, so it didn't seem fair. But this makeshift bar was Pabst country, and Pope didn't have a keg to stand on. So he did the diplomatic thing.
"I'll take a Pabst Blue Ribbon," he said.
Pope, attending his first convention in a few years, said the four-day event is a networking opportunity, as well as a chance to poke around to see what's new in the beer world.
More than 275 exhibitors were scheduled to have their products on display through today , when the trade show ends. The convention ends Wednesday. Imported and domestic beer, nonalcoholic beverages, warehousing technology, software, marketing materials and wine were among the items displayed.
A few years ago, beer was shoved aside, declared dead by those who thought that wine and spirits would maintain their popularity, said Bernie Schroeder, president of Lake Beverage Corp. in New York.
But beer is making a comeback. And some of it looks like wine. More companies are packaging their beer in large bottles made for sharing, and consumers are drinking it up, said Kevin Immen, national draft sales director for United States Beverage company.
Consumers are doing their homework, educating themselves about their beer and turning beer-drinking into a social hobby. Immen has noticed an increase in home beer-tasting parties where the large bottles of beer can be shared. It's an approach similar to that of wine drinkers, he added.
"People are starting to buy beer the way they buy wine," Immen said.
Consumers also are looking for flavor and variety in their beers, and they're finding it, Immen said.
Some beer makers use flavors that don't taste very beerlike. There are fruity beers, such as pomegranate and orange, and beers flavored with chocolate, spices, banana bread and even pizza .
Stacie Schroeder with her husband, Bernie, sampled Leifmans beers, which came in a bottle that looked just like a wine bottle. One was cherry, and the other was a berry mix.
"I'm not really a beer drinker, but I like this," Stacie Schroeder said.
The beer consumer has changed, said Chris Steffanci, chief operating officer of Pabst Brewing Co. In the past, beer drinkers drank one beer and were loyal to it. They never strayed into wine or spirits.
Now, the younger generations drink everything, so beer makers have to adapt, Steffanci noted. Even Colt 45 came out with a fruity version called Blast by Colt 45. Snoop Dogg is the spokesman.
Another trend in the beer industry is beer pong, said Neal Frank, president and CEO of Pong Lite beer.
Frank, who owns a marketing company in Connecticut, noticed that beer pong was a $20 million a year business. There were beer pong tables and pingpong balls but not beer called Pong. So he created one. It took seven months for his idea to take shape; he sold $1 million worth of Pong Lite before it even debuted a few weeks ago.
Contact reporter Sonya Padgett at spadgett@reviewjournal.com or 702-380-4564. Follow @StripSonya on Twitter.