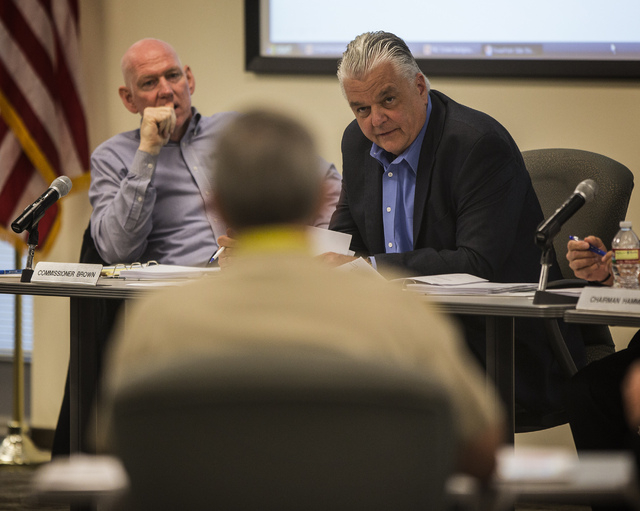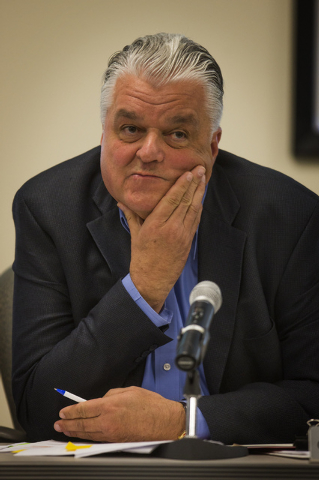 Clark County Sheriff Doug Gillespie on Monday acknowledged that the arbitration process between the Metropolitan Police Department and the police union could have been more transparent.
Along the way, he admitted to a mistake.
Speaking at the department's Fiscal Affairs Committee meeting, Gillespie backtracked on his Oct. 4 statement at a news conference that described the arbitration process as "etched in stone." Gillespie had called that press conference following County Commission Chairman Steve Sisolak's publicly voiced concerns about the transparency and legality of how the arbitration process unfolded with the Las Vegas Police Protective Association.
On Monday, Gillespie changed his stance.
"I have publicly spoken that this process is etched in stone. I have found that not to be the case," Gillespie said. "I have been sheriff for seven years and at times I have made public statements that I have later found not to be true. Rather than find some way to get around admitting my mistake, I choose to do just that — admit my mistake."
At the same time, Gillespie still strongly disputed any suggestion that the two sides struck an underhanded deal. Sisolak had questioned "red flags" in the arbitration process, which handed officers a $6.9 million award in a one-year contract. The one-year award has two separate cost-of-living pay increases totalling 1.5 percent and a 13.46 percent increase in the department's contribution's to health insurance. The Police Department also agreed to restore cuts to merit and longevity pay, at a cost of another $4.7 million, which gives officers $11.6 million total.
Among Sisolak's concerns: the last, best offers were made verbally without a record; both sides discarded a panel of seven arbitrators instead of striking names off the list until one remains; and the arbitrator's initial award lacked legally required information, including the reasoning for the decision and the cost of the award. After starting with a panel of seven options, the two sides abandoned all of them in favor of Robert Perkovich, a Chicago arbitrator recommended by Robert Smith, a Chicago-area attorney for the Police Department.
"Looking back on the process, I see how agreements between parties can be looked at as if we are taking advantage of a process for our own gain," Gillespie said. "Looking at examples like how the arbitrator was selected or that a last, best written was not entered and the award was an expedited award — it may give that impression. But I want to make it clear there was no collusion; there were no deals being made."
For Gillespie, the tough questions came at a sensitive time. He's been trying to sell county commissioners on a 0.15-percentage point sales tax increase for police officers in his department and agencies countywide.
While admitting a mistake, Gillespie also stressed the award is legal and binding and he supports its outcome. He referenced a Review-Journal article as sparking his move for a press conference.
"On Friday, Oct. 4, I woke up to read an article that was not flattering to me or my organization," he said. "This article brought into question the process and, I believe, my personal integrity."
He added: "I, in response, held a press conference and rather than deal with the issues at hand, I made it personal. I still and will defend my organization's participation in the process, but I should not have responded personally."
In the future, he said, he'll work harder to keep the members of the joint city-county Fiscal Affairs Committee abreast of matters involving arbitration, such as the ground rules and the selection of the arbitrator.
Sisolak, also a member of the Fiscal Affairs Committee, said the issues at hand are about transparency and following the law — not personal disputes.
"My goal here in ever even bringing this up is transparency, because I don't think there was enough of it," he said.
Sisolak's still waiting for a transcript of the three-day arbitration hearing, which took place in September.
Commissioner Larry Brown, also a committee member, said that more frequent briefings of committee members and consistency in documenting the process for the good of the public interest will benefit all going forward.
Brown noted that there are "some lessons to be learned here."
Attorneys who have analyzed the process have, to varying degrees, found that it strayed from the state law for arbitration.
Mary-Anne Miller, Clark County's legal counsel, issued a critical opinion that found the award lacked the "statutorily required paper trail," and that both parties, in violation of the law, didn't keep a full record of hearings, despite the presence of a court reporter.
The parties had waived the reporting of their final arguments in support of "last, best offers," which Miller found violated the law.
Miller also found problems with the arbitrator's follow-up effort to provide information in compliance with the law. In her legal review, the reasons he gave as a justification — the cost of living and welfare of the public — aren't recognized under Nevada law.
But the police union's attorneys were more forgiving in their opinion, which also stressed the award is binding. Those attorneys, Kathy Collins and David Roger, stressed in their prepared opinion that the arbitrator was properly picked as both parties agreed on the choice and that most problems were fixed after the arbitrator issued a follow-up supplemental award.
They did, however, say that one deviation occurred when the parties exchanged "amended final offers" orally to the arbitrator instead of in writing, as required by law.
"They've acknowledged there weren't final written offers and I'm sure that will be corrected in the future," Sisolak told reporters after the meeting.
Asked if the arbitration's problematic process pointed to anything nefarious, Sisolak said: "I want to believe there was no nefarious activity involved. That's what I want to believe. It was clear that the statute was not followed."
Contact reporter Ben Botkin at bbotkin@reviewjournal.com or 702-405-9781. Follow him on Twitter @BenBotkin1.