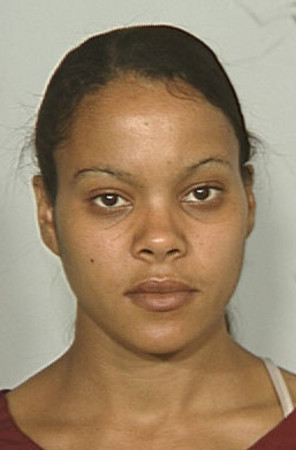 Authorities this week arrested two women in separate cases involving burns to children.
Tina Cicchetti, 29, was arrested by Las Vegas police on allegations that she used a hot curling iron to burn a boy while baby-sitting him.
Shantell Morris, 26, was arrested by North Las Vegas police on allegations that she placed her daughter's hands in hot water under a faucet.
Each woman was being held at the Clark County Detention Center on $20,000 bail.
According to Cicchetti's arrest report, she burned a 2 1/2-year-old boy on his neck and the bottom of his foot with a curling iron while watching him on Friday.
When his mother's live-in boyfriend, 37-year-old Jason Herd, came to pick up the boy and his older brother from Cicchetti's house, he noticed the boy was limping.
The boy had a round 3-inch, second-degree burn on the bottom of his foot and a rectangular, 5-inch-by-5-inch second-degree burn to the back of his neck.
The boy told Herd and police that Cicchetti had burned him with a curling iron and then put ice on the burns.
His 8-year-old brother told police that when he arrived at Cicchetti's house after school that day, his younger brother did not say anything about the burns but gave him "an extra long hug."
Cicchetti was arrested on Monday.
Morris' arrest report said her children had been taken away from her by Child Protective Services before the June 4 incident involving third-degree burns to her 18-month-old daughter.
The girl was taken to University Medical Center for burns to both her hands.
Morris told investigators that her daughter had placed one of her hands into a dirty toilet and that she wanted to clean the girl's hands.
Morris told police she placed the girl's hands under hot water from the bathroom faucet, but she did not think the water would be hot because often it takes several minutes for the water to get hot.
Morris said she noticed steam coming from the water but did not think it would hurt her daughter.
A detective went to the apartment and measured how quickly the water heated up. Within 15 seconds, the water in the sink was 126 degrees, according to the arrest report.
The report said Morris recently had been granted custody of her three children and has had three sustained child abuse claims against her.
After Morris' arrest on Tuesday, her children were placed in Child Haven.
Contact reporter Lawrence Mower at lmower @reviewjournal.com or 702-383-0440.