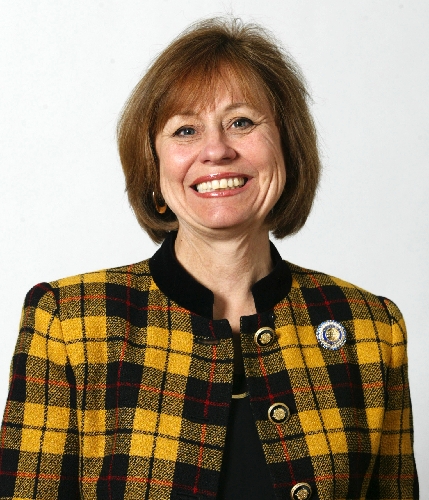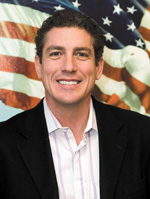 Self-declared Tea Party contender Scott Ashjian said Thursday that he refused to quit the U.S. Senate race during a secret meeting with Sharron Angle, the GOP challenger who could lose to Democratic incumbent Sen. Harry Reid if third-party candidates siphon off too many votes.
The Angle campaign said the hourlong meeting was requested by Ashjian's own supporters, who worry that his bid could split the anti-incumbent vote and hurt the real Tea Party favorite's chances of beating Reid.
"They said Scott Ashjian was concerned that his candidacy was helping re-elect Harry Reid," Angle spokesman Jarrod Agen said in a statement. "Sharron agreed to meet with him and made it clear that any vote not for Sharron Angle is a vote for Harry Reid."
Others involved in setting up the private chat agreed.
"Absolutely, Ashjian's allies reached out to the Angle campaign," said Richard Ziser, the failed 2004 GOP contender against Reid who hosted the meeting at his Las Vegas home. "They were recommending that he get out of the race. I'm just a peacemaker in all of this."
Ashjian's exit from the race would have boosted Angle's chances of picking up more votes from Nevadans who are intent on rejecting Reid but who face an array of eight other ballot choices. Reid himself has said he is counting on a splintering of the vote to win a fifth Senate term.
Still, Angle's campaign took the development in the high-stakes race in stride.
"Sharron will win, with or without his name on the ballot," Agen said of Ashjian.
Angle and Ashjian met Wednesday night for an hour at Ziser's home. Also present was Dr. Sid James, a longtime friend of Ashjian who is listed as chairman of the "Tea Party of Nevada."
"She asked that I support her, and I said, 'Why would I go and do that?' " Ashjian said in an interview, adding that he would never consider dropping out. "She said, 'I can't win without you getting out of the race.' But I said I couldn't. I'm going to beat Harry Reid."
Ashjian insisted he didn't seek the meeting, but he did not rule out that someone in his camp might have.
"I call the shots," said Ashjian, a Las Vegas businessman making his first run for office. "If somebody did it, it was unauthorized. I fought too hard to be on the ballot to get off."
James said he reached out to Angle of his own volition because he felt that the outsider Republican and Ashjian appealed "to the same pool of voters" who are tired of main party politics.
"It wasn't contrived by Scott or Sharron, but by me," James said of the talks. "I just thought it would be a good idea for them to get together and arrive at some common idea of what to do."
The meeting was friendly and cordial, all parties said, and ended with a handshake between the two candidates and Angle asking for a hug, Ashjian said.
"Sharron couldn't have been nicer," Ashjian said, adding that he told her he has been harassed for staying in the race. "I said I've had personal threats against me and my family. I've had my phone tapped, and I've been followed. She understands the pressure. But I have no regrets."
A staunch conservative, Angle has strong support from the Tea Party movement, which has made Reid its No. 1 target. She was endorsed by the Tea Party Express, which spent more than $1 million on ads and other support to help her win the June 8 primary over establishment GOP candidates.
But casual voters who support the Tea Party's call for smaller government, less taxes and less federal spending might be confused between Angle and Ashjian, who will appear as the only "Tea Party" candidate on the ballot. He quit the GOP to create his own "Tea Party of Nevada" to run in the race, although members of the movement call him a fraud. Legal challenges to his candidacy have failed.
The most recent Mason-Dixon poll for the Review-Journal showed Reid and Angle locked in a tie at 43 percent support each with 8 percent undecided. The "none of these candidates" category got 4 percent support. Ashjian and Tim Fasano, the Independent American Party candidate, each got 1 percent support. Four nonpartisan candidates did not register with voters.
Setting up the secret meeting involved much behind-the-scenes drama.
After Ashjian's supporters contacted the Angle campaign, her Washington, D.C., attorney Cleta Mitchell reached out to James to discuss potential talks.
Mitchell said Ashjian's camp had presented a list of demands, including dismissal of all litigation against him, although Angle is not a party to any lawsuits aimed at removing him from the ballot. Other demands included an apology from the Republican Party and the Tea Party Express, she said.
"I was surprised by this list of demands," Mitchell said. "I could see right away he wasn't serious about getting off the ballot. I told Angle's campaign she shouldn't meet with him."
Mitchell said James told her, "He didn't want to see Harry Reid elected. He said he thinks Scott's been making some big mistakes. He's just an egomaniac."
In a second conversation, James suggested he and Mitchell hold a conference call with Ashjian. In the three-way call, Mitchell said, Ashjian kept saying the Angle campaign had to do something about the lawsuits against him, and he and the attorney exchanged heated words.
"It was just crazy talk," she said. "Scott thought I was not deferential enough. He kept saying, 'I've been in the Wall Street Journal. They put my picture in the paper.' I said, 'Well, you're a pawn of the Democratic Party.' Well, that didn't go over too well. He was screaming at me."
Mitchell added, "I think Sharron will win anyway, but I didn't think she should meet with him. He's unhinged. "
At some point, Ashjian appeared to get off the line, and she continued talking to James. Mitchell said she might have said more unflattering things about Ashjian, including calling him a "whack job."
James said he doesn't remember any specific insults.
"I don't remember her being disparaging of him at all," James said.
Contact reporter Laura Myers at lmyers@review journal.com or 702-387-2919.