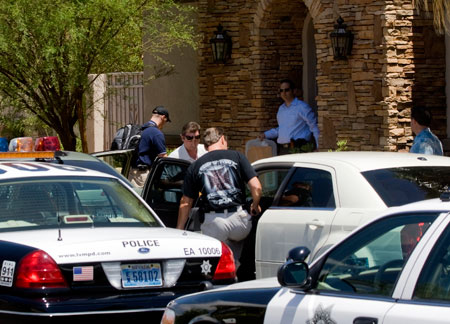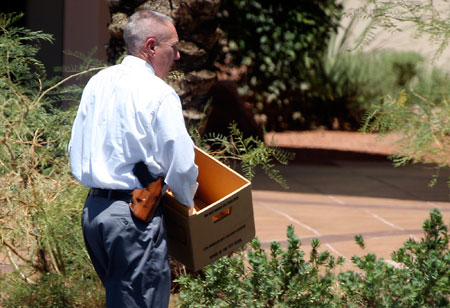 Federal drug enforcement agents and Los Angeles police descended on the Las Vegas home and office of Michael Jackson's doctor Tuesday in their continuing probe of the pop star's death.
Armed with search warrants and escorted by Las Vegas police, investigators spent chunks of the day scouring Dr. Conrad Murray's Summerlin home and Flamingo Road office for "medical records relating to Michael Jackson and all of his reported aliases," Murray's lawyer, Edward Chernoff, said in a statement.
Watch video

View the slide show
The 56-year-old doctor was home when investigators arrived and helped them during the search, the statement said.
Residents at Red Rock Country Club knew, through news reports, that Murray was their neighbor. Yet many were surprised early Tuesday by the sound of television news helicopters hovering overhead.
"My kids heard the helicopters, and we wondered what was happening," said Jenny Hanson, a five-year resident of the neighborhood. "Once I saw all the people out on the street, we knew what it was all about."
Drug Enforcement Administration agents and Los Angeles police detectives entered the 5,268-square-foot, two-story residence at 2426 Grassy Spring Place shortly after 8 a.m. and left about three hours later carrying three yellow cases and two black boxes.
Chernoff said investigators seized cells phones and a computer hard drive.
Meanwhile, outside the doctor's office at 2110 E. Flamingo Road, near Eastern Avenue, reporters from Las Vegas, Los Angeles and beyond began staking out the building before 8 a.m. in anticipation of the search. Investigators entered the building about 9 a.m. and emerged about 5 p.m.
The search warrants, which were issued in a Las Vegas court, were sealed.
Though authorities characterize Murray as the target of the manslaughter investigation, they have stopped short of labeling him a suspect.
Murray told investigators he administered the anesthetic propofol to Jackson the night he died to help him sleep, according to a law enforcement official who spoke to The Associated Press on condition of anonymity because the investigation is ongoing. The official told AP that Murray left the bedroom where Jackson was sedated and returned to find the star not breathing. It's unclear how long Murray was out of the room.
The official said investigators are working under the theory that propofol caused Jackson's heart to stop. Toxicology reports that should show what killed Jackson are expected as early as this week.
The media storm surrounding Jackson's death reached Las Vegas in force Tuesday. At times, four helicopters buzzed Murray's house, two camera men perched on a nearby hill, and a swarm of reporters and photographers waited outside the main gate to the neighborhood.
For more than a week, security officers from the Red Rock Country Club had been stationed near the home, turning away media and other visitors.
Ken Hill, president of the Red Rock Country Club Homeowners Association, said all residents are afforded their right to privacy, which is why the community's security was beefed up around Murray's home.
Media members who watched the search of Murray's home were asked to leave once authorities left.
Hill said a security officer would again be stationed near Murray's residence and visitors would not be allowed near the house.
Some residents pointed out that Red Rock Country Club had been home to the late Dr. Elias Ghanem, who treated such celebrities as Elvis Presley, Liberace and Michael Jackson. Dr. Dipak Desai, the central figure in last year's hepatitis C outbreak, is also a Red Rock Country Club resident.
"It's pretty surreal to see all this happening here," Nancy Knapp said.
Alex Zara, who was home from college in New York, was friends with Murray's son, Conrad Murray Jr. Once, he said Murray joined the pair in a basketball game.
"He was a pretty good athlete. He could dunk," Zara said. "I had no idea he was Michael Jackson's doctor."
Meaghan Morley watched the commotion from her nearby home. She said she didn't know Murray but his residence became known quickly.
"Word travels fast in the little grapevine of Red Rock County Club," she said. "I've known it was coming."
Morley snapped photos of the 10 or 12 agents entering the home.
She gave a simple answer about why she was there.
"Michael Jackson," she said. "I want a good angle. He's a legend."
Review-Journal reporters Mike Blasky and Maggie Lillis and The Associated Press contributed to this report.
Contact reporter Brian Haynes at bhaynes@reviewjournal.com or 702-383-0281.