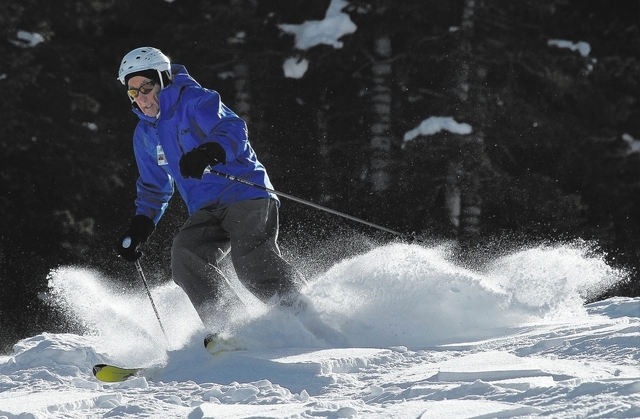 Marcel Barel has been at home in the mountains for so long that it's hard to imagine there was ever a time he wasn't skiing and hiking at high altitude.
But as a boy in Switzerland, he was sickly and suffered from asthma. The Alps near St. Moritz not only framed the setting of his youth, but hiking and back-country skiing there strengthened his lungs and started his lifelong love affair with the mountains. That alpine admiration led him to the United States, the Sierra Nevada's Yosemite Valley, a working friendship with renowned photographer Ansel Adams, and finally to a fledgling ski resort in Southern Nevada called Lee Canyon.
As the ski school's masterful instructor, Barel has shared his love of the mountains with a generation of Southern Nevadans as he's helped them from the bunny hill to the advanced slopes. Now 82, he's about to make his last run on a mountain he knows so well. Barel and his wife, Renee are relocating to Pagosa Springs, Colo., for what figures to be a very active retirement. Located at 7,000 feet, the small mountain Colorado town is surrounded by the San Juan National Forest.
Barel laughs easily as he recalls the day he learned sun-bleached Southern Nevada even had a snowcapped mountain, much less a ski area. He was at Alpine Meadows at Lake Tahoe's North Shore when he learned of the job opening at Lee Canyon.
"Where the hell is that?" he asked.
"It's in Southern Nevada," came the reply. "Near Las Vegas."
"Are you crazy?" Barel asked.
But that January he loaded his car, drove to the back side of the Spring Mountains and saw a little area that had good potential, a T-bar and a simple rope tow. An actual chairlift would come later.
He saw plenty of promise. But, most of all, he saw that mountain and Charleston Peak rising to 11,916 feet and a world away from the desert floor. A sky island, the foresters sometimes call it. A sacred place, the Paiute believe.
Barel spent the next 45 years on the slopes and in the hills. For decades he's also helped his neighbors cut firewood and plow their driveways.
Each morning, Barel rises early, stretches on his slender 6-foot frame and looks out his cabin window in Lee Canyon. A framed picture worthy of Ansel Adams' masterful eye greets him in the form of the limestone face of Mummy Mountain. Sweet-scented air whispers through a pine forest. What's not to love?
As a young man, he spent four years as Adams' assistant, lugging tripods in the Sierra and helping out at the great photographer's office.
"I was just lucky that I got a job with him," Barel says.
As fate would have it they shared a love of the mountains. In those days, Barel was a tireless alpine trekker. He hauled a lot of heavy camera equipment to the places where Adams captured black-and-white images for the ages.
Although these days Barel insists he's lost more than a step to time — he is, after all, an octogenarian — his friends aren't buying it. They saw him well into his 70s hike to the top of "Charlie" and ski down as easily as some folks might walk to the corner convenience store.
But his friends have to admit he's earned his rest. After teaching thousands of youngsters and grownups to ski, in recent years he's encountered a new generation of students.
"It has been happening more and more that a man will bring his grandson, maybe 5 or 6 years old, and say, 'This guy taught me how to ski,' " Barel says. "That happens a lot, and I always feel good when that happens."
As a skier Marcel Barel knows every season must come to an end.
But what a run it's been for this mountain man.
John L. Smith's column appears Sunday, Tuesday, Wednesday, Thursday and Friday. Email him at Smith@reviewjournal.com or call 702-383-0295. Follow him on Twitter @jlnevadasmith.