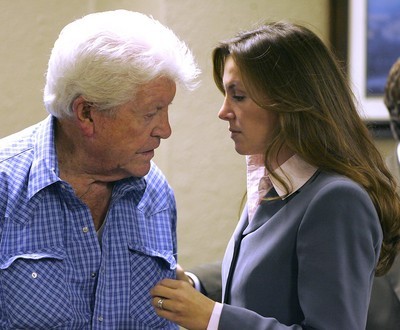 The mystery man who took the Las Vegas spotlight when he offered to foot the legal fees of slaying suspect Sandy Murphy died Monday after a series of ailments triggered by a head injury, friends said.
William Fuller died in St. John's Hospital in Santa Monica, Calif., after suffering a heart attack over the weekend, longtime friend John Prendeville said.
Fuller injected himself into the media circus spawned by the high-profile trial of Murphy, who, with boyfriend Rick Tabish, was accused of drugging and killing casino mogul Ted Binion in 1998. Fuller posted $300,000 cash bail for Murphy and paid at least $150,000 in legal fees.
His sudden relationship with Murphy sparked speculation that the two were involved or that Murphy was simply a gold digger.
Prendeville said neither rumor was true.
"He believed Sandy had an unfair shake because the case was sensationalized in the media," Prendeville said. "He believed in justice and took interest in her case. He wanted to help her out."
Prendeville said Fuller was not bothered by those who questioned the circumstances surrounding his relationship with Murphy. "Perhaps he quietly enjoyed it for a little while."
Murphy was found guilty of the charges and sentenced to life in prison. But the conviction was overturned by the state's high court, and in 2004, the Southern California native was acquitted.
Fuller first took interest in Murphy's case when he saw her on the television news.
"He saw Sandy Murphy come out of the police van shackled and being tugged" by an officer, Prendeville said. "He felt like that wasn't the right way to treat a woman. He felt she was not getting a fair trial."
Prendeville could not confirm rumors that Fuller left part of his estate to Murphy.
"What he left to whom, I never once inquired about that," he said.
Before he became known to Las Vegans, Fuller was well-known in England, where he owned a construction company that employed more than 3,000 workers. He operated about 26 nightclubs in the United States, England and Ireland, Prendeville said.
Perhaps Fuller's most famous club is The Buffalo, a Camden Town, England, establishment where popular bands such as U2 and Public Enemy have performed.
Fuller was an amateur wrestler and a boxing promoter. Even at age 89, he was known to pound on a punching bag in his backyard to release his frustrations, Prendeville said.
Fuller first suffered a head injury in March, then fell in his California home on two occasions. The injuries led to a broken vertebrae.
"Ultimately we don't know what the manner or cause of death is," Prendeville said. "I was shocked. I thought he would live on forever. He was a wonderful, wonderful character, and I'm really sorry to lose him."
Services for Fuller have been scheduled for 10 a.m. Monday at the Guardian Angel Cathedral, 302 Cathedral Way.