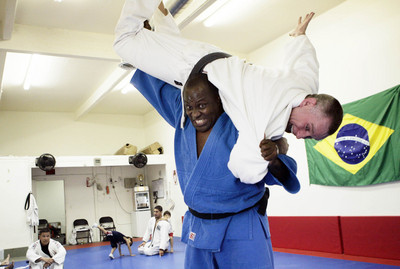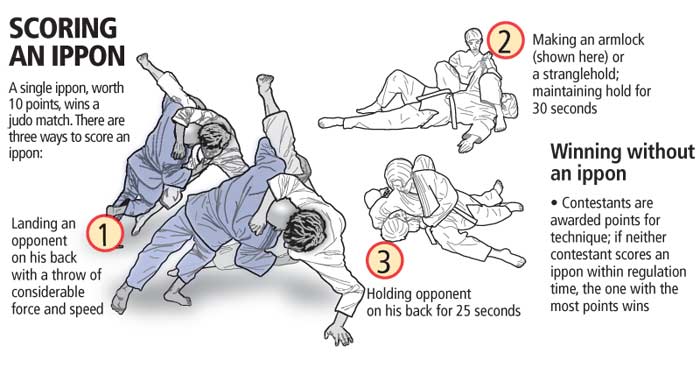 He's been an actor, a Strip entertainer, a motivational speaker, a sumo wrestler and a probation counselor.
The one thing 54-year-old James Brewster Thompson hasn't been is an Olympian.
That could change today.
Thompson, a Las Vegas resident, is competing in the U.S. Olympic Trials for judo at the Thomas & Mack Center.
He's the No. 6 seed of eight competitors in the over-220 pound (100 kilogram) class.
"It's kind of unbelievable to be back here," said Thompson, who first competed in the trials in 1976 and is making a comeback after once retiring from the sport. "Realistically, this is my last chance. I knew I could still compete, and I've always wanted to make the Olympics."
Thompson has been close before, serving as an alternate in 1984 and competing in the trials in 1996.
He's the oldest judo competitor ever to take part in the trials.
"I'll be 55 on Monday," Thompson said. "I'm happy because I'll be getting my 10 percent discount at McDonald's."
None of the top three seeds in his weight class was born when Thompson first competed in the trials.
"It's just amazing to me. I'm 28 years old and I'm already thinking about retiring," said Ryan Reser, the top seed in the 160-pound (73 kg) class. "It's such a physically demanding sport."
But judo is far from the only physically taxing activity Thompson does.
He'll also compete in the national sumo championships next month with the hope of qualifying for the World Games in September.
A participant in the Beacher's Madhouse show, Thompson, who is known as "The Rope Master," jumps rope with as many as three people sitting on his shoulders or holding on to him.
He was on television talk-show circuits in the early 1980s performing his jump-rope act, once with former Los Angeles Dodger standout Steve Garvey on his shoulders.
"It was one of those crazy shows," Thompson said. "I did a few shows, and then I just started to add more people. It's like Evel Knievel. You try to make it better and better."
Thompson incorporates his feats of strength into his presentations at schools around the country.
His message to kids is to stay away from drugs and violence.
He speaks to students about setting goals, making good decisions, surrounding themselves with a good support staff and having a good self-image.
In between, he shows his audience what following those goals has done for him.
"I try entertaining them by jumping rope, with push-ups or with a bullwhip," Thompson said. "I go for about an hour. Teachers and kids tell me it's the best, or one of the best, presentations they've seen. That means a lot to me."
As talented as Thompson is in the judo arena, he's a natural entertainer.
Thompson has had roles in several movies, including the 1990 martial arts movie "Lionheart," which starred Jean-Claude Van Damme.
"He was great to work with," Thompson said of Van Damme. "He didn't have an ego. I was an actor/stuntman in the movie, and he was always making sure he didn't hit me too hard."
Thompson also performs as a ventriloquist, something he hopes to continue after he gives up performing his feats of strength.
"That's something I want to do for the next 30 or so years," he said. "It's a lot easier to throw my voice than it is to throw another body."
Thompson said one of his biggest challenges is simply getting enough rest.
He was diagnosed with sleep apnea six years ago and has trouble getting enough sleep.
"I don't have any bad days, only good days and great days," said Thompson, who grew up being called by his middle name, Brewster.
"I was in third grade before I looked at my birth certificate and realized my first name is James," he added.
He'll need to have a great day today if he's to have any shot at qualifying for the Olympics.
Thompson's first two judo matches probably will be against the Nos. 2 and 3 seeds in his weight class.
"It's a long shot, but this is Las Vegas," Thompson said.
U.S. OLYMPIC TEAM TRIALS WHAT: U.S. Olympic Team Trials for men's and women's wrestling, judo; winners to compete in Bbeijing Summer Olympics WHEN: Friday-sunday; 10 a.m.-2 p.m. and 5 p.m.-7:30 p.m. daily WHERE: Thomas & Mack Center TICKET INFO: (866) 388-3267 SATURDAY'S CHAMPIONSHIPS Greco-Roman wrestling: 144.5 pounds (66 kilos), 163 (74kg), 185 (84kg) Men's freestyle wrestling: 121 (55kg), 163 (74kg), 185 (84kg) Women's judo: 105 (48kg), 125 (57kg), 172 (78kg), Over 172 (+78kg) Men's Judo: 132 (60kg), 161 (73kg), 178 (81kg) SUNDAY'S CHAMPIONSHIPS Greco-Roman wrestling: 211.5 pounds (96 kilos), 264.5 (120kg) Men's freestyle wrestling: 163 (74kg), 185 (84kg), 211.5 (96kg), 264.5 (120kg) * Kilogram is Olympic weight standard