Beware of Nigerian dog scam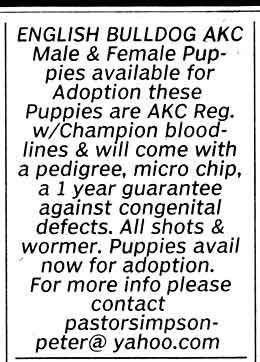 English bulldogs, especially those from "champion bloodlines" and recognized by the American Kennel Club, are worth a pretty penny: upwards of $3,000 for some puppies.
So when 29-year-old Justin Gariott saw a classified ad in the Feb. 23 edition of the Review-Journal purporting to offer them free for adoption, he jumped at the chance.
"I thought, maybe I would get a good dog out of this and give a good home to that dog," the telecommunications technician said.
He sent an e-mail to the "Pastor Simpson Peter" in the ad. But what he received in response gave him cause for alarm.
"Yes i (sic) have some puppies left for free adoption," the "pastor" replied. "But sorry, i'm prensently (sic) in Africa on a Missionary (sic) program with my wife at ( CAC) (sic) Christ Apostles Church here in west-Africa (sic)."
The "pastor" then went on to ask, in English riddled with errant punctuation and flagrant misspellings, for some of Gariott's personal information in order to have the dogs shipped from Africa to Las Vegas.
What Gariott had stumbled upon was one of the latest schemes out of Nigeria to defraud Americans. The "puppy scam," as it's known, has become so notorious it prompted a joint press release by the AKC and the Better Business Bureau last year to warn consumers about it.
"I don't want anybody else to get suckered by it," Gariott said.
Several newspapers across the country, including the Review-Journal recently, have fallen for the pitch. The ad, which started running on Feb. 22, was scheduled to run for 14 days, at a price of $363.80. It was stopped on Tuesday.
But it's just one of an epidemic of advance-fee and check fraud schemes, those scams that prey on people's trust — and greed — in order to defraud them.
"It's everywhere. This is just the latest thing," said Patricia Armstrong, a spokeswoman for the U.S. Postal Inspection Service in Phoenix, which investigates mail-related forms of the crimes.
There are tales of those who have fallen victim to the puppy scam.
Debbi Golding, the Las Vegas president of the Western division of the Bulldog Society of America, said she gets calls from distraught victims of the scam a few times a year.
One time she talked to a Reno police officer who shelled out money and waited at the airport for a dog that never appeared.
And there's the Los Angeles man who kept sending money overseas in the hopes of getting a bulldog.
"He went really deep into it," Golding said. "This guy was waiting on his front lawn for this puppy, and it never showed up."
Similar schemes have existed for decades, most commonly over the Internet and fax machines, where the scammers tend to offer up story lines that carry a sense of urgency.
The scammer has a wealthy friend, for example, who is locked away in a prison, and only a few thousand American dollars can help the wealthy friend escape. Then, the American who fronted the few thousand dollars will be handsomely rewarded once the wealthy friend is released.
The stories also play off of current events. After the war in Iraq began, scammers claiming to have access to Saddam Hussein's riches begged for American financing in order to funnel the money out of the war-torn country.
But the schemes can take on different, more realistic forms. People selling items over the Internet have fallen prey to cashier's check fraud, where unsuspecting sellers cash fraudulent checks from buyers. When the checks eventually bounce, the seller has already shipped the item sold, and is now responsible to the bank for the money from the bounced check.
Some of the scenarios sound absurd, of course, and it can be difficult to imagine people falling for them. But that's part of what makes the puppy scam so enticing; a newspaper ad looks legitimate, and people perusing the classified section are actively seeking a dog, instead of merely receiving a solicitation.
Bulldogs are also notoriously difficult to breed. They require artificial insemination and then a Cesarean section for birthing, and are thus more expensive. Other ads that have appeared in other newspapers have used other sought-after breeds, such as the minute Yorkshire Terrier, to entice potential victims.
When Gariott responded to "Pastor Simpson Peter," the would-be seller wrote back asking for Gariott's full name, address, telephone and fax numbers and the name of the nearest airport.
The seller claimed the dog would be shipped via Express Pets Delivery, a fictitious company. And Gariott was encouraged to call a number that had a Nigerian country code to discuss shipment.
Gariott replied via e-mail that he thought the deal was a scam, and he never heard back.
The Review-Journal, however, posing as an interested future bulldog-owner, received the same response, along with four different photos of bulldog puppies.
So a reporter called the Nigerian number and seemed to wake a man at the other end of the line. He perked up when a reporter inquired about the puppies, and spoke in broken English.
"There's only one puppy," the man said. "It's in the hospital. The climate here is not good for him."
After a few minutes of not being able to understand each other, the man hung up. He then replied via e-mail soon after saying that shipping for the dog would be $355, and would be shipped via overnight delivery through the fictitious Express Pets Delivery, a west-African company.
He pleaded for "full assurance to take good care of my baby."
He was later contacted by phone and questioned about the offer's legitimacy.
"I am a man of God," he said. "I cannot scam you."
At only $355 for shipping, the bulldog would seem to be a relative bargain compared with what the dog would cost from a local breeder or pet store.
But when the buyer sends the money overseas, the scammer tries to entice him or her to send more money. A new set of problems will mysteriously crop up: the dog becomes sick and needs money for medicine, or an official needs to be bribed in order to ship the dog.
"By the time it's all said and done, it's $1,000, or $1,200," said local bulldog owner Julie Babcock, who shows the dogs and has heard from people who have fallen for the puppy scam.
And there's no dog.
The local Secret Service office sees just one or two cases per month of people victimized by advance-fee crimes, no more than any other jurisdiction, according to Special Agent in Charge Rick Shields.
The crimes are notoriously difficult to solve, he said. In his 15 months at the agency's Las Vegas office, a local case has yet to be taken to prosecution.
The cases involve situations that are too good to be true and con artists play on the victim's "greed factor," Shields said.
But the Review-Journal also has a policy not to publish or accept ads that do not include a phone number. This ad managed to sneak through the cracks, according to a classified advertising supervisor.
Contact reporter Lawrence Mower at lmower@reviewjournal.com or (702) 383-0440.
CONSUMER DO'S AND DON'TS Above all, officials recommend abiding by the rule, "If it's too good to be true, it probably isn't true," when considering most transactions. But there are other steps you can take to avoid falling for the "puppy scheme" and other forms of fraud. Do not respond to classified ads that do not have a phone number. Do your research when seeking out a pet, and beware of dog breeders who seem overly concerned with getting paid. Never give your credit card account number, bank account number or Social Security number over the telephone or the Internet unless you are familiar with the company and know why the information is necessary. Know with whom you are dealing. Independently confirm your seller's name, street address and telephone number. If the buyer wants to use a service you have not heard of, be sure to check it out to see if it's reliable. Sources: Review-Journal, American Kennel Club, Better Business Bureau, ConsumerAffairs.com