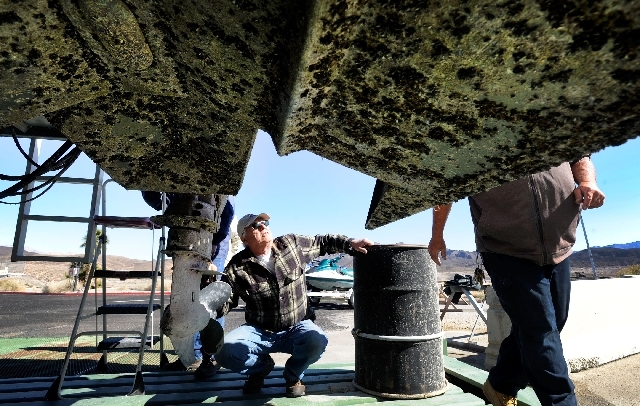 WASHINGTON — A bill introduced in Congress on Thursday seeks to elevate the fight against the quagga mussel, an invasive species that has spread from the Great Lakes to the lakes on the Colorado River.
The mussel would be added by the bill to the list of species covered by the Lacey Act, the federal law that seeks to halt the import and spread of potentially dangerous nonnative plants and animals.
The measure contains no additional funding but would broaden government powers to address the problem, including expanding National Park Service authority to inspect boats and other infested articles for the quagga, according to bill sponsors Joe Heck and Mark Amodei, both Nevada Republicans.
The zebra mussel, a related species that has spread to a number of waterways in the Great Lakes and in southern and Midwestern states, is already covered by the Lacey Act. The quagga mussel wasn't identified as a distinct species until the early 1990s.
Quagga mussels have reached record numbers in Lake Mead, where their population has grown more than tenfold since their discovery six years ago. They cling to pipelines and other structures, and attach themselves to boats, potentially clogging pipes and engines.
Researchers at the University of Nevada, Las Vegas estimate more than 1.5 trillion adults and 320 trillion baby quagga mussels inhabit the lake, and boaters are instructed to follow strict decontamination procedures to prevent them from spreading to other waters.
"The Bureau of Reclamation at Hoover Dam alone spends $1 million annually on quagga mussel control," Heck said.
Amodei said by the time the bureaucracy would declare the mussel an invasive species, "it may already be too late."
Contact Stephens Washington Bureau Chief Steve Tetreault at stetreault@stephensmedia.com or
202-783-1760. Follow him on Twitter @STetreaultDC.