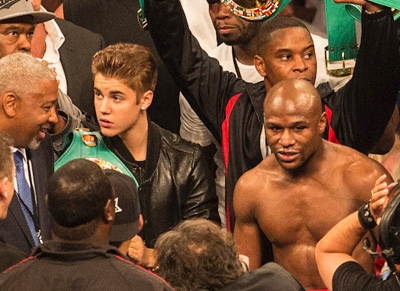 It was a Floyd Mayweather Jr. fight to remember, and so was his entrance.
As Mayweather paraded into the MGM Grand Garden on Saturday, following him was teen singing star Justin Bieber, rocking his new rockabilly haircut and carrying two of Mayweather's championship belts.
Joining Bieber was rapper and Mayweather's best bud, 50 Cent, and pro wrestler Triple H. Waiting in the ring was rapper Lil' Wayne.
BusinessInsider.com proclaimed it as possibly "the most ridiculous entourage in the history of entourages."
Richard Schaefer, CEO of Oscar De La Hoya's Golden Boy Promotions, viewed it as brilliant crossover marketing.
While waiting for Mayweather to show up in the press room after his hard-earned win over Miguel Cotto in their WBA junior middleweight title bout, Schaefer told reporters the presence of Bieber and 50 Cent generated 140 million tweets.
Bieber, who turned 18 on March 1, has 21 million Twitter followers and 50 Cent, a regular in Mayweather's camp, almost 6.5 million.
It was another example of how fast social media has changed the landscape of sports marketing.
While Bieber was tweeting: "Hard Work & Dedication. congrats champ. glad i could be a part of it," 50 Cent was letting his followers know about Mayweather's victory party Sunday at Rain at the Palms.
Not old enough to legally join the celebration, Bieber flew out shortly after the fight.
He tweeted: "in and out of vegas for the fight. now back for rehearsals tomorrow. goodnight world. hard work and dedication."
As Mayweather was leaving the media room well after midnight, I asked him about his Bieber connection. "We're good friends. We talk a lot," he said.
According to TMZ.com, Mayweather reached out to Bieber's camp after seeing the teen's movie, "Never Say Never."
Bieber joined him for the entrance and the pre-fight introductions before watching the fight from ringside.
Afterward, he climbed in the ring with the rest of Mayweather's entourage.
THE SCENE AND HEARD
Kurt Divich will do a reading of his new novel "Lords of Las Vegas" at the launch party Tuesday from 5-7 p.m. at Three Angry Wives pub at Charleston and Rampart boulevards. Political junkies have been anxiously waiting for the book, given Divich's history as a former speechwriter for Dario Herrera, the former Clark County commissioner who was convicted on federal public corruption charges. Full disclosure: Stephens Press, the publisher, is a sister company of the Review-Journal.
SIGHTINGS
Nicolas Cage, with family at the Bar + Bistro brunch on Sunday in the Arts District. … Among the former boxing stars who attended the Mayweather-Cotto fight at the MGM Grand Garden: Evander Holyfield, Bernard Hopkins, Roy Jones Jr. and Zab Judah. Others included: Former NFL stars Jim Brown, Rodney Harrison, Roger Craig and Willie McGinest.
THE PUNCH LINE
Brad Dickson of the Omaha (Neb.) World-Herald, on the unlikely friendship between Bieber and golfer Bubba: "I'm not sure where Watson and Bieber met, but we can pretty much rule out a barber shop."
Norm Clarke can be reached at 702-383-0244 or norm@reviewjournal.com. Find additional sightings and more online at www.normclarke.com. Follow Norm on Twitter @Norm_Clarke.