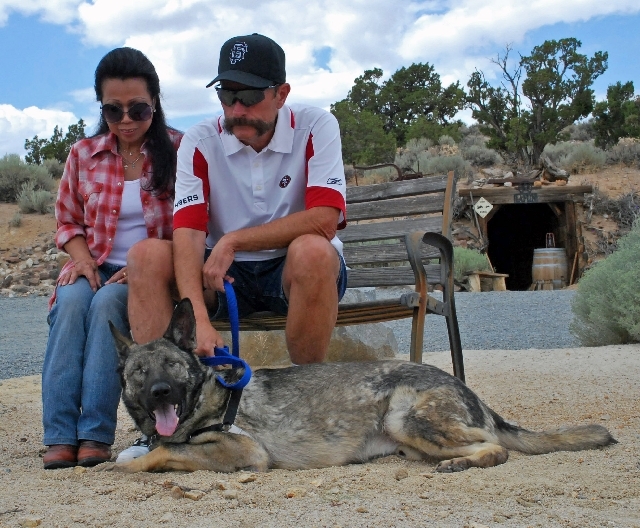 SPANISH SPRINGS
A Marine veteran who went blind while in service to his country has found a home in Spanish Springs.
Since the nine-hour drive from Camp Pendleton in Southern California the last week in June, he has been getting accustomed to his new digs, meeting the family, taking naps, chewing on tennis balls and begging for belly rubs.
It's OK.
His name is Asur, and he's a dog.
The 4-year-old German shepherd, a bomb-detection specialist during his time in the Marines, has been adopted by Ross and Bunnie Laflin, whose ranch home overlooking the Spanish Springs Valley includes seven other dogs, two cats, four goats and three chickens — all rescued.
"He's part of the family," Ross Laflin, a retired San Francisco police officer, told the Reno Gazette-Journal. "He and Rookie (one of the rescued dogs) sleep on the bed with me. He's going to be a good dog."
The Laflins found out about Asur through their daughter, Bonnie-Jill, who operates a nonprofit charitable organization called Hounds and Heroes, which, among other services, promotes the care of animals through rescue, foster and adoption.
On a visit to Camp Pendleton in early June, Bonnie-Jill was approached by a Marine sergeant in the canine unit who told her about Asur, who had been deployed to Afghanistan and Southeast Asia before returning to Pendleton to work as a military police dog.
Asur had recently become blind because of acute glaucoma. The pressure on his eyes was so great, and the pain so bad, doctors determined the only way to save his life was to remove his eyes completely.
Bonnie-Jill, a sportscaster and former NBA basketball scout who lives in the Los Angeles area, met Asur and immediately said yes. Not only would she rescue the dog, but she would make him a part of her own family.
"Because he was a special-needs dog, I knew me and my family could give him a good home," she said.
So she contacted her parents to tell them the news.
"She immediately texted his picture to us and said, 'Mom and Dad, we have a new member in our family,'" Bunnie Laflin said. "Asur and Bonnie-Jill bonded from the first second they met."
Not that there weren't challenges. Asur, after all, had spent his life as a working military dog.
Marine Cpl. Erin Swanson was Asur's final handler at Camp Pendleton.
"He was a dog that was being retired from the field side of the Marine canine unit, so we took him on in the provost marshal's office," Swanson said. "We do the police side of work for the Marine Corps installation. I started handling him, and he was a great dog for patrol. He was highly aggressive when it came to training. But he was overall very happy, friendly — a big puppy is what he was."
Among the major missions Swanson did with Asur was military air shows and duty at the 2012 Republican National Convention in Tampa, Fla., when Mitt Romney was nominated to run against President Barack Obama.
"We supported the Secret Service," she said. "He was an explosives dog, so our job was to detect and locate explosives. He was an overall really good dog."
Since his arrival in Nevada from Camp Pendleton, it's been a gradual adjustment period.
"There was a lot to deal with the first day," Bunnie Laflin said. "Just the layout of our house and learning the perimeters of our property must have been overwhelming."
Asur also had to adjust from a mild climate near the ocean at Camp Pendleton to Nevada's high desert in the middle of summer.
"When we first got him, he started to be a couch potato, and we were very concerned," Bunnie Laflin said.
Several of the Laflins' other dogs have special needs, but they knew they were taking on a challenge with a totally blind dog.
"There's no comparison," Ross Laflin said. "Having a blind dog, it's hard to describe the amount of time it takes. It's the biggest challenge we've ever had. I think we can overcome it, but it's going to take time. In the beginning, we were just doing this by ourselves, kind of trial and error and just winging it."
Help recently came from Purina, which learned the Laflins had adopted Asur and sent three people, including a canine behavior specialist, to Reno from its corporate office in St. Louis, Mo., to help.
The visitors came bearing toys, equipment and training techniques. The trainer taught the Laflins some voice and touch commands, which have been a great benefit, they said.
"He's feeling more confident out there with the commands we've learned," Bunnie Laflin said. "He's learning again to enjoy the outside and to be a regular dog, not just laying on the couch or a bed. Just to see him wagging his tail meant so much."
Bonnie-Jill said she will be in Nevada as much as possible to visit Asur.
"My dad and I have a competition about which of us he likes best," she said with a laugh. "I talk to (Asur) every day on the phone. I'll be there in a couple of weeks to see him."
Recently, Ross Laflin walked Asur around the yard, and the dog responded to every command.
Finally, the Laflins sat on a bench, Asur at their feet, his tongue wagging and the hint of a smile on his face.
It looked as if he was feeling right at home.
"We couldn't expect any more from him," Bunnie Laflin said. "He's just very sweet, very lovable, and he's completed our home."