November 25, 2009 - 10:00 pm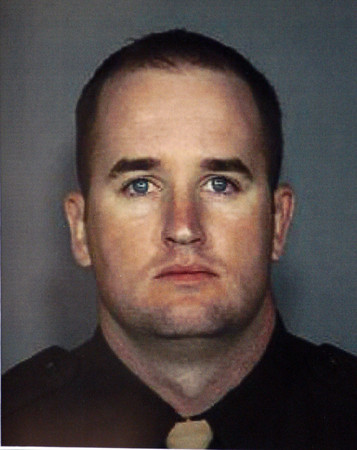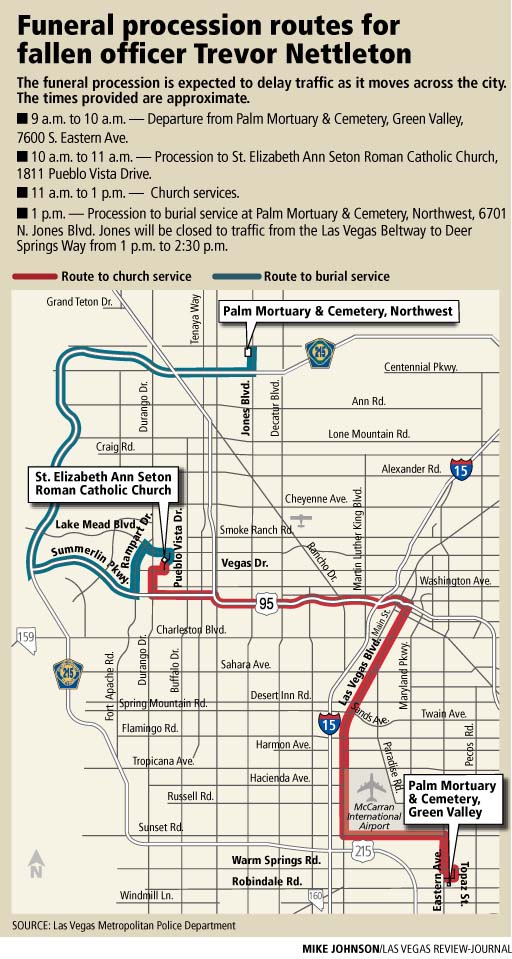 For the second time in three years, a fallen Las Vegas police officer will be honored on the Strip before his funeral.
Today's procession for officer Trevor Nettleton will move up Las Vegas Boulevard on the way to the 11 a.m. funeral service at St. Elizabeth Ann Seton Roman Catholic Church in Summerlin.
Motorists can expect road closures and delays as the motorcade of dozens of police vehicles travels to the church and, after the funeral service, to the cemetery at Palm Mortuary, 6701 N. Jones Blvd., in the northwest valley. Police will close Jones between the Las Vegas Beltway and Deer Springs Way from 1 p.m. to 2:30 p.m.
The last police officer to have a funeral procession on the Strip was Sgt. Henry Prendes, who was shot and killed on a domestic violence call in February 2007.
Nettleton, 30, was killed early Thursday in a shootout with would-be robbers who approached him in the garage of his North Las Vegas home. The former Marine and three-year veteran of the Metropolitan Police Department had just finished his patrol shift in the Bolden Area Command, just west of downtown Las Vegas, when he was approached shortly after midnight in what police said was a random robbery attempt.
Nettleton died from a gunshot wound to the torso. He is survived by his wife, a 2-year-old son and a 2-month-old daughter.
North Las Vegas police have arrested five young men in the slaying.
Although Nettleton had finished his patrol shift and was in street clothes, the Police Department classified his death as on-duty.
The reason for that decision was Nettleton's use of deadly force, Undersheriff Rod Jett said.
Under department policy, off-duty officers who use deadly force are treated as if they are on duty. If Nettleton had survived he would have faced a review by the department's use of force board, and if the teen he shot during the robbery had died, a coroner's inquest, he said.
Because he would have been held to the on-duty standard in life, Nettleton deserved the same in death, he said.
Jett said the department discourages officers from getting involved in incidents when they're off duty, but he admitted that it's hard for officers to turn off their sense of duty even if they're off the clock, especially if someone is in physical danger.
"This is a way of life," he said. "It's not like you go to a factory and make widgets then check out."
That almost constant vigilance is an added benefit to the community, he said.
Chris Collins, president of the Las Vegas Police Protective Association, which represents the agency's rank-and-file officers, supported the decision to classify the death as on-duty.
"The fact that it happened at his home shouldn't matter," he said. "There were three known gang members prowling the streets. If they hadn't robbed officer Nettleton, they would have robbed someone else. If he didn't defend himself and his family that night, they would have robbed someone else. He was defending his community."
Jett said Nettleton deserved to be honored for paying the "ultimate sacrifice" for his community. It's a fitting tribute to an officer, who like firefighters and soldiers, suited up each day knowing he might not come home, he said.
"I would think you would want to honor people like that when they give their life," he said.
Contact reporter Brian Haynes at bhaynes@reviewjournal.com or 702-383-0281.
Video of Officer Nettleton's visitation