Body recovered from burned home
September 25, 2012 - 1:00 am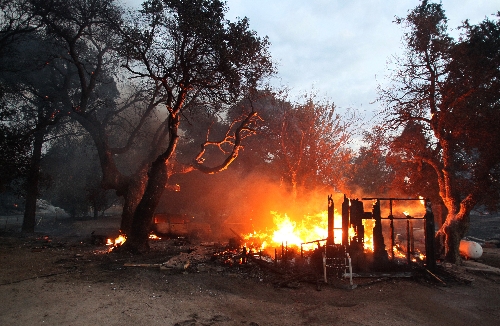 CAMPO, Calif. – Firefighters recovered the body of a man who ignored evacuation orders from a burned house Monday as they battled to contain Southern California wildfires that destroyed 20 homes and threatened several hundred more in rural areas.
Crews worked against winds gusting up to 30 mph that were expected to continue in southeastern San Diego County, where a three-square-mile fire churned slowly through hilly brushlands in a desert area near the U.S.-Mexico border.
The man's body was found just before 2:30 p.m. inside a home on Tierra del Sol Road near Campo, Cal Fire spokesman Capt. Robbie Richard said.
Officials did not identify the man, other than to say he was reported missing by neighbors who were concerned when they saw his only vehicle parked outside.
Neighbors told U-T San Diego the man was an 82-year-old with one leg.
The 2,000-acre blaze was 40 percent surrounded Monday, with fire officials expecting further containment as night brought cooler conditions. About 80 homes were ordered evacuated near the Campo Indian Reservation.
The fire destroyed 20 homes and damaged 10 since it erupted Sunday, California Department of Forestry and Fire Protection Capt. Mike Mohler said.
An evacuation center was set up at a high school in the nearby community of Pine Valley. Many residents gathered at the Golden Acorn Casino, which also served as the command post for firefighters, to learn whether their homes were still standing.
Christopher Kirchner told U-T San Diego that the place he rents was about 200 feet from a residence that burned down.
"I was just talking to some of my neighbors," Kirchner said. "They were crying and saying they had no place to go. We've heard rumors that our place is still standing, but nobody will tell us anything."
Farther north, a 150-acre wildfire in Riverside County was about 90 percent contained. It had been reduced mainly to embers but still posed a threat to as many as 200 homes in the Murrieta area if afternoon winds pushed it over fire lines, Murrieta Fire Chief Matt Shobert said.
The cause of both fires was under investigation.
Elsewhere in the West, major wildfires in Washington on the eastern slopes of the Cascade Range were relatively calm, but smoke continued to blanket some communities Monday.
The two largest fires were reported as bigger in size because of better mapping and the use of burnouts to create fire lines, officials said. The Wenatchee Complex of fires was reported Monday morning at 82 square miles, and the Table Mountain fire was reported at nearly 57 square miles in size.
State officials said air quality in the Wenatchee and Cashmere areas remains in the "hazardous" category, while many other eastern Washington communities have "unhealthy" air quality. Air quality was not expected to improve much soon.
In Montana, Musselshell County lifted an evacuation order for about 50 homes southeast of Roundup after a 5½-square mile wildfire was reported about 60 percent contained.
Fire officials hoped to have the blaze fully under control by today.
The human-caused blaze ignited Saturday and was under investigation.