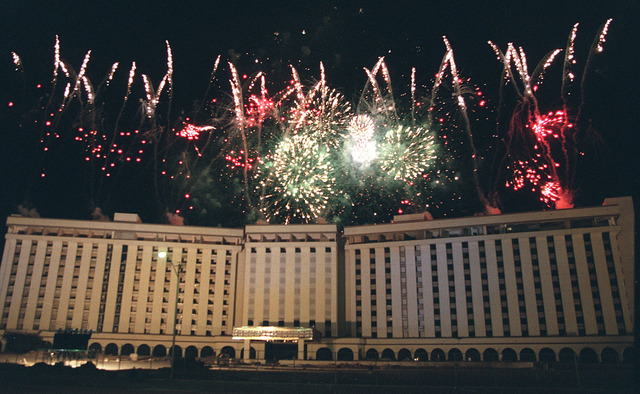 Nevada 150, meet Implosion 20.
To clear the land for what became the Bellagio, Steve Wynn had to remove the Dunes. Rather than just bash it down and haul away the scrap, he opted for a spectacular implosion of one of the towers on Oct. 27, 1993, starting a trend that now has claimed about 15 towers.
The most recent was the New Frontier, brought down in November 2007 for what remains an empty lot. Arguably the most breathtaking was the Landmark, with its flying saucer-style top. For what became a scene in the movie "Mars Attacks!" the dynamite bisected the tower from top to bottom so that one half fell first.
When it comes to ranking the largest implosions, several sources award the title to different ones based on different measurements. Rather than rely on self-appointed Internet experts, we went to the source: Mark Loizeaux, president of Controlled Demolition Inc., the go-to company for getting rid of resorts nobody wants anymore.
"The Hacienda," he said. "It had three wings and also had a huge fireworks display for New Year's Eve (1996)."
A close second was the Stardust in March 2007, when both a nine-story and a 31-story tower came down together.
He judges size of implosion by the building and not the amount of dynamite used, the standard used by some that have put out their own rosters.
That's because, he contends, Controlled Demolition really doesn't blow up the buildings. By strategic placement of explosives detonated in a carefully calculated sequence, he said, "we simply let gravity have its way with the building."

Celebrating the Silver State